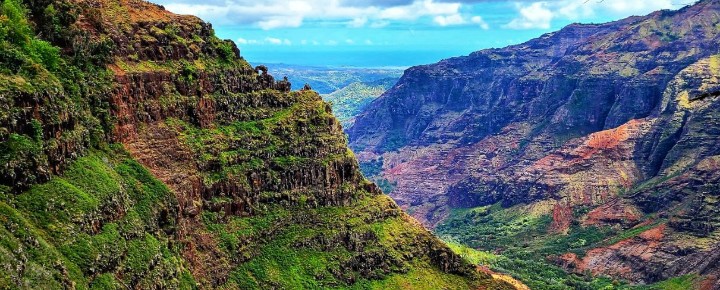 Your Beat of Hawaii editors had a chance to do some Kauai hiking yesterday and revisit an old favorite at Waimea Canyon. The Waipo'o Falls trail is an easy to moderate 2-hour hike for any time you are looking for a unique Kauai activity and simply amazing views you will never forget. It's no wonder that Mark Twain called it the "Grand Canyon of the Pacific," at least according to legend, which is up for debate.
The roundtrip hike is about 3 miles, plus the hilly access road, which adds another mile or so. It features a beautiful waterfall and pool at the end. It is accessible year-round but can be quite muddy following rain.
There are many fantastic photo ops on the way. You'll have phone access near the end of the trail too, so you can even share them right from there.
Where to park.
There is off-road parking on HI 550, which is the main road into the canyon. Look for cars parked after milepost 14 and near a Navy sign. That's your signal to pull over. It's just beyond the Pu`u Hina Hina lookout.
Waipo'o Falls hike.
You'll hike down a steep gravel road from the parking area until you reach the trailhead at the bottom. Four-wheel drive vehicles can drive directly down to the trailhead but are warned that it can be challenging when wet and you need high clearance. Besides, the hike down and back is a great part of the experience you won't want to miss.
Once you start the trail, it has some significant inclines, but nothing extreme, and some boulders you need to go around. At the end, you walk from the jaw-dropping plateau that juts out over the canyon and down to the waterfall. Be careful here because it's easy to slide on the slope and loose gravel.
Yesterday, we only encountered perhaps a half dozen groups of other hikers, and it felt like we had it largely to ourselves. A nice feeling considering it can be quite busy and is among the most popular Kauai hikes. There is a significant amount of tree cover until you reach the plateau where you are completely exposed to the sun.
Waimea Canyon views.
The hike takes you to the interior of Waimea Canyon, so you'll be looking across to views rarely seen. And since you are facing the town of Waimea, it's there that you'll have cell phone service. In terms of the falls, you will see the small falls pictured below (they were quite active yesterday due to recent rains) and just the top of the larger 800′ falls which are located below you.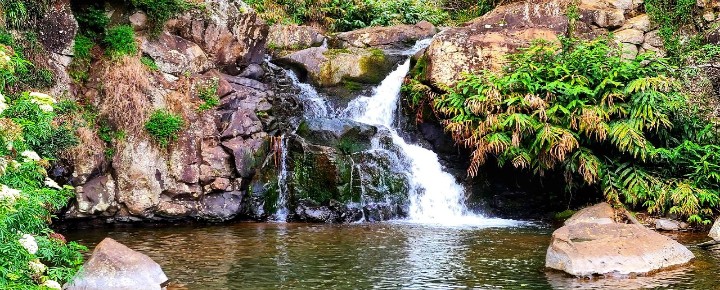 Be prepared for Kauai hiking.
There are no restrooms or any services, so use the nearby ones at the visitor's overlook. Bring water and wear sunscreen and a hat. We love finding a rock at the plateau to enjoy a snack or packed lunch. You can always stop at Ishihara Market in Waimea town for things to eat for the hike. Bring a bathing suit if you plan to enter the water at the end to cool off.
Entrance fees.
Per the State DLNR: All non-Hawaii resident visitors to Waimea Canyon State Park and Kokee State Park will be required to purchase both Entrance and Parking. For example, if there are two (2) passengers in your one (1) vehicle, you will need to purchase two (2) entry reservations and 1 (one) parking. These reservations will be available via the parking pay-stations located in the parking lots. Entry and Parking will be good throughout both parks, you do not need to pay more than once to visit both parks.
Please share your Kauai hikes with us in comments.
Disclosure: We receive a small commission on purchases from some of the links on Beat of Hawaii. These links cost you nothing and provide income necessary to offer our website to you. Mahalo! Privacy Policy and Disclosures.