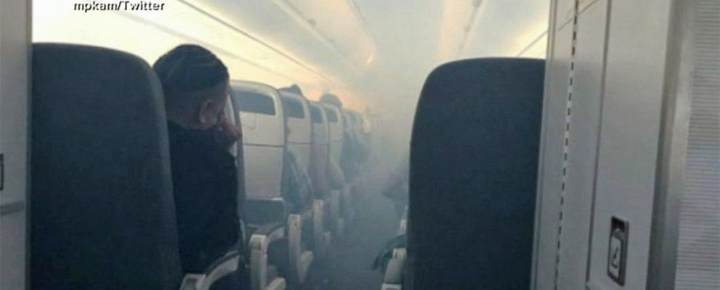 It was very fortunate indeed that yesterday's problem occurred while on approach to Honolulu, rather than hours away.
Is this a new and isolated problem or something else?
Yesterday's Hawaiian Airlines A321 mid-air incident, with smoke in cabin, and emergency landing and slide evacuation, were the result of a jet engine oil leak caused by a failed seal, according to Hawaiian Air. Luckily, it all ended quite well, with only 7 hospitalizations and no fatalities. With flights to Hawaii requiring 2,500 over-ocean miles and no place to land, it keeps us thinking about what such a problem could mean and how serious it could be. Suddenly, we were recalling and reading about last year's problems when A321neo's first started flying.
Hawaiian Airlines released the following statement.
"We have since determined that a seal failed in the aircraft's left engine, causing oil to leak onto hot parts of the plane's engine and air conditioning pressurization system, resulting in smoke in the cabin. The performance of the engine was not affected, and the Airbus A321neo landed without incident on runway 4R."
Beat of Hawaii thoughts: We are not experts in aircraft. But for any number of obvious reasons, including living in Hawaii and flying trans-Pacific very frequently, we follow this quite closely. Any time you have a new aircraft type with new engines, there's a period of time over which experience yields much knowledge about what things tend to go wrong and how to manage them. That's true of cars too, although those have far less potential for seriousness. Tragically, the Boeing Max fleet suffered two fatal crashes during it's break-in period.
Two examples of very mature aircraft fleets that come to mind, with which there is a plethora of experience, are the A330 planes that Hawaiian Airlines uses, and the Boeing 737-800 planes that are used by Alaska, Southwest and others. Other well seasoned Hawaii fleets include 757, 767 and 777.
The fact that Hawaiian Airlines indicated that engine performance was not affected may mean that the problem was simply not severe, or that the duration of the problem was brief enough to not become severe.
We recall, as you may, that engine seal issues on the A321 Pratt & Whitney engines have been mentioned over some period of time. Last year a seemingly unrelated issue related to the engine's "combustor, oil seal and knife-edge seal" resulted in a directive temporarily removing one of Hawaiian Air's A321neo planes from service. That problem was subsequently resolved by the manufacturer. Then later in 2018, we learned P&W was still upgrading in-service jet engines to fix unknown oil-seal problems. We have also heard of a number of mid-flight engine shutdowns on the fleet (not on Hawaiian Airlines).
Again kudos to Hawaiian Airlines for their handling of yesterday's incident!
Photo credit: Twitter.
Disclosure: We receive a small commission on purchases from some of the links on Beat of Hawaii. These links cost you nothing and provide income necessary to offer our website to you. Mahalo! Privacy Policy and Disclosures.