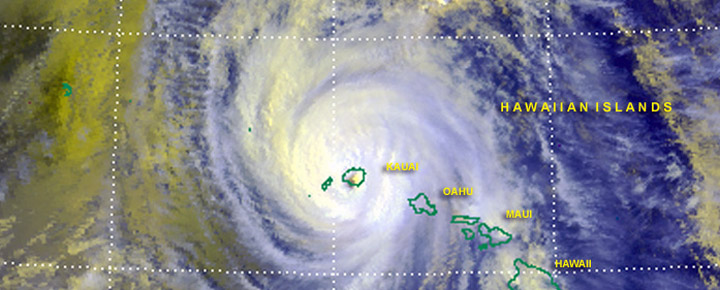 As we observe the Hurricane Irma tragedy this week in the Atlantic, we also remember the most intense hurricane to strike Hawaii 25 years ago on September 11. It was Hurricane Iniki that took an unexpected sharp right turn on that day and devastated the island of Kauai.
After nearly $2 Billion in damages and 100 injuries later, the storm dissipated.
See our 2017 travel checklist and predictions for hurricanes in Hawaii. 
Hurricane Iniki slammed onto Kauai's south shore, leaving uprooted trees, blocked roads with downed power poles and roofless buildings among other damage. Winds were over 100 miles per hour, waves hit over 20 feet at Poipu and 1,500 homes were destroyed.
Without electricity, freezers and refrigerators of vacant houses and condos were raided so that food didn't spoil and those here could eat. There are many tales of epic BBQ's at condos.
Trivia – Steven Spielberg was set to film the final day of Jurassic Park when Hurricane Iniki hit. Filming was altered and some of the storm is seen in the final cut of the movie. The 130 cast and crew members, including the stars of the film — Laura Dern, Sam Neill, Jeff Goldblum and Richard Attenborough — waited out Hurricane Iniki.
Gratitude – While the island was devastated, many remember boats that brought food and ice, a company that set up banks of phones for free calls anywhere, and FEMA's support that included food stamps for all those on Kauai. While lines were often long, the island came together to help each other and return the island of Kauai to its beauty.
Do you have memories of Hurricane Iniki?
Disclosure: We receive a small commission on purchases from some of the links on Beat of Hawaii. These links cost you nothing and provide income necessary to offer our website to you. Mahalo! Privacy Policy and Disclosures.