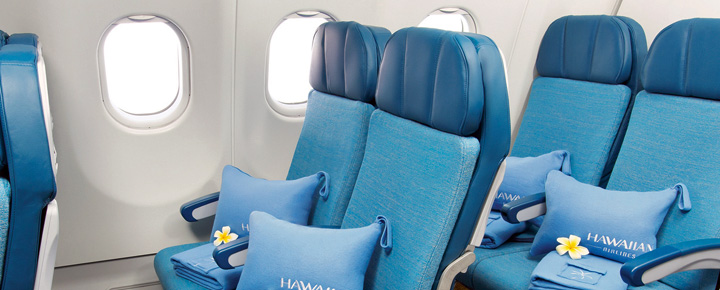 Hawaiian Airlines premium economy, called "Extra Comfort,"  has been available now for three years. Prior to this, they offered, and we used to book, exit row seating on long haul flights. It was successful and at that time was a steal at only $30 each way. "Extra Comfort" however is a far more interesting main cabin product that also significantly helps drive their ancillary fee income. Read on to see if this is something good for you.
Five inches of extra leg room on all of their Airbus 330 planes is available at the following cost to and from Hawaii:
West Coast or Tahiti $80
New York $145
International (other than Tahiti) $125
Beat of Hawaii Recommends Extra Comfort Seating under certain circumstances. Here's Why: 
Good value if you're tall (Rob is 6'4″), or just need the extra room to be comfortable. Especially beneficial on long flights from/to the east coast and Australasia.
Available at less than one-quarter of the cost to upgrade to Hawaiian's business class.
Two across seating on either side of the aircraft is very comfortable for a couple traveling together.
Some rows have a very small private cabin atmosphere that enhances the experience.
What's included with Extra Comfort:
5″ more leg room
Complimentary in-flight entertainment package
Priority security and boarding
Complimentary pillow and blanket for use
In-seat AC power plug (all Airbus 330 seats feature usb charging ports)
Beat of Hawaii tips:
Best seats on the long haul A330 aircraft for two people travelling together are row 11, either side. The upcoming Hawaiian Airlines A321neo fleet is set to feature 45 of these premium economy seats when they start service in 2018. Those will be in the new 3-across configuration with the exception of one pair of two-across seats.
We have tried the new Extra Comfort product can report that for us it is been worth the extra cost. Your thoughts?
Disclosure: We receive a small commission on purchases from some of the links on Beat of Hawaii. These links cost you nothing and provide income necessary to offer our website to you. Mahalo! Privacy Policy and Disclosures.