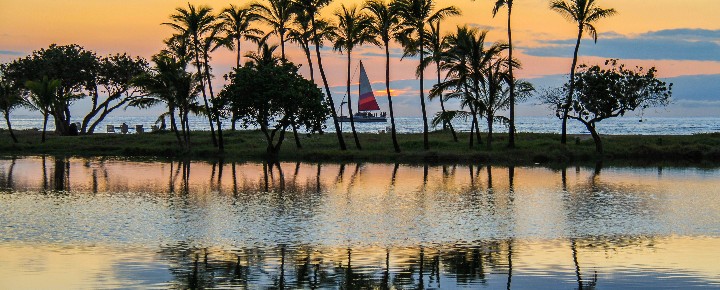 We warned just days ago that visitors had one week to start planning their Hawaii vacation. That is, prior to Governor Ige officially welcoming back tourism. That has just occurred as the governor said this afternoon, "we want to invite and encourage fully vaccinated visitors and residents to travel for business or leisure, Transpacific or interisland."
The announcement, a reversal by the governor, was made at an event at Kona Airport. Ige did not provide many other details or how the information pertains to those who opt for Covid-19 testing instead of vaccination. Big Island mayor Roth addressed that topic as well and said he wants "healthy, vaccinated travelers to return to Hawaii as soon as possible."
What is needed are clearly crafted messages from the State of Hawaii.
Ige had said last week that he was "working on the timing and the message right now." The focus is on getting the state's on-again, off-again tourism engine restarted in preparation for the return. So while today's announcement is clear in that visitors are encouraged to return starting November 1, further details are still pending. Coordinated communication from the mayors is also needed.
Furthermore, among other things, will there be any changes to capacity limitations, and to the rules for those vaccinated outside the US? Stay tuned as today's announcement was just the beginning.
Hawaii Tourism crush resumes November 1.
BOH: Thanksgiving and the Christmas/New Years holidays will be especially busy this year. Perhaps the busiest ever. If you still plan to come then, there is a fast-closing window of opportunity to book.
Ige said last week he wanted travel stakeholders to have the "time to rehire people back" and to assure that "we have restaurants and other activities for them to do." How this is all going to play out is what remains to be seen. Restaurants and other Hawaii businesses are having unprecedented difficulty in hiring people.
Is it too late to plan your Hawaii vacation?
We have anticipated this announcement, knowing that with it would come many more visitors. Concerns continue regarding the lack of and pricing for car rentals (especially during the holidays). Restaurant reservations have already been a problem, and those could get worse. Sought after Hawaii vacation rentals and hotel accommodations will become harder to secure.
Tip: Hawaii planning should include booking Cheap Flights to Hawaii, and at the same time, Hawaii car rentals, accommodations (hotel or vacation rental), and any must-have activities or restaurants.
Welcome back to Hawaii!
Disclosure: We receive a small commission on purchases from some of the links on Beat of Hawaii. These links cost you nothing and provide income necessary to offer our website to you. Mahalo! Privacy Policy and Disclosures.