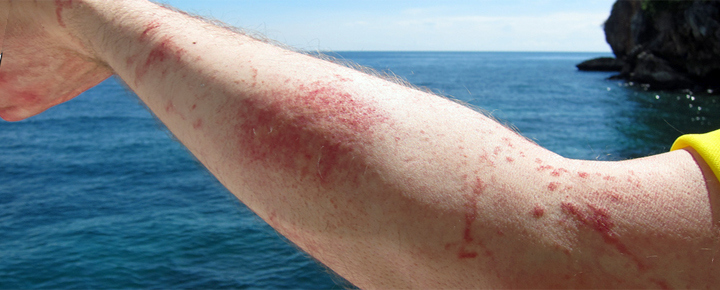 A record number of people suffered a box jellyfish sting this week in Hawaii. Oahu's Hanauma Bay was closed on Wednesday after more than 120 people reported being stung. Other Oahu beaches were also affected. This months influx is among the largest recorded in decades and resulted in nearly 10 times the normal number seen according to researchers. This is most likely due to a temporary increase in zooplankton, on which jellyfish feed.
When we see jellyfish on the sand at south facing Hawaii beaches, we tend to stay out of the water. These are just nothing to mess with.
Hawaii Jellyfish Stings | 2016 Caution Dates and Treatments.
Jellyfish are known to be on Hawaii's south shore beaches approximately 10 days after each full moon. Click the title link above to see our month-by-month guide.
Beat of Hawaii suggestions.
Avoid south facing beaches from 8 days after a full moon until 12 days after a full moon (10 days is the peak period). Waikiki Beach and Ala Moana Beach park are both susceptible to jelly fish.
Wear protective clothing (rash guards) in the ocean. In Australia's Queensland, people have taken to wearing full-on protective suits.
Consider a range of products to alleviate the sting. We've been using After Bite, although a range of new anti-sting products are now available and more are coming.
What are box jellyfish?
These cnidarian invertebrates are known for their distinctive cube or box shape. Some species including those found in Hawaii produce a potent venom. Stings can be extremely painful.
Disclosure: We receive a small commission on purchases from some of the links on Beat of Hawaii. These links cost you nothing and provide income necessary to offer our website to you. Mahalo! Privacy Policy and Disclosures.