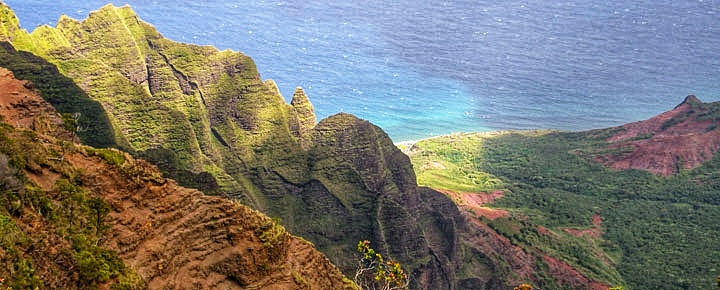 News in today from Kauai's mayor, who just indicated that he isn't planning to rejoin the Hawaii Safe Travels program until mid to late May. And even that, of course, isn't certain. That news, disheartening to many, comes as Kauai businesses fail at an unprecedented rate, with no sign of any improvement yet in sight.
Kauai currently has only two active cases of COVID and no hospitalizations. And at the same time, Kauai travel, compared with the other Hawaiian Islands, remains decimated. For example, in the past week, an average of just 84 transpacific visitors arrived daily on Kauai. In contrast, Maui transpacific arrivals averaged 3,443 per day during the same period which ended February 17, 2021. That according to the state's Hawaii Tourism Authority.
What options do Kauai vacation travelers have between now and May?
The first of two alternatives visitors currently have is staying at a Kauai resort bubble, which includes a mandatory 3 to 4-night stay. See details below. Bubble prices average out to $460 per night, plus taxes and other fees, ranging from $143 to $1,395.
The second option is to stay 3+ nights on another island first, then take a test, and then come to Kauai with a negative result.
The only option, of course, a 10-day mandatory quarantine. There are no provisions for those who have been vaccinated.
Kauai Resort Bubble List.
The entire list of Kauai resort bubble properties and the best prices we found is as follows. (Nightly costs do not include taxes, resort fees, tracking devices, etc.):
Club at Kukuiula. From $800 nightly.
Timbers at Hokuala. From $1,295 nightly.
Cliffs at Princeville. From $260 nightly.
Koa Kea Hotel. From $344 nightly.
Hilton Garden Inn. From $143 nightly.
Kauai Marriott Resort. From $225 nightly.
Point at Poipu. From $322 nightly.
Hanalei Bay Resort. From $287 nightly. Minimum stay 4 nights to comply with testing requirements.
Hanalei Colony Resort. From $240 nightly.
Lawai Beach Resort (starts 3/15/21). From $1,750 weekly.
Kauai resort bubble issues to consider:
1. A 4-night stay may be required instead of 3-night. The problem is that the bubble guest cannot test out of quarantine until they have been on Kauai for at least 72 hours. Timing complexities include whether or not testing is available on the third day after the required 72 hours is completed. The location of the resort also complicates the issue. Hanalei Bay Resort told us that they only have testing available in the early morning. Not in the evening. Thus their minimum resort bubble stay is 4-nights. Koa Kea Resort told us that testing might be available at late as 7 pm on the third day, although that could not be assured.  They indicated testing needs to be reserved in advance to assure that someone will be available to perform their $200 per person test.
2. The county is also now providing free testing that is valid for those preparing to exit their bubble. Read hours and other details about free Kauai COVID tests.
3. Residents remain disincentivized from doing any testing. As residents, we are hard-pressed to see how anything here helps us. And yet, we appreciate the importance of being tested before flying. Unfortunately, however, the path of least resistance for us when we return home to Kauai is to quarantine for 10 days without testing.
A resort bubble works best for long Kauai vacations.
As you know, quarantine at Kauai resort bubbles, a controversial measure that was opposed in 98% of your hundreds of comments, was previously approved by Governor Ige. He said, "This proposal will allow Kauai to move forward with limited tourism in 'resort bubbles' while honoring the county's request to opt-out of the Safe Travels pre-travel testing program."
If you stay three nights (perhaps 4) at an approved resort and have a negative test result on the next day, you are free to explore Kauai without restrictions and change accommodations if you wish for the rest of your stay. Otherwise, all arrivals, including returning residents, must quarantine for 10 days or choose the other option below.
Alternative to Kauai resort bubbles.
If you stay 3 nights on another Hawaiian island first, then test after 72 hours, and subsequently come to Kauai with a negative result, you will not be subject to any quarantine. To qualify, visitors must be "Be physically present in the State of Hawai'i for more than 72 hours before flying to Kauai to qualify as an inter-island traveler."
Furthermore, you must prove a negative COVID test taken within 72 hours of interisland travel to Lihue. And to reiterate, that test needs to be taken after 72 hours on another island. These test results need to be uploaded to the state's Safe Travels website/program.
This option does provide a good alternative for travelers who, for example, spend 3+ nights on Oahu, Maui, or Big Island, before coming to Kauai. However, you cannot fly directly to Kauai from the mainland and participate in this program.
As with the Kauai resort bubbles, availability and the timing of testing on another island is something that needs to be determined well in advance to avoid complications.
Important update on pre-travel testing requirements:
The pre-travel test associated with the resort bubble quarantine may come from sources other than Hawaii trusted partners. This is very significant since many of you have commented that access to "trusted partners" is not ideal for various reasons. The county website says:
"Take a pre-travel test within 72 hours before arriving on Kauai and receive a negative test result. The lab does not need to be on the state's Trusted Testing and Travel Partners list for use in Kauai's resort bubble program. This test can be any COVID-19 diagnostic test (an antigen or PCR test) with emergency use authorization from the U.S. Food and Drug Administration."
"In addition to participating in the EMQ (resort bubble) program, a traveler must receive both a negative test result for COVID-19 from a test administered at their own expense within 72 hours before the final leg of departure of their trip to Kauai and a second negative test result from a test administered at their own expense 72 hours or more after their arrival to be exempt from mandatory self-quarantine."
"This exemption from mandatory self-quarantine is separate and independent of participation in the State Safe Travels program."
Updated 2/18/21.
Beat of Hawaii © photo on Kauai.
Disclosure: We receive a small commission on purchases from some of the links on Beat of Hawaii. These links cost you nothing and provide income necessary to offer our website to you. Mahalo! Privacy Policy and Disclosures.