The Garden Island is renowned for many things, among them, its flowing beautiful Kauai waterfalls.
1. Wailua Falls.
These are significant waterfalls located nearby Lihue that are easily reached yet still off the beaten path. The water flow will vary significantly with seasons and rainfall.
These were made famous in part by the opening credits on the television show Fantasy Island. The falls are seen from the road. Drive north of Lihue, and travel up Maalo Road about 3 miles. The sunlight meets the mist of the falls, which makes for an amazing photo opportunity.
The trail to the pool beneath the falls is closed, and for a good reason. It is extremely dangerous.
See incredible Kauai waterfalls featured in the 1978 Fantasy Island season 2 opening. Spectacular aerial views are simply breathtaking as well as inviting.
2. Uluwehi (Secret) Falls
A 100-foot drop marks these falls that are not entirely well-known. This is not easily accessible the way Wailua Falls is, so do come prepared. It is located on Kauai's east side and eventually connects to the Wailua River. To get there, you need to travel up the river, by kayak or another boat. The adventure is well rewarded, as these are among Kauai's most scenic, with beautiful views of the Fern Grotto and Sleeping Giant (Nounou Mountain).
Guided Tours are best for most people and are available for what is typically a 45 to 60-minute paddle to get there upriver. Once you arrive, you'll next undertake a 20 to 30-minute hike to get to the falls. It is an easy trail, however, although it can get muddy seasonally. This is for those of you in good shape.
3. Opaekaa Falls.
This is another of the most easily reached Kauai waterfalls. A huge waterfall drops some 150 feet into a pool below. To get there, drive up route 580, starting in Wailua. The falls can be seen from the parking lot and viewing area. There are also restrooms found there. For the more adventuresome, you can hike via the nearby trailhead for up to 1/2 hour for the most spectacular views.
4. Hanakapiai Falls
Also not easily accessible, these are spectacular falls with a several hundred-foot drop.
These falls are located within the Haena State Park, and visitors are required to have difficult-to-obtain reservations for entrance and parking. Then once you've secured those, it will still be a challenging four-mile round trip hike.
We have found the trail can be slippery and dangerous in spots every time we've hiked here. It is also subject to flash flooding.
The views of the falls are breathtaking, and the entire journey is one you'll feel glad you undertook, so long as you are in good shape. The beach nearby is also beautiful but can be very dangerous, and we've sadly seen people drown there.
5. Waipoo Falls.
In Waimea Canyon, some of our favorite hikes bring you to above a Kauai waterfall with nearly an 800-foot drop. You will see this driving into the park, and the experience is even better up close.
Stop at any of the viewpoints along the road into Waimea Canyon to get great photos of the falls from across the valley.
Then, take the Canyon Trail to the falls. It is moderate in difficulty, with a lot of ups and downs, and perhaps the more arduous part is getting from the main road to the trailhead and back, as it is quite steep.
One of the best parts of the hike is the view plateau on which you will arrive just before heading down to where you will be standing over the large falls and nearby the smaller ones. There's a pool nearby where some people swim.
6. Hoopii Falls
Located on the east side, near Kapaa, this is another great Kauai waterfall with a 600-foot drop. This, too, is challenging to get to, with more than a 2-mile hike involved. The hike itself isn't too challenging once you find the trail.
Hoopii Falls was used for a photoshoot in Jurassic Park.
Sandy just added, "I live near Hoopii falls. I would not suggest going to this waterfall. People are rescued and airlifted out all of the time. The parking is in a neighborhood and sometimes it is so crowded that the residents can barely get in or out. Also, many times people go off the trail into the private property of a flower farmer who gets super mad…."
7. Mount Waialeale Falls.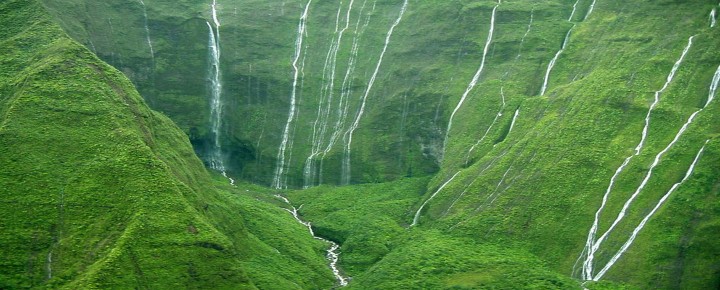 Located at the heart of the island, in one of the wettest spots on the earth, these are without doubt one of the most spectacular of all. Access here is the most challenging of all, so you'll be heading there via helicopter to see them up close. It's worth it, though – you will be astounded by the beauty.
8. Kalihiwai Falls.
These gorgeous falls are found nearby Princeville and can be accessed on a tour (not currently operating, however). You'll travel there by car, then by horseback/hiking tour that includes three hours of walking over four miles on various terrain difficulties.
Once you arrive, the 80-foot Kauai waterfall is accessible for swimming.
9. Hanakoa Falls.
These Kauai waterfalls are located along the Napali Coast on the north side of Kauai. These falls have close to a 1,000-foot drop, but there is a partial view on the trail. Hiking to the falls itself requires a permit.
10. Hoolea Falls.
Hoolea Falls if found on Kauai's north shore. They are accessible via a trail found behind Kalalau Beach. At a minimum, a day hiking permit, plus access to the state park, and parking, are all required.
11. Kipu Falls.
Kipu Falls is found on private land, in Puhi, nearby the town of Lihue. It is on private land, and trespassing is prohibited, and high fences have been installed. These falls are above the Huleia National Wildlife Refuge. It was previously much more accessible, and there was a favorite swimming hole, and swing found there. The falls are fast running and can be dangerous. Unfortunately, the best view of these Kauai waterfalls is from the bottom, which means it is all but inaccessible, given that trespassing is required and it is perilous.
12. Manawaiopuna Falls.
Manawaiopuna Falls, sometimes called Jurassic Falls, is in Hanapepe Valley off Kauai's south shore. It is on private land and is only accessible via a helicopter tour. For the past decade, some tours have been permitted to land there.
This Kauai waterfall is 400 feet tall and was seen in Jurassic Park
Please share with us about your Kauai waterfall favorites.
Disclosure: We receive a small commission on purchases from some of the links on Beat of Hawaii. These links cost you nothing and provide income necessary to offer our website to you. Mahalo! Privacy Policy and Disclosures.