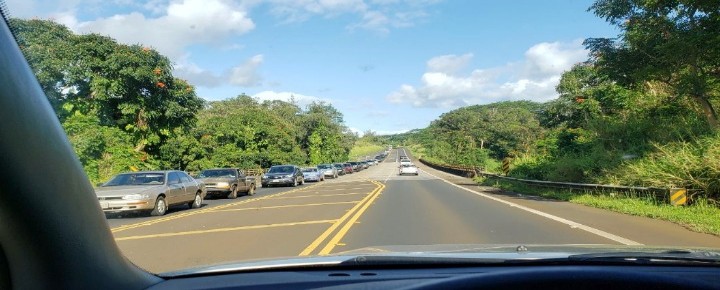 Before we tell you about the checkpoint pictured above on Kauai, here is something rare that happened. We received a handwritten postcard in the US Mail from a reader. It just happened. There was no return address or name; only a postmark from Phoenix. A copy is below. In addition to wishing us well, this Beat of Hawaii fan also asked us to keep reporting about what life is like now on Kauai. So here is our next installment.
Never ceasing changes include closures, roadblocks and delays.
We miss you! Kauai is more quiet than ever. Do you remember taking pictures of a crowded Poipu Beach? Now all beach parks are closed. We can, however, use the beach to access the ocean for swimming and surfing. There is no beach time allowed and it's not a time to travel between South and North Shore unless essential to do so. The idea is to go to a beach close to where you live. For us that would be Poipu Beach or Salt Pond. To go further means getting stuck in multiple checkpoints.
Last week that happened to Jeff. The checkpoint he was in was at Halfway Bridge (our lead photo today) where police and the National Guard were stopping cars in both directions. So a simple run to Costco in Lihue took several hours now on the highway. We really curtail going out and make sure it's necessary. Between that and masks and everything else, any prior enjoyment around excursions is gone.
One of our daily outings is driving around nearby Koloa. The goal is to cut specialty horse grasses for Muley while her pastures recover from the torrential rain you'll remember we had a few weeks ago. In the past it was challenging even to pull over on the road with all of the cars going by. Now there is hardly any traffic at all, and you can stop wherever you want. We have the road to ourselves.
Before the mandatory 14 day isolation for visitor arrivals happened, Jeff had ordered bookcases from IKEA in Los Angeles. There is a company on Oahu that specializes in shipping IKEA orders for those living in Hawaii. They have someone purchase at IKEA and then send it to Hawaii. The problem is that while the order successfully reached Honolulu on Matson, it cannot come to Kauai. The barge operated by Young Brothers is currently only shipping essential items. While obviously not critical, it is a sign of the times, and if and when these will ever arrive remains to be seen.
New businesses thrive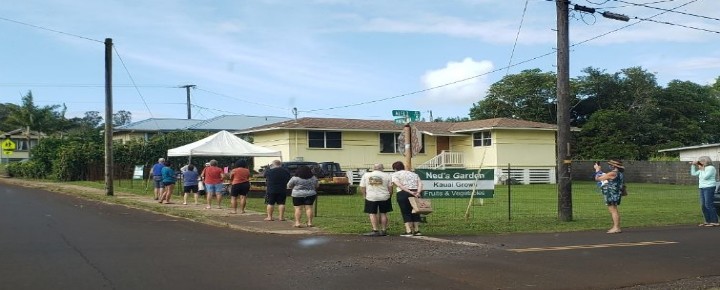 Jeff has been doing a weekly pickup of produce at Monkeypod Jam. Now, CSA produce stands are popping up all around the island like the one pictured here. We heard of three new ones just this week. So while Farmer's Markets are closed, these stands allow commerce to still happen. It appears these will be a thriving business for everyone on Kauai going forward, and they are really awesome.
Curfew and other measures here and on other islands.
Other islands are starting to implement measures that began on Kauai. We've become accustomed to our curfew, which runs from 9pm to 5am daily. Now on Oahu, they have one starting at 11pm nightly. It is running on a test basis this weekend and may then go through April 30. Can you imagine the H1 empty? It's happening. Vacation rental bans are also now in effect on Kauai and the Big Island. And on Maui, short-term rentals are also no longer allowing visitors.
What is it like where you are? What do you miss most about Hawaii?
We'll keep watch while you are away and look forward to when you return. We will offer our view of life from here on Kauai, and invite any of you from other islands to continue add your experience. And if you are on the mainland, chime in too with any questions you have.
Please join us in comments.
We receive thousands of comments each month and welcome yours. If you're new, please let us know.
Aloha and Mahalo!
Disclosure: We receive a small commission on purchases from some of the links on Beat of Hawaii. These links cost you nothing and provide income necessary to offer our website to you. Mahalo! Privacy Policy and Disclosures.