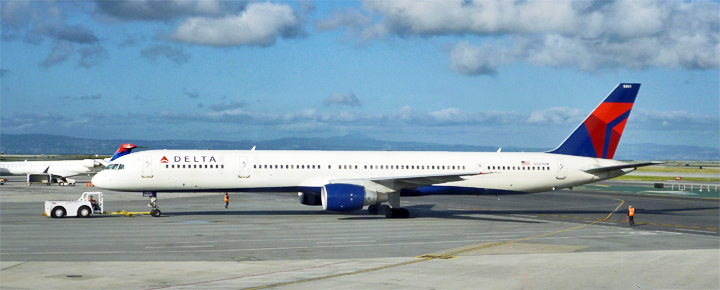 A passenger who recently disrupted a Delta Airlines flight from Honolulu to Seattle has now been charged with federal crimes. These latest charges follow the unprecedented $52,500 fine imposed by the FAA for assaulting and interfering with the aircraft and its crew. In total, the potential fine is more than $300,000, plus the possibility of up to 20 years in prison.
A federal grand jury in Seattle just returned the indictment that charged Ryan Cajimat, 21, of Kapolei, Hawaii. He is accused of two federal crimes for disruptive and violent conduct on the December 24, 2020 flight. Cajimat is due to appear for arraignment on the charges on November 18, 2021.
According to the United States Attorney's Office, and based on records filed in the case and in public reports, Cajimat became disruptive about two hours prior to landing in Seattle. He attempted to open the cockpit door and fought with flight attendants who attempted to restrain him.
The assailant punched one of the Delta Airlines flight attendants twice in the face. Cajimat was subsequently restrained for the duration of the flight and then removed from the plane when it landed in Seattle.
While the FAA issued a $52,500 fine, Delta Airlines has banned him from any future travel on the airline.
Cajimat is facing charges for interfering with the flight crew and for assault "within a special aircraft jurisdiction of the United States. Interference is punishable by up to 20 years in prison and a $250,000 fine. Assault on an aircraft is punishable by up to one year in prison and a $100,000 fine." That according to the US Attorney's Office in Seattle.
The FBI is continuing to investigate the case with the help of Assistant United States Attorney Natalie Walton-Anderson.
This comes following a widely publicized issue that happened this week on American Airlines, albeit not involving Hawaii. In that case, a New York to California flight was diverted to Denver when a passenger assaulted a flight attendant in what was described as an altercation related to a mask requirement.
The man had been drinking and did not want to wear a mask apparently. He punched a female flight attendant in the face, breaking her nose, which required hospitalization.
American Airlines said it was "outraged by the reports of what took place on board. The individual involved in this incident will never be allowed to travel with American Airlines in the future, but we will not be satisfied until he has been prosecuted to the full extent of the law," it said without elaborating on what triggered the altercation. "This behavior must stop, and aggressive enforcement and prosecution of the law is the best deterrent."
Bad behavior on this Hawaii flight resulted in the highest FAA fine to date.
The FAA's fine, in this case, is the largest yet, as relates to this passenger who attempted to open the cockpit door, disobeyed cabin crew instructions, then physically assaulted a flight attendant multiple times.
Managing stress on a plane.
1. Don't fly if you are angry or having a difficult time dealing with a situation in your life. That could make matters worse in the air.
2. Watch alcohol intake if that changes your personality. You are still responsible for your actions.
3. Remember that flight attendants are there for our safety. They work in an incredibly stressful environment, and need to be treated professionally.
Disclosure: We receive a small commission on purchases from some of the links on Beat of Hawaii. These links cost you nothing and provide income necessary to offer our website to you. Mahalo! Privacy Policy and Disclosures.