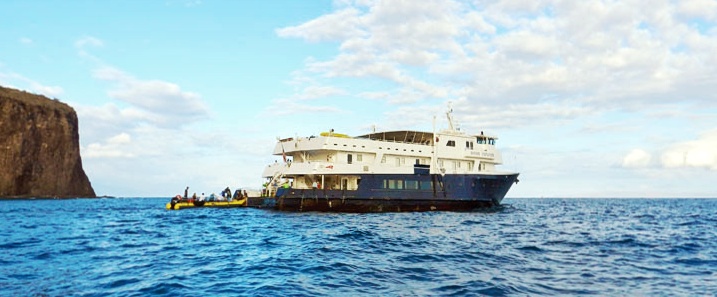 If you plan on a Hawaii cruise, it looks like booster vaccinations will become the new norm. The first cruise line to require them has announced they will be needed starting February 4.
What is UnCruise Hawaii?
UnCruise is a smaller cruise ship that operates entirely within the state of Hawaii. The company said, "we are aware of the additional CDC focus on larger cruise lines and variants, and we continue to take a safe and practical approach to every step of our small-vessel experience. We've successfully operated in…Hawaii during Covid and recent experience has proven a recipe for limited transmission with variants thus far. We require full vaccination to board, including a booster for all of those who are eligible, along with a negative molecular Covid test."
Last month Hawaii permitted UnCruise Adventures to again offer sailings, making UnCruise the first to return to all-Hawaii cruises using the small, 36-passenger Safari Explorer pictured here.
Uncruise said, "it's time to focus on our guest's experience and the people and culture of Hawaii. After almost two years of very limited travel, we are celebrating the permissions granted to us, and our ability to share an immersive exploration of the Hawaiian Islands."
The company worked with the Hawaii Department of Health and set out a 100% full vaccination (and now booster) plus testing requirement for all passengers and employees.
When UnCruise first started sailing in Hawaii, Beat of Hawaii editors were onboard. See our Uncruise review.
Other cruise lines appear to be falling in line for boosters.
At this time, Royal Caribbean and Carnival Cruise say that they "strongly recommend" passengers receive boosters but, so far, they have not mandated it.
When are other Hawaii cruises resuming including NCL Pride of America?
After a nearly two-year absence, the 2,500 passenger Grand Princess returned to Hawaii earlier this week for the first time. The ship is on Kauai today before heading to Maui tomorrow, and then returning to the west coast. Other ships are set to follow in the Grand Princess' tracks to Hawaii.
So far, the all-Hawaii Norwegian Pride of America has again postponed its 7-day Hawaii cruise from Honolulu. It is hoping to return as early as March.
How safe would you feel on Hawaii cruise ships now?
Disclosure: We receive a small commission on purchases from some of the links on Beat of Hawaii. These links cost you nothing and provide income necessary to offer our website to you. Mahalo! Privacy Policy and Disclosures.