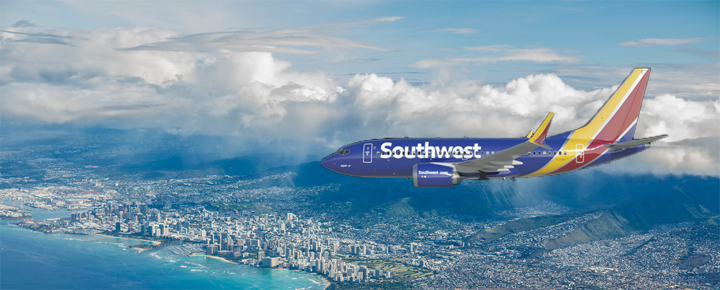 Updated 1pm HST August 14, 2018. We have more information and further clarification on what to expect on upcoming Southwest Hawaii flights.
To whet your appetite, we were told by SWA to expect a very contracted time frame between their upcoming announcement and the first flights. That should result in airfare sales from all carriers and some of the best deals we have ever seen for flights to Hawaii.
Last week you'll recall we attended a Southwest "talk story" regarding upcoming Hawaii service. We spoke one-on-one with Andy Watterson, SWA Executive Vice President and Chief Revenue Officer. Since then various media outlets have offered differing information about what to expect. Some said not to expect flights this year at all. Following is what we expect, based on our conversations with Southwest and new information we've since obtained.
Food on-board Southwest.
Southwest galleys do not support the hot/cold food services as is customary with Hawaiian Airlines and others. There are no traditional chillers/ovens or food trolleys in their aircraft. Galley space is extremely limited. Thus, while we were told to definitely expect food on SWA, we believe it is going to work differently than on other airlines.
We predict Southwest Hawaii food options may include a buy-onboard (or perhaps free) snack box which does not require refrigeration. SWA had snack boxes on longer flights until about five years ago.
First routes to Hawaii.
There could be up 8 flights to Hawaii daily at the beginning from four California airports (Oakland, San Diego, San Jose, and Sacramento). Flights will be to both Maui and Honolulu. We do not expected those flights to continue to Lihue and Kona on first announcement (subject to change). What we are hearing is that the Kauai and Big Island flight extensions will be added in the first couple of months. More Southwest Hawaii inter-island services will follow in 2019.
Dedicated Facility at HNL.
SWA Hawaii flights will use a dedicated multi-gate area being developed at the Diamond Head Concourse. This will be at the ground floor level. That was the location previously planned for the move of now defunct Island Air from the commuter terminal. HNL gates will make use of portable aircraft boarding stairs. The Diamond Head Concourse is in the midst of a $1.1 billion, multi-year renovation.
Beat of Hawaii's best estimate of timing at this point is as follows. We will update this as we learn more:
September to October 2018
✈ ETOPS test (proving) flights across Pacific
✈ ETOPS final certification
✈ Staffing in place at Hawaii's launch airports
October to November 2018
✈ Flight announcement/ticket sales start
✈ Commencement of flights to Honolulu/Maui
November 2018 to January 2019
✈ Flight extensions start to Kona and Lihue
Mid-2019
✈ Direct flights commence to Kona and Lihue
✈ Additional Hawaii interisland flights.
August 7, 2018 SWA Hawaii Announcements:
A Southwest Hawaii meeting was hosted August 7 by the airline in Honolulu. We were at this private event which was both interesting and disappointing. To cut to the chase, there was no announcement of Hawaii flights, as we had hoped would be the case and had been rumored. We did, however, obtain a great deal more information on what is ahead including when flights would start and in flight services.
I spoke privately with Andy Watterson, Executive Vice President; Chief Revenue Officer. He was a pleasure to speak with and was forthcoming about Southwest Hawaii plans (as was the entire team). Andy indicated that flights will be announced imminently (by October), with flights to begin possibly just weeks thereafter. There were 18 Southwest Airline team members present including four executive officers.
Why haven't they announced flights yet? Andy told us the company would rather risk revenue loss caused by short lead time rather than announce the flights before the FAA gives its final go ahead.
Which Hawaii destinations will come first? When asked if Maui and Honolulu would be the start of their Hawaii destinations, Andy confirmed that is likely. He did not contest the notion that Kona and Lihue Hawaii flights would start soon thereafter (all probably before year-end).
Planes will not be based in Hawaii. Andy told us that all aircraft will rotate through the islands rather than any dedicated fleet ever being based in Hawaii. He depicted a scenario where a plane arrives one day, spends a day flying inter-island, then returns the next day to the mainland.
Could Southwest buy Hawaiian Airlines? Andy said quite emphatically, "no." He said that airlines are very expensive currently and that such a move would not make sense.
Will the liberal Southwest fee structure change? Jim Ruppel, Vice-President for Customer Relations, said that they will not. Thus, there will be no fees for the first two checked bags per passenger. Also there will be no change fees (other airlines charge up to $200).
What will be the legroom be? Southwest executives said that their planes will have the most legroom in economy of any carrier across the Pacific. Standard pitch on all seats will be 32 inches.
Food on Southwest Hawaii flights? Yes, you heard it here first, and that is what we were told. The carrier plans to offer food on flights to Hawaii. We'll be learning more about that soon, we're sure.
Entertainment on Southwest Hawaii flights. There will be live television to Hawaii, in addition to movies and chat messaging. The carrier will have satellite WiFi on Southwest Hawaii flights. Passengers will be able to bring their own devices to take advantage of these services.
More news on Southwest Hawaii flights:
1. First California departure cities are Oakland, San Diego, San Jose and Sacramento. But which cities will come next?
While start cities are unchanged, it appears that more California cities could come very soon thereafter. Look for Los Angeles and perhaps Ontario and/or Long Beach.
"We intend to serve four Hawaiian Islands from California…. Our initial intention is to begin Hawaii nonstop service from Oakland (OAK), San Diego (SAN), San Jose (SJC), and Sacramento (SMF). From California, you can reach Honolulu, HI (Oahu), Kahului, HI (Maui), Kona, HI (Island of Hawaii), and Lihue, HI (Kauai)…. We also intend to provide interisland service, so you can fly between the Hawaiian Islands with us, too."
2. Hawaii inter-island service and time frame confirmed.
"We will start interisland service once we build up our network and have enough frequency to make it meaningful."
BOH: Look for some degree of Hawaii interisland nearly right away, with more extensive service to start before the end of 2019, including a new Hawaii based crew. A significant issue here is that the SWA fleet will have engine cooling considerations on repeated short routes. The 737's were not designed to compete with the Hawaiian Airlines 717 fleet, which supports all day long, rapid-fire, short hops. Thus. it remains to be seen how this will impact flight frequencies, or if there will be a combination of inter-island plus one-stop service to mitigate this issue. An example of that would be Oakland/Honolulu/Lihue/Oakland.
3. Pricing will be aggressive.
"We will come in with lower fares, and not introductory fares. We have the structure to offer low fares…. It's got to be a price that's competitive and the lowest price in the market." — SWA president Tom Nealon.
BOH: First, a fare war with unprecedented low prices is inevitable. We also wonder if Alaska Airlines might withdraw from these routes once Southwest service starts.
4. Southwest marketing plans were shaken by recent accidents. Following its 4/17/18 incident and first ever passenger fatality as the result of an uncontained engine failure, as well as another subsequent incident, the company has been trying to regroup and cover. All marketing activity was temporarily halted.
5. Long Beach as a future departure city? JetBlue has announced it is cutting back service to Long Beach. That will make additional slots available for Southwest, should it be interested. Hawaiian Airlines will also be flying from Long Beach to Honolulu starting next month.
6. Routes other than from California. Previously we had reported Las Vegas and Phoenix in addition to California flights. Those should be coming a bit later.
Aircraft. Flights are still set to start on existing 737-800 aircraft, as are being used by other carriers on flights to Hawaii. They will then transition to their new 737 MAX 8 and perhaps 737 MAX 7. The latter brings cities like Denver and beyond into range.
7. Southwest service offerings. Southwest's unique one-class service paradigm will remain unchanged according to CEO Gary Kelly. They include:
1. Two free checked bags.
2. No seat assignments. There will still be an early boarding option for $15, which should prove to be extremely popular on flights to Hawaii.
3. No meals for sale. Only drinks and snacks as is customary for the airline.
4. No charger ports. You'll need to bring a charged battery and perhaps a charger pack. We use the Anker ones, which have been the best performing and most reliable.
5. In-flight entertainment. It will be available on your own devices only. Fee based satellite WiFi may be offered either at launch or subsequently.
8. Hawaii overnight/red-eye flights
Kelly stated that while they may offer overnight flights in the future, "we don't really desire to fly red-eyes right now." "For our style of operation, it would complicate things.
BOH: Overnight service will definitely come to their Hawaii flights at some point. That could occur much sooner than later out of logistical necessity.
9. The "Southwest Effect"
So exactly what impact can we expect to see in terms of Hawaii airfares once SWA is a reality? A 2016 Northeastern University study based on 2010 data found that when they enter a market, a whopping 24% drop in airfares can be anticipated.
Updated July 14, 2018.