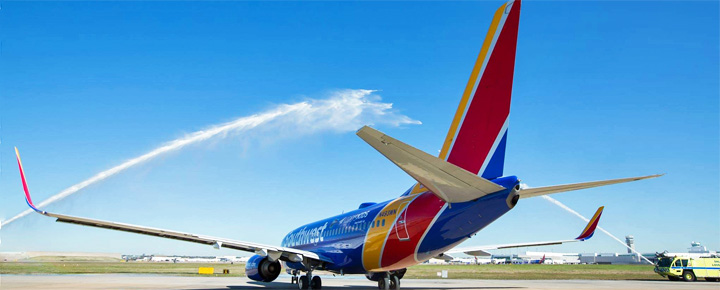 Latest as of 6/13/19. News this week on when Max planes might return to the air and just what that means to Southwest Hawaii flights. Two sources closest to the situation chimed in on when we might see Southwest Max planes fly again. That, of course, is the signal for the release of the remaining, and now long-awaited, Southwest Hawaii routes.
FAA: Indicating this week that they're "under a lot of pressure," FAA association administrator for aviation safety Ali Bahrami indicated Max planes will fly "when we believe it will be safe." While he did not give a specific time frame, he did say that Boeing's recent projection of a return to flight by the end of the year seemed correct.
BOEING: Boeing's CEO Dennis Muilenburg said on CNBC that he now expects Max to return to the air by the end of 2019.
BOH: We are also now seeing the decay of airline plans to return Max to service this summer. Southwest today took the Max aircraft off schedule through Labor Day. That followed American Airlines' move on Monday that also took 24 of the new planes off their schedule until September.
Do more Southwest Hawaii deals lie ahead for summer and fall?
Good news is that we expect late summer and fall Southwest Hawaii deals coming soon on their existing routes.
These 34 grounded Max aircraft are essential for additional Southwest Hawaii routes.
The routes we are awaiting include flights to and from Kauai, San Diego and Sacramento, plus Kona nonstop flights. Those would have occurred long ago had it not been for the Max crash-related problems which spiraled out of control.
Hawaii had been the absolute focus of Southwest's 2019 plans, and those plans are being rapidly shifted into 2020. Now, months since the second of two deadly crashes, the U.S. government is in a safety review that includes all 737's. That expansion to include more planes in itself meant months longer for 737 MAX's to return to the air.
Regulators are also still debating what training is needed for Boeing 737 Max pilots, prior to the plane flying again. Last month 33 countries met with Boeing to discuss the situation. Training may ultimately be the determinant of when the planes next fly and more specifically, when more Hawaii flights can start.
Lastly, in another potential cause of delay, European regulator EASA appears less inclined to any early return to flight for the grounded planes. EASA has always moved in concert with FAA when it comes to such matters, and in terms of credibility, it isn't clear that the two will want to diverge at this juncture. 
Next Southwest flight schedule update coming July 10.
For those of you waiting for flights after January 5, the company will release its next schedule for flights through March 5, 2020. That scheduled release date may be changed.
Max perception will impact Southwest Hawaii.
We'll all wait to see whether people will readily fly on any airlines' Max aircraft following the Lion Air and Ethiopian 737 Max crashes. That willingness is crucial to long trans-Pacific Southwest Hawaii flights. That is because Max is to be their primary Hawaii plane going forward.
We wondered too about how Southwest employees feel about returning to the sky on Max, and we've reached out to some we know for their input. So far we have not heard any consternation about flying Max from our Southwest contacts.
Last month, Barclays said passengers may not fly on the 737 Max "for an extended period" following return to flight. "Nearly half won't fly MAX for year or more." The company surveyed nearly 2,000 travelers.
We don't know how accurately that survey will pan out, especially when it comes to Hawaii and the potential of more $99 airfares. But the question remains, how and where will Southwest bring the Max planes back, and what will the reception be? Airline executives have come forth to say that they and other employees will be first to fly the Max planes, but at least for us, that does absolutely nothing to assuage passenger concerns.
Southwest Hawaii Updates as of June 13, 2019
1. When do we expect San Diego, San Jose, Sacramento, Lihue and Kona (nonstop) flights be announced plus more inter-island flights?
Our best estimates by route and date are below. The entire Hawaii roll-out, plus subsequent flights from Las Vegas, Phoenix and Denver, will take much longer than the airline had expected.
2. Are there more $99 airfares ahead?
It may take time and patience for the $99 airfares to return, but return they will. Whenever more flights are announced, Hawaiian Airlines will compete on mainland and inter-island routes and Alaska Airlines will join in as well. At that time, intermittent Hawaii airfares starting at about $100 each way and inter-island fares in the $30's each way may reoccur.
3. Why aren't flights bookable from points further east than Denver and when will they be?
That is because Southwest doesn't have red-eye (overnight) flights. While the airline has talked about changing that, it could be many months to years away. There are logistical and staffing issues, although the airline's reservation system has been updated to allow for them. When overnight flights start, that should make Hawaii accessible (without multiple tickets and a layover) from points further east across the U.S. CEO Gary Kelly said, "we don't really desire to fly red-eyes right now…. for our style of operation, it would complicate things." Red eye flights are used by other airlines flying from Hawaii to enable the long flights and up to 6 time zones between Hawaii and the eastern US.
When you attempt to book city pairs that require two separate SW tickets to Hawaii, you'll get a message that looks something like this: "Sorry, we found some errors… Flights from Minneapolis/St. Paul to Honolulu (Oahu) are not scheduled to operate on mm/dd/yy. Please select an alternate date or choose another origination/destination." That is your cue that two tickets are needed for now.
What's next for Southwest Hawaii.
July 10, 2019
✈ Southwest schedule update for flights through March 5, 2020
Next round of announcements by end of 2019 or early 2020
✈ Flight announcements from Sacramento to Honolulu and Maui with flight commencement
✈ Flight announcements from Honolulu to Kauai
✈ Flight announcements from San Diego to Honolulu and Maui
✈ Southwest 737 Max 8 returns to service
By Spring 2020
✈ Flights start from Honolulu to Kauai (inter-island only)
✈ Flights start from San Diego to Honolulu and Maui
Later in 2020
✈ Flights from Los Angeles to Honolulu and Maui
✈ Flights non-stop to Kona
✈ Flights from Honolulu and Maui to Hilo
✈ Flights from Phoenix, Las Vegas, non-stop to Hilo and later Denver to Hawaii may start in 2020 or thereafter
Food, drink, entertainment and WiFi on-board Southwest Hawaii flights.
1. Food.
Southwest is offering free food in the form of two snack services that is being well received. One soon after take-off and another two hours before landing, much like the snack boxes SWA had on longer flights years ago. The main post-departure service features a snack bag that includes crackers, pretzels, cheese spread, Tic-Tacs and fruit snacks. The second service consists of Pepperidge Farm cookies. There is no other food for sale so if snacks aren't your thing, be sure to have food with you before boarding.
2. Hawaii-style beverages.
Island drink offerings include pineapple/orange juice, Kona Longboard beer and Blue Chair Bay (Caribbean) rum.
3. Entertainment. The SWA inflight entertainment portal is active on Hawaii flights. That includes flight tracker, gate information, games, free live TV, on-demand TV, free movies and messaging.
4. WiFi on Hawaii flights. The airline is offering $8 Wi-Fi for the entire flight. Southwest satellite Wi-Fi on Hawaii flights provides gate to gate connectivity. Just don't forget a charger/battery pack, as their aircraft do not have any charging capability.
Southwest services.
Two free checked bags.
No seat assignments.
$25 Early Bird Check-in provides the option of automatic check-in before the 24-hour check-in and offers an earlier boarding position for a better chance of seat selection and access to overhead storage.
Updated June 13, 2019. Image courtesy of Southwest Airlines.