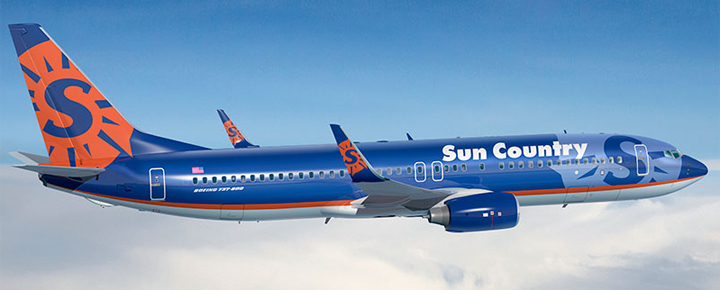 Another surprise today with new Sun Country Hawaii flights from Portland! The Minneapolis based airline announced that they will start four-times weekly, nonstop 737-800 service between Portland and Honolulu effective November 14. Introductory fares from $159 each way. Tickets are currently on sale for travel starting both in Portland and in Honolulu.
This following last December's first surprise announcement that Sun Country Hawaii flights were on the near term horizon.
Sun Country Hawaii | Second Route from Portland to Honolulu.
Flights will operate Sundays, Wednesdays, Thursdays and Saturdays. Service is set to be seasonal at this point, but certainly that will depend on how things evolve. Last flight shown on their current schedule is January 6. Stay tuned for more on this.
Alaska is the primary carrier between Portland and Hawaii. Sun Country saw strong demand and relatively little competition as an opportunity to expand.
Sun Country Hawaii | First Route from LA and MSP.
Sun Country flights from MSP and LAX are also seasonal, at least for now, from Minneapolis to Honolulu, via Los Angeles. This aboard the company's 737-800 planes. Flights are available through August 19 and operate four times weekly, Friday through Monday.
We expected Sun Country Hawaii flights to expand.
Why? Sun Country is now headed by former Allegiant architect Jude Bricker. Jude was responsible for Allegiant's entry into the Hawaii market. While that failed, don't hold it against him. His hands may have been tied in many ways at Allegiant. Now, however, Jude is in a position to be calling the shots as Sun Country's president and CEO. We met Jude shortly after Allegiant Hawaii flights commenced and we were quite impressed by him and his commitment to Hawaii flights.
Contrasting Sun Country and Allegiant.
These two companies are not birds of a feather. For example, Allegiant flew to Hawaii on old and uncomfortable 757 aircraft that were also not reliable. Sun Country will arrive on current generation 737-800 aircraft configured similarly to other airlines flying to Hawaii. These offer 150 economy seats with 31 to 33 inches of pitch and 12 first class seats with 37 to 39 inches.
Quotes from Sun Country and Hawaii Tourism Authority.
"The addition of Honolulu to the family of Sun Country destinations gives our travelers the opportunity to experience the unique culture and history of Hawaii. We are thrilled to partner with Daniel K. Inouye International Airport so our travelers can experience all of what the island of Oahu has to offer." — Jude Bricker, Sun Country Airlines' president and CEO.
George Szigeti, president/CEO of HTA added: "We look forward to welcoming Sun Country Airlines and its customers with aloha to Hawaii starting this spring."
About Sun Country.
The 35 year old Minnesota based airline currently flies a fleet of 26 Boeing 737's to 40 cities in North America, Central America, the Caribbean, and soon Hawaii. They have previously operated to Europe and already has the all important ETOPS certification required for over water flights to Hawaii. We were not able however, to confirm the type of certification they have.
History of Sun Country.
Sun Country dates back to 1983. The company is relatively new to us and definitely new to Hawaii. It is headquartered at MSP airport.
Through multiple owners and multiple fleets, the company has struggled to find its niche. It has incurred bankruptcies and a complete closure in 2001. Thereafter a group of investors purchased the assets out of bankruptcy and Sun Country was restarted.
Since then, Sun Country moved to all 737 fleet and started expanding operations on the mainland, and to Mexico. It suffered yet another bankruptcy and financial fraud. Since emerging from bankruptcy in 2011, the company has expanded and generally thrived.
In July 2017, Jude Bricker was appointed president and CEO of Sun Country. In December, they announced that the company was being sold by its current owners to Apollo Global Management. That should bring additional resources to help the company grow further.
Sun Country is the largest privately owned airline in the United States, currently serving 2.5 million passengers yearly