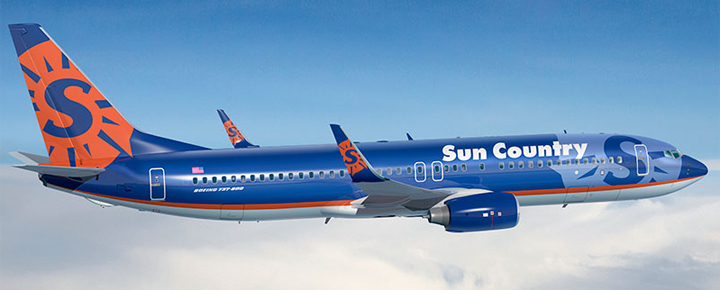 A surprise this week from Sun Country, and the addition of new nonstop 737-800 flights between San Francisco and Honolulu. The Minneapolis airline will add these starting spring 2019, through at least mid August. The new flights are in addition to their existing service from Portland and Los Angeles to Honolulu. San Francisco flights will be on Fridays, Saturdays and Sundays, and more days could be added later.
Can Sun Country Hawaii flights make it with Southwest's pending arrival?
San Francisco, in particular is an interesting choice. With the most competition to Hawaii of any regional area in the US, a low-cost airline picking the richest metropolitan area in the US, is a seemingly unlikely choice.
The carrier is entering the increasingly competitive West Coast market, just as behemoth Southwest Hawaii flights prepare for launch. That, of course, pending the government reopening of FAA services.
The three airports that Sun Country Hawaii flights start from already have a range of flights and airlines. And just how Hawaii bound California and Oregon customers will perceive Sun Country compared with Alaska Airlines, Hawaiian Airlines and the legacy carriers, still remains to be seen.
It's also a bit too soon to say how Sun Country will end up pricing flights this summer. Much of that is dependent on Southwest's entry into Hawaii and how the other airlines respond.
Sun Country led by Allegiant's Jude Bricker
"The addition of Honolulu to the family of Sun Country destinations gives our travelers the opportunity to experience the unique culture and history of Hawaii." — Jude Bricker, Sun Country Airlines' president and CEO.
Bricker was the Chief Operating Offer and "brains" behind Allegiant's desire to fly to Hawaii. We met Jude when Allegiant was preparing to come here, and we were impressed by him and his smarts and determination. His preferred model is one of basic low cost entry price, together with a menu of discretionary charges.
The airline has had a series of issues that Bricker has had to deal with. Those included stranding 250 passengers in Mexico in April 2018. In addition they made recent news for a failed attempt to change from employees to lower cost contractors for a myriad of ground services. These did nothing to inspire confidence within its loyal Minneapolis custom base and they reverted back to employees.
Contrasting Sun Country and Allegiant.
These two airlines are not birds of a feather. For example, Allegiant flew to Hawaii on old, unreliable and uncomfortable 757 aircraft. Sun Country uses current generation 737-800 aircraft configured similarly to other airlines flying to Hawaii. These offer 150 economy seats with 31 to 33 inches of pitch and 12 first class seats with 37 to 39 inches.
Sun Country Hawaii Flights from Portland and Los Angeles. 
In 2018 Sun Country Hawaii flights commenced from Portland. The airline started four-times weekly, nonstop 737-800 service between Portland and Honolulu effective November 14. Alaska is the primary carrier between Portland and Hawaii. Sun Country saw strong demand and relatively little competition as an opportunity to expand.
Sun Country Hawaii | First Route from LA and MSP.
Sun Country flights from MSP and LAX are also seasonal, at least for now, from Minneapolis to Honolulu, via Los Angeles. Flights operate four times weekly, Friday through Monday.
About Sun Country.
The 35 year old Minnesota based airline currently flies a fleet of 26 Boeing 737's to 40 cities in North America, Central America, the Caribbean, and Hawaii. They have previously operated to Europe and already has the all important ETOPS certification required for over water flights to Hawaii.
Sun Country dates back to 1983. The company is relatively new to us and definitely new to Hawaii. It is headquartered at MSP airport.
Through multiple owners and multiple fleets, the company has struggled to find its niche. It has incurred bankruptcies and a complete closure in 2001. Thereafter a group of investors purchased the assets out of bankruptcy and Sun Country was restarted.
Since then, Sun Country moved to all 737 fleet and started expanding operations on the mainland, and to Mexico. It suffered yet another bankruptcy and financial fraud. Since emerging from bankruptcy in 2011, the company has expanded and generally thrived.
In July 2017, Jude Bricker was appointed president and CEO of Sun Country. In December, they announced that the company was being sold by its current owners to Apollo Global Management. That should bring additional resources to help the company grow further.
Sun Country is the largest privately owned airline in the United States, currently serving 2.5 million passengers yearly.
Disclosure: We receive a small commission on purchases from some of the links on Beat of Hawaii. These links cost you nothing and provide income necessary to offer our website to you. Mahalo! Privacy Policy and Disclosures.