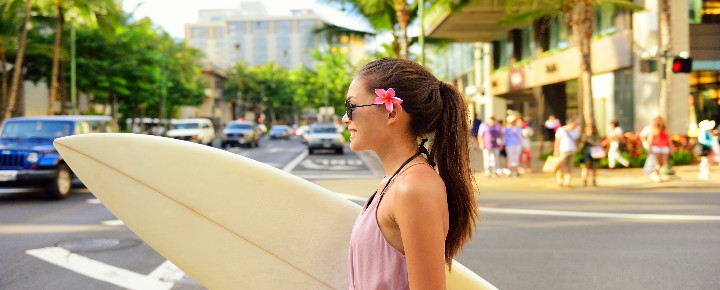 UHERO, the University of Hawaii research arm for the State came out swinging this morning with its critical take on upcoming changes to Hawaii tourism plans.
Hawaii Tourism Authority (HTA), last year released their 2020-2025 plan. Since then, it has issued island by island plans that UHERO says describe "the specific actions HTA would take to 'rebuild, redefine and reset tourism's direction over a three/four year period [2021-2024]…'" Their plans are at best controversial. Even worse, they both tend to marginalize tourists, while not having the backing of the state or the authority needed to ever be implemented.
Hawaii first crafted tourism plans starting in 1980. However, UHERO said "until now, the State's policy toward tourism has been to accommodate its growth. With HTA's new [plans]… that is about to change!"
Oahu's lofty plan, for example, includes:
Decrease the total number of visitors to Oahu to a manageable level by controlling the number of visitor accommodations and exploring changes to land use, zoning and airport policies.
UHERO said that they "are not convinced that HTA can achieve this or any of the other actions because they lie beyond HTA's capacity. Further, they say the state's research arm intends to subsequently address whether they even believe that "reducing the number of visitors would actually be good for the community."
BOH: It will be fascinating to see this discussion further unfold and whether the state's research arm even concurs with any of the HTA's upcoming plans or not.
Oahu plan.
"By 2024, together with the community, the visitor industry will be rooted in mālama — to take care of this place and each other. Oahu will live in joy, abundance, and resilience because visitors and residents understand what is pono, and have respect for each other and the environment."
Does this sound like the Honolulu we all know and love?
The number one goal stated in HTA's plan is to reduce tourism. Following that, improving infrastructure and visitor sites, and communications programs follow. Not far after that comes "regenerative tourism fees" to fund the protection of natural resources.
As pointed out by UHERO, "HTA lacks authority over state and county agencies." They have made that point repeatedly. The research group also calls out that costs associated with the implementation of the proposed plans have not been addressed. UHERO said, "it is a serious shortcoming as State lawmakers passed legislation during the last session requiring HTA to compete for funding from the general fund; moreover, there is no guarantee that other agencies have funds available…."
UHERO says Hawaii should instead "focus on tourism governance."They point out that while Hawaii is "very good at crafting tourism plans… the problem has been ineffective implementation…."
What is tourism governance and what is its importance?
Sustainable tourism is likely to be achievable according to UHERO when there is effective governance. So just what is that?
UHERO defines it as "a process whereby different stakeholders interact in order to solve problems and find opportunities for the different sectors involved … It is the coordinated participation of all stakeholders in the tourist destination with a view to achieving shared goals."  What is needed is coordination across all state government, industry, and community stakeholders.
The state of Hawaii clearly does not have effective tourism governance. That was acknowledged by the HTA as far back as 2015 when it said it "did not have sufficient authority or resources to require others to help carry out that plan, or to constantly monitor and oversee what was being done by others. Therefore, the new [plan]… is an 'HTA' plan only, though it recognizes the need to work with partners and stakeholders."
HTA's plans are not the State of Hawaii's plans.
UHERO concludes, "As the latest HTA tourism strategic and action plans are not State plans, they only required approval by the HTA board and not by state lawmakers or other agencies. Why should we expect the outcome to be any different this time?… HTA, despite its good intentions, is still plagued by structural shortcomings that have not been remedied."
UHERO said previously that "three conditions are required to successfully manage a destination: 1.) Authority to take action, 2.) Sufficient resources to implement actions, and 3.) A long-term strategic view. Hawaii doesn't meet these conditions."
What is needed is a plan capable of governing tourism across all jurisdictions, agencies, functions and stakeholder groups. It "The long-term solution for tourism sustainability will require buy in and participation from a broad range of stakeholders."
In summary, UHERO states that "overtourism has become a much larger social issue since the 1970s. The problem with Hawaii's strategic planning process for tourism is that Hawaii has put massive efforts into developing tourism plans but has put little effort and thought into developing a governance system to ensure that plans are successfully implemented. That has to change."
BOH: We concur with UHERO's findings. Toothless HTA plans are just that. Furthermore, unless they are well thought out and become the State of Hawaii plans with appropriate "tourism governance," they are bound to both fail, and to further alienate Hawaii's visitors.
We welcome your input.
Disclosure: We receive a small commission on purchases from some of the links on Beat of Hawaii. These links cost you nothing and provide income necessary to offer our website to you. Mahalo! Privacy Policy and Disclosures.