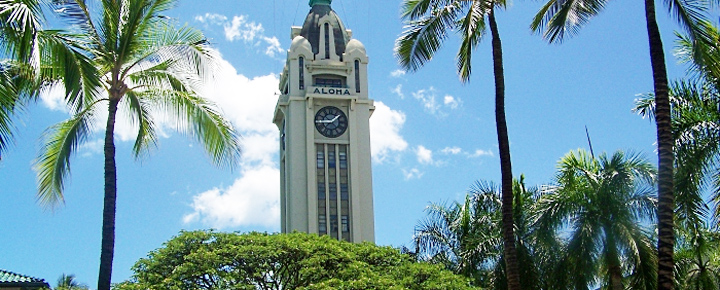 The clock is ticking at the Aloha Tower in Honolulu (pictured here). Just one week from today, Hawaii will reopen to visitors. This morning we have had a flurry of comments and the theme is utter confusion about Hawaii's rules and partners for reopening on October 15. Here's what people have been saying.
Macie L said "I'm so confused. I thought any NAAT/PCR test from a CLIA Lab was acceptable. Now it has to come from one of the named testing partners? We have reservations to come 10/15 and am extremely concerned now about my ability to get a test. I have called the (state) repeatedly and gotten nothing but voicemail with no callbacks. I already have an appointment for a NAAT test at a CLIA lab, but not with one of the partners listed above. We can't get more information from CVS until 10/10. Vault won't guarantee I get test results back before I board my flight unless I rebook with Hawaiian Air. I'm not a Kaiser member. So frustrating. I'm willing to comply with any rules the state of Hawaii has but this is ridiculous."
Tamara H. added "This is all so unclear. On the official hawaiicovid19.com website, it states any NAAT test from an approved CLIA lab is acceptable. It does list the "travel partners" but does NOT state the test has to be done by one of these partners ONLY. See "What is the pre-travel test program?" Is this not the official government website?"
No, you are not imagining the confusion.
Here is information found today on the state's official COVID 19 travel page.
1. "Currently approved is the processing by laboratories that are licensed or certified by Clinical Laboratories Improvement Amendments (CLIA) of specimens for nucleic acid amplification testing approved or authorized by the United States Food and Drug Administration, pursuant to an Emergency Use Authorization or other authorization for COVID-19 testing."
Beat of Hawaii: That gives the clear impression that so long as tests comply with this statement, the source company from which you obtain the test does not matter. But in fact, everything we have been told says that is simply not the case. 
2. "The state of Hawaii will accept test results from trusted testing and travel partners: AFC Urgent Care, Carbon Health, CityHealth Urgent Care, Color, CVS Health, Discovery Health MD, Kaiser Permanente, Quest Diagnostics, Vault Health and Walgreens (as of 10/6/20)."
Beat of Hawaii: The two statements above are in conflict. The first one says it doesn't matter the test provider, and the second one says that it must be from one of the approved "trusted partners."  Lt. Gov. Green has said repeatedly that only tests from the trusted partners will be accepted, at least for now. It is safe to go with that answer, as he is the official in charge. Moreover, this is just one of many areas that need to be "cleaned up" on that web page.  
3. What about the airlines? The chart shown yesterday during the governor's press conference clearly showed testing through Alaska Airlines (pending approval), Hawaiian Airlines, Southwest Airlines, and United Airlines. Those have never appeared on the list of approved "trusted partners."
Beat of Hawaii: For example, GoHealth is one of two providers for United Airlines tests, and that vendor doesn't appear on the list of trusted partners. The airlines aren't the testing companies, so even listing them seems to be mixing apples and oranges. Nonetheless, the state did list them and refer to them during yesterday's press conference.  
Where can COVID tests for kids be obtained?
Today, Amber asked, "A problem I have come across is that both CVS and Walgreens will not test children under a certain age. Was there any mention of children being tested? I am assuming they will have to get a test also?
When Hawaiian Airlines introduced their at-home testing via Vault Health, they said the $150 mail-in saliva test would be available for all ages including children. That test is sent via overnight mail to travelers who self-collect saliva with the assistance of a testing supervisor via video call. It is then mailed to the lab that processes the sample and provides travelers results within 24 hours of receipt of the sample.
That test can be purchased directly from Vault, so you do not need to be flying on Hawaiian Air. Further adding to the confusion, we found that Vault says, "Typically you will receive an email with results 48-72 hours after your sample is received at the lab." So that brings into question the timing of test results for Hawaii travel.
But keep in mind this warning from Macie J. "I called Vault yesterday and you can purchase a mail in test. But without a reservation on Hawaiian Air, the turnaround time is up to 72 hours after they receive the sample. Which may mean you need to board the flight without having your test results back. However they do seem like a good option if you are flying with Hawaiian."
When Alaska Airlines introduced their pop-up testing via Carbon Health, which is set to begin next week in Seattle, they indicated that all ages can be tests including children.  That company also provides mail-in testing, and again it doesn't appear to matter what airline you are flying, although Alaska flyers will receive a discounted price.
We know that kids starting at age 5 definitely need to be tested. Lt. Gov. Josh Green said tests for kids will be primarily available via mail-in testing.
Question: Have you been able to successfully source COVID tests for kids traveling to Hawaii? Please let us know.
Will test results be timely?
No one wants to go into quarantine simply because the testing company couldn't provide result in a timely way. We need the state to confirm that their "trusted partners" will be able to service these tests in order to avoid quarantine.
In that regard, Stevi C. wonders "If a quarantine is mandatory until test results are received? If so, do we know if the testing partners are going to be able to turn the test results around within 72 hours? I may reschedule if this is the case, as I'm only going for a week and don't want to risk having to spend half of it in quarantine. I've had bad luck in the past with my test taking 15 days to get results."
What happened to American Airlines as a trusted partner? 
Joan B. noted, "I have heard that American Airlines is not on the list yet because their test did not meet Hawaii's requirement and they have to go back to the drawing board."
And Julieta D. just added, "I just got off the phone with AA and they have a site where it now provides more details on steps to take for traveling to Hawaii… (still vague on Kona though). The site is aa.com/covid19testing. It takes you to a page with links to their partners and more information. They will keep updating this page as information Is updated."
Beat of Hawaii: Unfortunately, American's testing partners are not Hawaii's trusted partners. So it would seem something still needs to happen between the state and American to get this confusion resolved. We do see that the American website says that their tests will work for Hawaii. 
Some of today's other related questions and comments:
David F. asks, "Walgreens is offering two different testing options, with one available at some locations and the second offered at the other: (1) "PT-PCR Diagnostic Panel" and (2) "Rapid Point of Care ("POC") Test". I cannot find on the Walgreens website whether either or both are the "NAAT test conducted at a CLIA-certified laboratory" as required by the Hawaiian authorities. Do you happen to know whether one or both of the test options offered by Walgreens meets the requirements for Hawaii's travel program?"
We want to hear from you!
Disclosure: We receive a small commission on purchases from some of the links on Beat of Hawaii. These links cost you nothing and provide income necessary to offer our website to you. Mahalo! Privacy Policy and Disclosures.