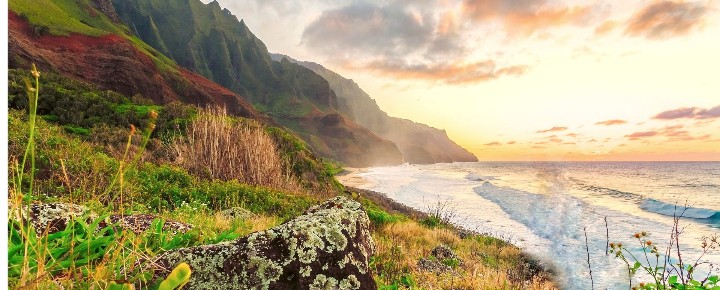 Since Hawaii officially reopened to visitors, the rules that apply to arrivals remain in a state of change, which, to say the least, can be challenging when planning a Hawaii vacation. To help, we try to keep this post updated as things change, so check again for more information. This was last updated on May 28, 2021.
If you read our post before, here is what has changed since the last update.
Mandatory 2nd on-arrival tests on Maui and the Big Island have ended as of June 4.
Kauai rejoined Hawaii Safe Travels in April and has no 2nd on-arrival test required.
Latest update on vaccination travel plans and limited new exemptions for visitors.
As of 6/4, the state has just finalized its plan for how and when Hawaii travel for vaccinated visitors will start.
Until further notice, however, those traveling to any Hawaii destination from the mainland are still required to have an approved COVID test from a "trusted partner" within 72 hours of travel.
1. There is currently an interisland testing exemption, which is only valid for Hawaii residents who were vaccinated in Hawaii. You are still required to complete the Safe Travels online form and upload proof of vaccination.
2. As of June 15, there will be no testing required for anyone traeling interisland.
3. The state plans to have a vaccination exemption for mainland visitors, which is expected to start soon.
4. Interisland travelers to all islands other than Honolulu (who are not exclusively in transit to another destination) between now and June 14 must have an approved COVID test from a "trusted partner" within 72 hours of travel (unless you qualify for an exemption under #1).
Travel to Hawaii: COVID testing.
1. Testing will remain even when the anticipated vaccination exemption has been implemented. You must test within 72 hours of a scheduled transpacific flight departure to Hawaii, and tests must be from one of the Hawaii-approved testing partners. Costs for testing are borne by travelers and can vary from free to $250 per person. See testing providers at the end of this post.
2. Hawaii requires NAAT/PCR testing only, and nothing else is acceptable. Also, the test source must be one of Hawaii's trusted partners, not any lab, even when it is the correct test. The specific language in effect is as follows: "The state of Hawai'i will ONLY accept Nucleic Acid Amplification Test (NAAT) from a certified Clinical Laboratory Improvement Amendment (CLIA) lab test results from TRUSTED TESTING AND TRAVEL PARTNERS. A negative COVID-19 test result is required before departure to avoid quarantine in Hawaii."
3. The minimum age for testing is age 5. All travelers 5 and above must have a COVID-19 test and negative results through one of the state's trusted testing partners. Note that some trusted testing partners test all ages, and others do not.
Follow the rules closely to avoid quarantine.
Hawaii is not flexible about those who don't get test results on time, take the wrong test, or obtain them from the wrong source. The state does not make any exceptions.
Should anything go awry, you could end up having to leave Hawaii or enter the mandatory quarantine of 10 days. However, don't let that dissuade you as more than 1/2 million visitors per month are arriving successfully, and nearly all have been able to avoid problems. On the other hand, there are nightmare stories of those who took the wrong test, obtained it from the wrong source, or took it a day too early, ruining their expensive and long-planned Hawaii vacation.
Register for the Hawaii Safe Travels program.
1. All arrivals 18 and older need to register through the Hawaii Safe Travels online program. That is a mandatory requirement for both mainland and interisland travel.
2. Negative test results must be in hand as well as uploaded to the Safe Travels website before departure on your flight from the US mainland to Hawaii. If you have multiple flights, the within 72-hour timeframe is based on the last flight that ends with your landing in Hawaii.
3. A mandatory health questionnaire must be added to your Safe Travels account within 24 hours before departure.
4. The QR code for your mainland to Hawaii flight will be required for presentation on arrival, as will the additional QR code for any connecting flight.
Hawaii-bound passengers of these airlines can have their testing results checked before departure instead of on arrival. In addition, your airline will verify your Safe Travels profile and provide you with a pre-clear wristband, which allows you to bypass airport arrival procedures in Hawaii. Visitors have uniformly raved about how much this has helped the process.
Island-by-island rules.
Effective June 4, all islands have the same rules with the exception of Honolulu. Then effective June 15, the rules are uniform across the state. The rules below are IN ADDITION to the required 72-hour pre-travel testing requirement, which is in effect statewide.
Avoid frustration and confusion associated with travel rules with these details. See links to the county websites.
For interisland arrivals through June 14, a negative PCR test within 72 hours of departure to Kauai is required (fully vaccinated Hawaii residents are exempted). Thereafter no testing for interisland travel.
For interisland arrivals through June 14, a negative PCR test within 72 hours of departure to the Big Island is also required (fully vaccinated Hawaii residents are exempted).
Maui (includes Lanai and Molokai) regulations.
For interisland arrivals through June 14, a negative PCR test within 72 hours of departure to Maui is also required (fully vaccinated Hawaii residents are exempted).
Honolulu regulations. 
No special requirements at this time other than the statewide ones listed above.
How does the Hawaii 10-day quarantine work?
For those considering quarantine, or just so you know what "hard-time" (as David B. called it) looks like, here are the rules:
You must stay at your hotel (no vacation rentals allowed) except to leave for the airport or obtain emergency medical treatment.
Food and other supplies will need to be delivered, and you will not be permitted to go out for shopping or any other errands.
Any hotel space outside your room is also prohibited, including pools, restaurants, beaches, and gyms.
Hotels will provide you with a one-time entry key so that you may not leave your accommodation and return.
You are not permitted to rent a car while you are in quarantine.
Violation of quarantine requirements can result in a fine of up to $5,000 or up to now a year in jail.
Travelers with stopovers in Hawaii.
If your flight requires you to stop in Honolulu (or Maui) before transiting to one of the other islands, the negative test within 72 hours of scheduled departure for Hawaii will be accepted to your final destination.
Tip: If you have an actual layover on Oahu or another island (i.e., you leave the airport) prior to June 15, you will have to adhere to the additional testing requirements before proceeding to any island other than Honolulu.
Read all the rules (link above) and see how to obtain an exemption to allow you to travel here if you've recovered from COVID within the past three months. To request an exemption, go here. The state says to please allow a week for processing
Hawaii trusted testing partners.
DIGITAL HEALTH PASS
CLEAR (ONLY Delta DL 480 and United UA 1158 flights from LAX)
CommonPass (ONLY select Hawaiian Airlines and United Airlines routes)
US DOMESTIC
American Family Care (AFC)+
American Samoa Department of Health+
Atlas Genomics+
Capstone Clinic+
Carbon Health
CityHealth Urgent Care+
Clarity Lab Solutions+
Color
Commonwealth Healthcare Corporation+
Costco/AZOVA+
CVS Health (ONLY www.cvs.com/selfpaytesting, not a different CVS website or walk-in)
Discovery Health MD
Diagnostic Laboratory Services, Inc. (DLS Guam)
Guam Department of Public Health and Social Services
GoHealth Urgent Care*+
Kaiser Permanente (members only)
UC San Diego Health+
University Medical Center of Southern Nevada+
University of Washington Medicine+
Vault Health
Walgreens
WestPac Labs+
XpresCheck+
HAWAII INTER-COUNTY
Clinical Laboratories of Hawaii
Costco/AZOVA+
CVS Health/Longs Drugs (ONLY www.cvs.com/selfpaytesting, not a different CVS website or walk-in)
Diagnostic Laboratory Services (DLS)
Hawaii Pacific Health
Kaiser Permanente (members only)
Minit Medical
National Kidney Foundation of Hawai'i's Consortium**+
S&G Labs Hawaii LLC
Urgent Care Hawaii
Vault Health
Walgreens
AIRLINES/AIRPORTS
Alaska Airlines
American Airlines
Hawaiian Airlines
Oakland International Airport
Ontario International Airport
Southwest Airlines
United Airlines
CANADA
Air Canada
WestJet
+/* See https://hawaiicovid19.com/travel-partners/.
Updated 6/4/21.
Disclosure: We receive a small commission on purchases from some of the links on Beat of Hawaii. These links cost you nothing and provide income necessary to offer our website to you. Mahalo! Privacy Policy and Disclosures.