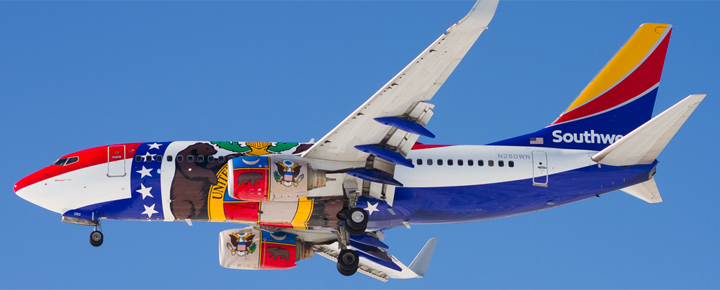 Bellwether Hawaiian Airlines is feeling the heat from Hawaii newcomer Southwest Airlines. The big question is what's next in Southwest vs. Hawaiian Airlines competition, following short-lived yet eye-popping $49 Hawaii Airfares. In a nutshell, let's just say this isn't over, in fact it's barely started. 
Introductory $49 airfares.
On Monday at 6am HST, Southwest released their first Hawaii routes replete with introductory $49 Southwest Hawaii deals. Those were between Oakland/San Jose and both Honolulu and Maui. First flights start on March 17, with staggered introductions throughout May including inter-island flights.
In the first round Monday, $49 airfares were sold out in less than one hour. The lowest price then went to $79, and those sold out within about 90 minutes. So in a few short hours, the best long-awaited introductory airfares were gone and we were back to pricing somewhat as we know it.
Best prices as of today.
$99 airfares remained and those have lasted to some degree. If you can fly in September, there are still a limited number of $99 airfares available from Oakland, but you'll need to hunt to find them. In September, Southwest's best prices range from $99 to $179. Hawaiian's best prices on that route range from $139 to $179. The Southwest fare includes two free checked bags, while the Hawaiian fare includes advance seat selection, which Southwest does not offer.
$29 Inter-island fare war.
$29 introductory inter-island airfares stuck around for some time, actually nearly two days. When introduced, those were met with a nearly immediate $29 Fare War  on Hawaiian Airlines Inter-Island. As of today, however, both carriers have raised the lowest price of inter-island to $49. In itself that price harkens back to fares of 20 years ago.
We haven't really even begun to see competition.
There was immediate relief for the industry, as Hawaiian Airlines, Alaska Airlines and the legacy carriers (American, Delta and United) did not even need to respond to Southwest's introductory airfares. Why? Because these sold out almost immediately and before others could even respond. That's because there was an enormous demand for the cheapest fares, and because the dates of availability were only through September. So, round one came and went with very little bloodshed and without a wide-ranging fare war. But that was just round one.
Three things that will incite Hawaii airfare wars.
1. On or about March 14, Southwest will extend their schedule through November 2, 2019. That will create another month's worth of Hawaii inventory. We don't know how aggressively they will price it, but we think it will be at $99 or perhaps even lower.
2. Southwest will soon introduce a number of near-term Hawaii routes. Those could be announced, without prior notice, at any time. Upcoming routes include nonstop service to Kona and Kauai from San Jose and Oakland, as well as flights to all four islands from San Diego and Sacramento. With these will come more introductory airfares, again at $99 or perhaps even lower.
3. Lastly, more inter-island routes will be announced. When more of these are announced, another round of inter-island fare wars will ensue.
Hawaiian Airlines on competition with Southwest.
Regarding competition with Southwest Hawaii flights,  CEO Peter Ingram said: "I am very confident that we have cost structure that will allow us to be competitive…. We compete effectively because we focus on a single thing, our unique brand of Hawaiian hospitality. How we do that… won't change…. We won't try to do what they do."
Peter said that competition in our Hawaii market isn't anything new. "…(When) we had Allegiant start service to Hawaii and I remember a lot of the investment analysts…were sort of prophesizing the immediate doom of Hawaiian Airlines. We've had Alaska coming into the market… ATA was in the market…. there is a long list of competitors we have dealt with."
Beat of Hawaii's take on Southwest vs. Hawaiian Airlines competition.
While there has always been strong and changing competition in the Hawaii market, 2019 unquestionably represents a major paradigm shift. We saw that this week, with brief but totally unprecedented $49 Southwest Hawaii deals from the mainland and $29 Hawaii inter-island airfares. And, as a result, Hawaiian Airlines stock was down 11% on Monday.
An entrant the magnitude of Southwest Airlines is something that we have never seen in Hawaii before. You simply can't compare the legacy airlines, Allegiant, ATA, or even Alaska Airlines to Southwest.
As an interesting side note, Andy Watterson, arguably the brains of Southwest Hawaii plans, and their EVP and Chief Revenue Officer, was previously the VP of Planning and Revenue Management at, you guessed it, Hawaiian Airlines.
While the $29, $49 and $79 deals are gone for the moment, don't despair. More of these cheapest time to fly to Hawaii deals will be returning in the days ahead as more routes and available dates are announced by Southwest and as Hawaiian and other airlines respond to competitive pressure.
We're also awaiting Southwest Hawaii red-eye flights, that will allow them to join their Hawaii flights to the entire US route network.
Disclosure: We receive a small commission on purchases from some of the links on Beat of Hawaii. These links cost you nothing and provide income necessary to offer our website to you. Mahalo! Privacy Policy and Disclosures.