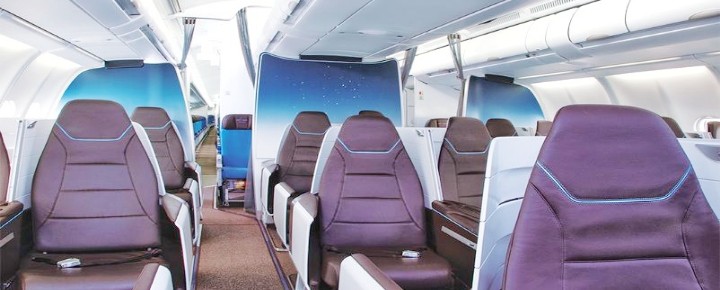 If you've wanted to fly premium on flights to Hawaii (okay, well who doesn't), but were not keen on the price tag, there are interesting options and a couple of other tricks that might help move you up to First.
Is First Class a luxury reserved for the rich? Not exactly. There are always ways to experience upgrades without breaking the bank. When you do, you get more space, privacy, far better food, and some degree of pampering.
Upgrades on flights to Hawaii are always possible, and in fact, most passengers in premium cabins used some form of upgrade to get there. Free upgrades, however, even for premium flyers, are becoming ever rarer.
Case in point: cheaper, definitely not cheap.
Your editors upgraded to Hawaiian Airlines First Class using saved up miles on a 10-hour flight from Sydney to Honolulu several months before COVID shut everything down. The cost of the upgrade was 45,000 HawaiianMiles, which is equivalent to $450. That's a great price when you consider 1) we paid $400 for the cheapest economy tickets bringing the total cost to $850, and 2) the cost to purchase First Class outright was $2,500 per person.  Thus the savings was about two-thirds off the retail price.
Options for upgrades on flights to Hawaii.
Paid upgrades. These are within 24 hours of travel and can range from as little as $150 to as much as $819. Check with your airline in advance to see how it works so that you are prepared to act on check-in.
Upgrade using frequent flyer points, as we did in the case above. Upgrades to and from Hawaii on all airlines typically start at about 15,000 frequent flyer points. Interisland upgrades start at about half that.
Airline-branded credit cards. These can come with a significant bonus, up to 100,000 miles for signup.
Fly enough to become an elite. If you do, free upgrades (either guaranteed or based on status/availability) are a part of the perks, although how that works varies by airline.
Bidding for upgrades on Hawaiian Airlines:
1. Buy cheap flights to Hawaii in economy or basic economy.
2. Go to Hawaiian Airlines' website and in "manage my trips," look for a link to begin the upgrade bidding process.
3. The airline will send out an email within a few weeks of your flight inviting you to inquire about bidding.
4. Decide what you're willing to pay and see the airline's minimum bid requirements.
5. Submit your offer and provide payment details in the event your bid is accepted. A hold may be placed on your credit card during this process.
Other tricks.
Alaska Airlines 24 hour upgrades. A relative steal between the US mainland and Hawaii when available, we've seen these priced at as little as $150. The trick here is to be online exactly 24 hours in advance of your flight, and not a minute later.
Just ask. It may not work, but if you're celebrating something, or are too large, tall, or are pregnant as examples, it never hurts to ask. Dressing nicely is always a good idea too, and being polite. None of these can do anything but improve chances, no matter how slim they may be nowadays.
Partner airline points. Check airline alliances. You may have points on one airline that can be used on another.
Tell us your thoughts.
Have you upgraded, and if so, how did you do it. Did you get a deal? Is bidding for upgrades something that you have done or might consider?
Disclosure: We receive a small commission on purchases from some of the links on Beat of Hawaii. These links cost you nothing and provide income necessary to offer our website to you. Mahalo! Privacy Policy and Disclosures.