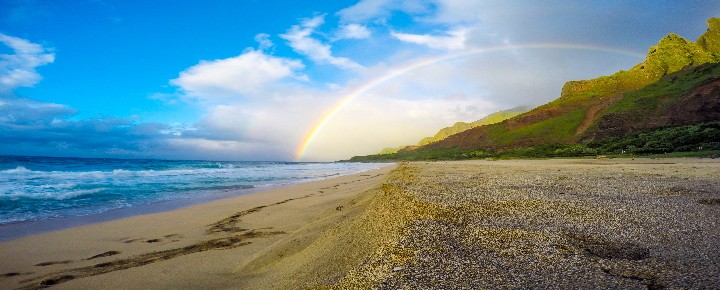 In countless comments, you're still asking the same question. How will Hawaii treat travelers who have received COVID vaccines? Will there be any further requirements? When can we expect the new rules to take effect? We've got some more answers, and unfortunately, it may not be what you want to hear.
Latest: The target date has been moved to "Spring."
Lieutenant Governor Josh Green indicated he now believes vaccination travel, both transpacific and interisland, will need to be postponed from February 1 to sometime in the Spring. He approached Governor Ige on his plan to eliminate both quarantine and testing for those who have received the vaccination, and that was the governor's response. Green indicated that the state is awaiting results of a CDC report to confirm that those who have been vaccinated are not carriers.
Vaccination passport travel to Hawaii is obviously seen as great news for visitors and residents who want to travel more freely.
The Cleveland Clinic says regarding the vaccines, "We don't know if getting immunity through vaccination also prevents you from being able to carry the virus asymptomatically and shed it, even if you yourself are protected."
So can vaccinated people still spread COVID during travel? 
While the current vaccines may prevent illness, that is somewhat unrelated to the issue Hawaii is next concerned about: transmission.
New terms to us are "sterilizing immunity" and "effective immunity." If the vaccines don't stop transmission, they only provide effective immunity, which means that further precautions will need to remain in place here in Hawaii and elsewhere. Multiple studies are in the process of determining just that.
It still isn't known whether the vaccines control the virus completely in the nose and mouth. As with other types of vaccines, some create the needed Immunoglobulin A (IgA) transmission-prevention antibodies while others don't.
However, if you don't cough and don't have a fever or other symptoms, you are still far less likely to transmit it, even without those antibodies. A recent study in monkeys indicated the current vaccines might in fact not provide sterilizing immunity. Other vaccines being developed have shown to provide it, but that would imply some further period of time would be required, perhaps even beyond Lt. Gov. Green's spring estimation.
State legislature to become involved.
Last week, we indicated that the governor had largely taken over Hawaii travel rules as Green attends to the huge project of managing our state vaccination program. However, the legislature has a significant role to play in all of this, and we expect they may start taking control of the travel reigns when they reconvene starting tomorrow.
How will Hawaii vaccination travel work?
Proving vaccination obtained from virtually anywhere will be very different than proving negative test results from one of the limited number of Hawaii trusted (test) partners. Last month the US Dept. of Defense revealed its new Covid-19 vaccination record card, the "simplest" method of tracking vaccinations. That could well be what Hawaii requires when it approves vaccine passport travel, at least initially. The government said, "Everyone will be issued a written card that they can put in their wallet that will tell them what they had and when their next dose is due. Let's do the simple, easy thing first. Everyone's going to get that."
Safe Travels and vaccinations.
How vaccination results get integrated into the Safe Travels program isn't yet clear, but we assume that will happen. Hawaii established that system to track test results digitally. It is considered more secure than paper results.
Will mask mandates remain?
Regarding masks, Green said that while vaccinations will be a great boon, he anticipates Hawaii will nonetheless keep its mask mandate and other health safety measures in place for the foreseeable future, or until there is herd immunity in the islands. As he pointed out, we won't know whether someone has or hasn't been vaccinated, and vaccination will not be required.
IATA coming to the rescue for travel.
The International Air Transport Association (IATA) is looking at an app that would provide a global and standardized solution. This would validate and authenticate all country regulations regarding COVID-19 passenger travel requirements. The app would then be shown to border control. It would contain your personal ID, test certificate, lab verification, and an "OK" to travel message.
And another next-generation vaccination and testing portal.
More new technologies coming to the app stores also hope to become the global standard for vaccinations and tests. One such app in a trial is Commonpass. It provides secure and verified documentation of health status for travelers. Swiss International, JetBlue, United, Lufthansa, and Virgin Atlantic Airlines is testing the app that is soon to be rolled out globally.
"A broad coalition of public and private partners is collaborating to launch CommonPass, a trusted, globally-interoperable platform for people to document their COVID-19 status (health declarations / PCR tests/ vaccinations) to satisfy country entry requirements while protecting their health data privacy." The development consortium includes US Customs, CDC, and airlines. CommonPass confirms compliance with the specific current entry requirements and creates the scannable QR codes used in travel.
Revised on January 19, 2021
Disclosure: We receive a small commission on purchases from some of the links on Beat of Hawaii. These links cost you nothing and provide income necessary to offer our website to you. Mahalo! Privacy Policy and Disclosures.