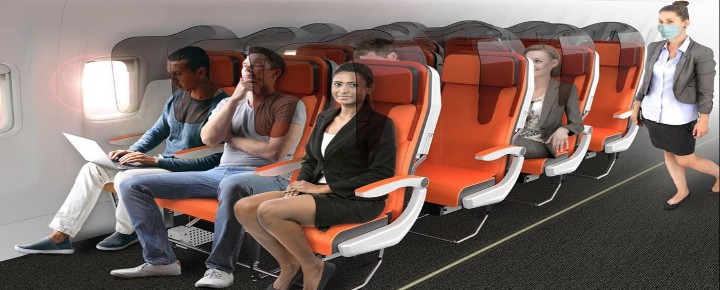 We're waiting for news on reopening of Hawaii, first locally and then after that, for travel. There will be updates forthcoming soon on those. In the meantime, we're looking ahead at what a flight to Hawaii will look like hereafter. Airlines, airports and other providers will be looking to provide us with a new kind of comfort level in all aspects of travel associated with Hawaii vacations. But some of the initiatives that may be under consideration, do not look ideal. Read on and look at the rather odd photos.
The biggest issue airlines will be facing the rest of this year and in 2021, is addressing health concerns through implementation of new procedures. This is a huge task ahead and perhaps the largest concern facing the airlines, other than money.
Health safety to the front of the line on your next flight to Hawaii.
Changes will be both widespread and long lasting. Think 9/11 and how much that permanently transformed air travel. We'll be moving to that kind of scenario, only this time it won't be about security, but rather about health safety. This will be the new normal. Case in point, before 9/11, we still fondly remember the days of arriving at Hawaii airports 10 minutes before an interisland flight. So much has changed, and we haven't even seen the beginning of it.
Pricing will be of next most importance and there, the news is good.
To get us back in the air, we have already told you that your next flight to Hawaii could easily be priced under $99 each way.  We're further suggesting it could even drop to half that when the green light first comes on.
But too many people returning too fast could present a double-edged sword. This will be fascinating, to say the least, with a balancing act between social distancing, keeping middle seats open, and the airlines' very real need to get more of us back on the plane headed to Hawaii.
Not only will airfares be rock-bottom priced, but accommodations will also be offering significant discounts. We also think vacation rentals may be in a good position since they allow you to avoid crowded hotel lobbies and elevators. Plus, you are in more control of your food and its preparation with a kitchen of your own.
Bottom line, keep in mind that safety will be key to everything reopening, and we're all in favor of that. With that in mind, we also expect to see reduction or eliminating of most in-flight services, and ongoing deep cleaning of aircraft. That, while we all wear masks, have our temperatures taken and are provided generous quantities of hand sanitizer.
Our lead photo may be your next flight to Hawaii.
That photo first looked like a good or well, at least an interesting idea. It allows airlines to fill the plane with a protective barrier between seats. But then we started thinking about economy seating which doesn't look as roomy as has been pictured. And the idea of feeling claustrophobic came to mind. Also, how long will it take to really clean those partitions between flights and how thoroughly can it be done?
Then the issue of how would this work for families. And then the arm rests aren't protected – just saying. Well, not sure this is actually useful at all, but at least you won't have to deal with a chatty seat neighbor any longer.
Airline seat manufacturer Avio Interiors came up with the retrofit design for economy seating that alleges to provide additional safety (not sure about comfort) on-board. The controversial product has an "objective of creating an isolated volume around the passenger in order to avoid or minimize contacts and interactions via air between passenger and passenger, so as to reduce the probability of contamination by viruses or other."
Is there something seemingly fake about this photo?
One person on Instagram noted, "My absolute favorite thing about this add is the first photo where the quintessential bro in the middle has his legs spread like he thinks he's opening the gates of heaven and the lady on the aisle's face clearly says "they couldn't make the partitions go ALL the way down?"
Below is yet another version of a new concept from the same company.
Airline travel will be front and center in upcoming travel news.
We know that the FAA/DOT, the airline industry, and the health experts are all working on plans to bring back air travel. It has been strangely quiet in that regard, but that won't last much longer. Get ready to hear what the experts have in mind for us. Jeff is still wondering when he can fly from Hawaii to Oregon, and when he might feel comfortable doing so.
What's your take on this?
We have not heard of any airlines buying, but we know that much more will be revealed about airline travel in the next few weeks. The question remains about how far a sneeze can travel. Thus, will any of this really matter or it is just to allay our concerns?
We look forward to your comments, and remember that you can now subscribe to any comment threads you'd like.
Disclosure: We receive a small commission on purchases from some of the links on Beat of Hawaii. These links cost you nothing and provide income necessary to offer our website to you. Mahalo! Privacy Policy and Disclosures.