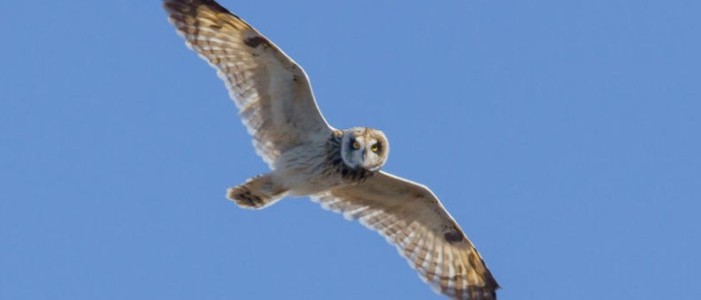 The revered Hawaiian short-eared owls are known as Pueo. Out of respect, and by tradition, we never point at them when seeing these beautiful raptors in flight.
Owls are all about legend and folklore and have been for centuries. They have a special place in Hawaiian mythology.
Hawaiian owls are on the endangered list. They are believed to have arrived in the Hawaiian Islands at least 1,000 years ago and their existence here is thought tied to the rat population. Pueo (the word both singular and plural) are active both during the day and at night, although I've spotted most of them at twilight, soaring over large open areas. On occasion, I've also seen them on a telephone poll at mid-day, looking down on traffic. Their population has been declining especially on Oahu – where they are dazed by bright lights.
Look for Pueo throughout in Hawaii – especially on Kauai where there are no mongoose to threaten them. They're more common in less populated areas but also are seen in urban areas.
Have you seen Owls in Hawaii?
PS: Jeff expects to see more Hawaii travel deals coming up soon, now that most people have fixed their spring vacation plans. 
---
More free VIP Alerts drawings this week. Please sign up in 30 seconds or less. Here's what VIP alerts are all about: http://beatofhawaii.com/vip-alerts.
While it's not a free trip to Hawaii, VIP Alerts will sure help you get here for less money.