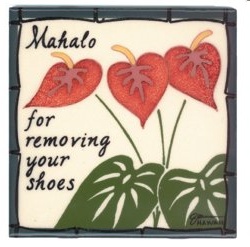 Staying with friends in the islands not only saves money but gives you an opportunity to experience local life. We like hosting people in our home and have come up with some ideas on how to make this a good experience for both host and guest.
Arrival Tips:
1. Shoes off at door.
Here in Hawaii, it is customary to remove footwear before entering a home. We do that to keep bugs and indelible dirt off of our floors. It makes a nice impression when you do this without being asked.
2. Bring a Welcome Gift.

Something from your local community is a nice touch.  We also have a welcome gift in our guest's bedroom.
3. Don't arrive with jet lag (Updated)
Your visit will probably go better if you spend the first night in a hotel to recover from the flight and jet lag. Alternatively, remember that your hosts likely already have a schedule, and in Hawaii, it usually doesn't include late nights.
Update:  If you're staying with friends a few nights, you're probably spending half (or more) of your vacation in a hotel.  I'm suggesting you start your vacation in a hotel and book in with your friends later.  This way you'll be over jet lag and feel more like socializing with your host.
4. Rent a car.
Be self sufficient so you can come and go as you please.
During Your Stay:
1. Keep the sand outside.
If you've come from the beach, wash sand off your feet before entering your host's home. For example, we have teak floors which sand makes a mess on and turns slippery. Here's a tip. Fill an empty bottle with water and keep in car to wash feet.
2. Conserve electricity.
We have by far the most expensive electricity in the USA. Help your hosts by turning off lights not in use. Conserve hot water for the same reason.
3. Be your own tour guide.
Even though you're on vacation, your host isn't. I usually offer to be a guide for a half day if I can. Do not expect your host to entertain you.
4. Plan your own meals.
Eat out and buy your own food. As a host, I usually prepare one dinner for guests. If your host has invited you for meals, be sure to be on time.
5. Respect property and leave your room clean.
Keep your room clean and don't damage furniture. One of our guests left permanent water rings on an antique night stand. She completely missed the coaster, and left a lasting impression on us too.
When it's Time to Go:
1. Donate your beach equipment.
Your hosts probably do not want leftover beach towels, snorkel gear, and more. Ask first and then donate anything left to Salvation Army.
2. Leave a gift.
You may also want to consider taking your hosts out for dinner or buying them a gift certificate to their favorite restaurant.
3. Don't overstay your welcome.
Ben Franklin once said, "guests, like fish, begin to stink after three days." We normally have a 3 night maximum stay (unless we're entertaining relatives or close friends). With a three night stay you don't wear out your welcome.
4. Send a thank you note soon after you arrive home.
Final Thoughts:
I think it's important to be honest with yourself about the reason for staying in someone's home. Am I doing this just to save money, or do I want to see and spend time with my hosts? I think it's a mixture of both. If the reason is only financial, from our experience, it's better to pass on the idea.