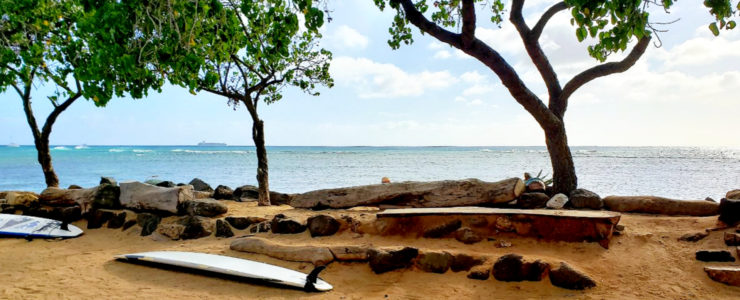 We've said here before that in Hawaii, we succeed despite the state. That has always been true and as a result, Hawaii has done well for a long time. But that was then. Now, we're in a completely different situation, unlike anything any of us has ever seen. At stake here is nearly $20 billion in annual revenue. This is the lifeblood of our economy. And, just where is the state's marketing budget of over $80 million annually going? There are key issues to address.
1. The state closed indefinitely with a 14-day quarantine, and no communication to visitors and stakeholders about how that will change or when. As an example, Lieutenant Governor Green said today he doesn't see how Hawaii can reopen on October 1 either. That as the island of Oahu has just gone back to stay-at-home orders.
2. Hawaii is in a complete tailspin of a PR nightmare. This isn't something that is just going to go away of its own accord. So we wonder whether Hawaii is or can be up to the task of both reinventing and marketing itself to the world.
3. The state's tourism arm has suffered severe problems for years and appears incapable of marketing Hawaii.
What is needed – a completely new, pragmatic tourism marketing approach for Hawaii.
There is a 2020-2025 HTA strategic marketing plan, which has admirable albeit lofty goals largely associated with responsible tourism. We don't know who created the plan (we suspect it was an outside vendor), or where the state is in any practical implementation of the plan. Also, the plan must address what has happened in 2020 and how that now fits into its strategic planning.
That plan states that by 2025, tourism in Hawai'i will: 1) Ho'oulu (Grow) the uniqueness and integrity of the Native Hawaiian culture and community; 2) Provide a unique, memorable, and enriching visitor experience; 3) Generate clear community benefits and responsibly manage tourism-related impacts and issues; and 4) Support a vital and sustainable economy.
GoHawaii official Hawaii travel website is dated and out of touch.
A website is the most basic tool for driving tourism no matter the destination. It all starts from there and goes on to other campaigns including social media. Here too, a complete remake is indicated that will bring the site current to inspire and educate. It hasn't seen a major refresh in years, and in checking, the website looked virtually the same three years ago as it does today.
Marketing to key demographics is also still largely missing. Some time ago, even HTA noted, "Millennials have these preconceived notions of Hawaii as the place where grandma and mom and dad go. They see it as a very mature travel destination. But it's not that." So then where is the marketing plan for millennials?
The first place to start is to realize the critical need to rethink and to refresh. Hawaii needs to rebuild a more compelling and memorable Aloha brand. And this needs to start today.
The most recent post-COVID Hawaii marketing concept didn't pan out.
Earlier in the crisis, HTA planned to market the state as "the safest place on earth." That was when it appeared the virus was under good control with some of the lowest infection and fatality rates. That has of course all changed with Hawaii having some of the worst stats in the country and the likelihood that hospitals on Oahu are reaching capacity limits this week.
Hawaii's situation is not well perceived by potential travelers.
The global travel community, from California to New York and beyond, is acutely aware of the situation here in the islands. Hawaii expert and Pleasant Holidays CEO Jack Richards said, "The optics aren't good either when Hawaii residents can't even visit New York or Newark without going into quarantine."
Lack of good communication continues to confuse and anger tourists.
There is an absence of confidence in when visitors might return to Hawaii without a 14-day quarantine. Or even what the basis will be of a reopening program. Without such clarity, visitors remain alienated and unsure about any future Hawaii travel plans. Just how many times can you reschedule travel anyway, as many of you have pointed out.
Hawaii Tourism Authority (HTA) failure.
This group is key to Hawaii's economic survival; probably more so than even the governor. Tourism is and will remain the most important driver for Hawaii's economy. Case in point, in 2019, Hawaii's tourism recorded visitor spending of $18 billion and provided the state tax revenues of over $2 billion.
HTA is in a complete tailspin. The CEO of the state's marketing arm, Chris Tatum, announced in June that he was leaving both his position and the state abruptly. This week is his last on the job. The HTA contracted with a Honolulu executive search firm to help to find a new president and chief executive officer. We have not heard anything about that process since the search began almost two months ago and the application period closed on July 15. As a side note, it was interesting to see that while this is one of if not the most important positions in the state, relocation expenses were not included.
With a very troubled past, Hawaii Tourism Authority once again faces an unknown future at this critical juncture. Tatum took the helm at the long-troubled HTA 18 months ago. Before that, previous HTA head George Szigeti was fired from the $300k job without cause. The state auditor said at that time HTA had "lax oversight (and) deficient internal controls." And just before that, came sudden and expected departures of HTA's chief operating and chief marketing officers. Add to that an unusually high employee turnover rate, which we can only say might not be unexpected under the dire circumstances.
Funding for HTA is based on accommodation taxes, which dried up six months ago. Even when Hawaii travel resumes, those funds will flow in at a trickle. We have not heard anything about how the state plans to support Hawaii's marketing going forward. The HTA budget for 2020 was set at $86 million, while the projected 2021 budget has been set at just $55 million.
Hawaii travel stakeholders have been rightfully worried about the state's abilities, leadership, and direction in tourism for years. That's more true now than ever.
What advice or suggestions do you have to improve the situation? If you were the new CEO of the Hawaii Tourism Authority, what actions would you take?
Disclosure: We receive a small commission on purchases from some of the links on Beat of Hawaii. These links cost you nothing and provide income necessary to offer our website to you. Mahalo! Privacy Policy and Disclosures.