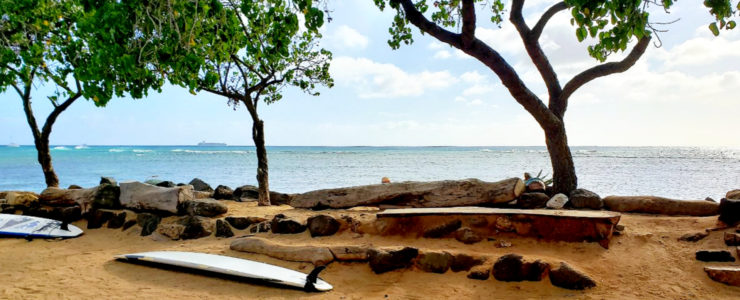 Hawaii Governor Ige just held a virtual state of the state press conference. Takeaways, not surprisingly, are that the state will need to severely "tighten its belt." The governor didn't indicate how that will happen, but we have our thoughts.
The governor missed every opportunity to advise what is being planned, what will be cut, or any substantive details about his pandemic plans, or how the record number of unemployment will be addressed. House Speaker Scott Saiki wasn't entirely happy either, saying that we need solutions now, whereas the governor said he is seeking input by April for implementation later in the year.
How Will Hawaii Survive With No Money For Marketing.
Hawaii's marketing arm is the Hawaii Tourism Authority. It has been largely defunded due to the financial crisis, with its budget cut to less than half of its prior $86 Million. And that could be just the beginning. Its remaining funds are fast becoming depleted and what could be next is a virtual shuttering of Hawaii tourism marketing.
HTA's new head John De Fries has just said that he hopes to meet with the governor to make plans to avoid running out of funding entirely. Otherwise, it could soon be time to begin winding up its operations.
The state legislature convened last week, and it will be interesting to see what role they play in this. State senate tourism chair Glenn Wakai has asked the governor to restore funding to HTA. He said that Hawaii would need to compete head-on with all other global destinations as vaccine travel comes to fruition. He said to Ige that HTA would "catapult Hawaii out of its financial misery. We hope you will reinstate… payments to HTA."
We've said here before that in Hawaii, we succeed despite the state. That has always been true, and as a result, Hawaii has done well for a long time. But that was then. In today's completely different situation, Hawaii must find ways to restore some or all of its nearly $20 billion in annual revenue. Based primarily on tourism, that is, at least for now, the lifeblood of our economy.
Hawaii is in a complete PR tailspin.
This isn't something that is just going to go away of its own accord. So we wonder whether Hawaii, via HTA, is or can be up to the task of both reinventing and marketing itself to the world.
HTA problems are long-term and deep.
How well Hawaii and HTA have been using close to $100 Million annually is another question that must be faced. The state's tourism arm has suffered severe problems for years and still appears largely incapable of marketing Hawaii.
You'll recall that last June, the prior HTA CEO quit suddenly when Chris Tatun announced he would retire and leave not only his position but also the state. Tatum departed in August for Colorado.
HTA's prior CEO, George Szigeti, was fired in 2018, without cause. The Hawaii state auditor indicated that HTA had "lax oversight (and) deficient internal controls."
As we said when writing about this last June, "Hawaii travel stakeholders have privately shared with us their concerns about HTA and the state's abilities, leadership, and direction in tourism for years. In recent times, the agency has also had an abnormally high turnover rate, with at least a dozen key staff departures. Given that they have only about 20 full-time employees, that is an absurd number of comings and goings and does not bode well for HTA. These departures "came right on the heels of rapid-fire departures of the prior chief operating officer and the chief marketing officer, who both left unexpectedly."
Event HTA said, "Millennials have these preconceived notions of Hawaii as the place where grandma and mom and dad go. They see it as a very mature travel destination. But it's not that."
For years, Hawaii travel stakeholders have been worried about the state's abilities, leadership, and tourism direction. That concern has never been as well-placed as it is today.
Governor IGE lacks a tourism background.
Ige worked for Hawaiian Telcom for 18 years and held other engineering positions. He became governor after years in the state senate. His legislative career was focused on IT and telecom initiatives.
View the 2020-2025 HTA strategic marketing plan. 
That still current plan calls for tourism in Hawaii to 1) Ho'oulu (Grow) the uniqueness and integrity of the Native Hawaiian culture and community; 2) Provide a unique, memorable, and enriching visitor experience; 3) Generate clear community benefits and responsibly manage tourism-related impacts and issues; and 4) Support a vital and sustainable economy.
We look forward to your ideas.
Updated 2/25/21.
Disclosure: We receive a small commission on purchases from some of the links on Beat of Hawaii. These links cost you nothing and provide income necessary to offer our website to you. Mahalo! Privacy Policy and Disclosures.