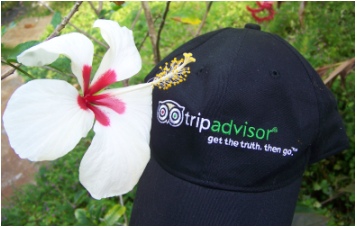 I'm having a difficult time wearing the free hat that Trip Advisor sent me with its, "Get the truth, then go," slogan. The problem is I no longer feel that I can always trust their site.
After posting many reviews on Trip Advisor, in November they declined to publish my negative review of the Pacific Monarch Hotel in Honolulu.
I submitted the same review twice for publication. Both times I was told by Trip Advisor that my writing "did not meet review criteria."
Conflict of Interest?
Trip Advisor is owned by Expedia which markets Resort Quest properties that include the Pacific Monarch Hotel. While it may just be a coincidence, is it in their best interest to publish a negative review?
Apparently, not always.
During most of 2007, all of the Pacific Monarch reviews were above average. I stayed there November 2007. How many other negative reviews, in addition to mine, were denied publication during this time period?
As this article was going to press I found that Trip Advisor recently published two negative reviews of the Pacific Monarch for the first time since 2006. Perhaps this is a good sign that an editorial policy change has been made.
My review, however, remains unpublished. I'm showing it to you now.
The Pacific Monarch review that Trip Advisor did not want you to see.
"One of the Worst in Waikiki; No Monarch Would Stay Here."

We were excited to try this older hotel again (it had been years), given all of the favorable recent reviews. It has, however, been a disappointment in every way.

The whole parking situation is strange. One garage door didn't work at all with our key. We had to walk around the narrow and blind parking lot to get to a door that would open. The lot is one of the smallest we've seen, so don't even think of having a larger car here.

When we came back at 10pm, the garage was locked and there was no room key reader to open the door. We had to park the car and go to the front desk for assistance.

The hotel has a typical dingy appearance (not unusual for Honolulu). We had an ocean view studio, which only had a view from one angle in the room.

The air conditioning was substandard and never kept the room cool. Drapes were oh-so-old and blackout, so it was either all or nothing. The bed and linens were just okay. Furnishings were dated and junkie. The lighting was poor. Our TV wasn't connected to the swivel stand and nearly fell out on the floor. One bright spot: the kitchenette was very well equipped though small.

I cannot understand the good reviews, unless you are from Iowa and have never traveled before. Otherwise, this hotel is a disappointment, and I would suggest avoiding it.

Lastly, we had a good rate based on a Travel Zoo promotion. At that super low rate, it was still only barely tolerable. I would rate Pacific Monarch among the most unpleasant hotels at which I've had the privilege to stay during my last 35 years of around the world travel.
Has your experience with Trip Advisor been positive or negative? Do you feel my review should have been accepted for publication by Trip Advisor? I'd enjoy hearing your comments.