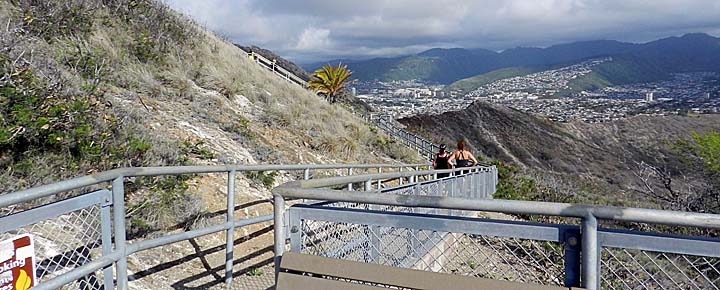 Diamond Head Hike for us remains quintessential Honolulu. If you can handle stairs, uneven ground and a somewhat steep climb, we highly suggest you include this on your list of things to do in Honolulu. Allow 90 minutes which includes time to enjoy the view from atop the 300,000 year old crater. Read our tips below to make the most of our time here.
Entry Fee: $5 per car no matter how many passengers. If you take The Bus or walk there is a $1 entry fee. Cash only.
When to Visit: Early in the day or after 3:00pm. If you hike without sun directly on the trail you'll be much happier. It is open from 6 am to 6 pm daily, with the last hike start time of 4:30 pm. Hours are strictly enforced and the gate is locked promptly at closing.
What to Wear: Sunscreen, hat and closed toe shoes with your athletic wear. Leave sandals or heels in your car.
Packing List: Water to keep hydrated. Camera to capture the amazing views. Change of t-shirt for later.
Fitness Level: Pace yourself on this moderate hike which starts on a deceiving paved trail before reaching dirt. This activity is within most everyone's reach. If you decide to go only halfway, there are still views to enjoy and photograph.
Oahu Hikes – Trail Guide to Diamond Head
After the tunnel you have two options now to reach the summit. The easiest way is to turn left and follow the new outside trail. Adventurers and those in peak condition should turn right and hike 99 steps to the top of the bunker, followed by a 43-step spiral staircase and then crawl out a narrow opening at the top.
Do you remember the old Diamond Head Hike? Back in the day parking was free, vendors lined the path to the start of the trail, and a flashlight was required for the dark tunnels and bunker.
History of Diamond Head
Sacred ground to Native Hawaiians, this is actually called Le`ahi. Western explorers in the 1700's gave the old crater it's other name, "Diamond Head." In the early 1900's, the Federal Government stepped in and designated Diamond Head for military use. Le`ahi and its heiau (temple) saw the construction of gun emplacements inside it's slopes.
Updated 10/22/19.
Disclosure: We receive a small commission on purchases from some of the links on Beat of Hawaii. These links cost you nothing and provide income necessary to offer our website to you. Mahalo! Privacy Policy and Disclosures.