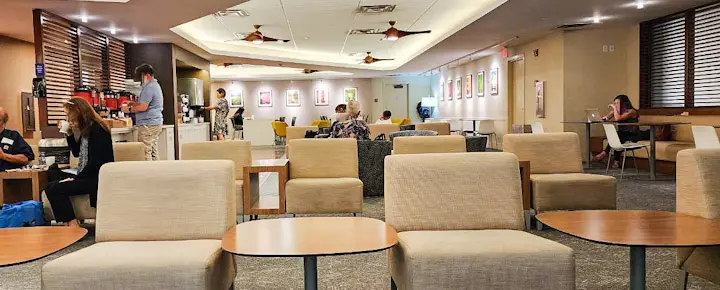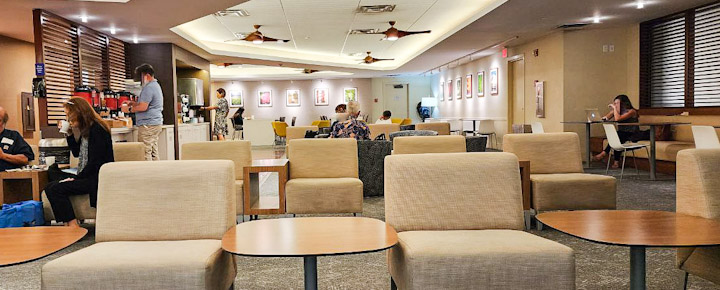 One of the famous scenes in National Lampoon's Christmas Vacation shows Clark Griswold (played by Chevy Chase) being gifted a membership to "The Jelly of the Month Club" by his boss when he was expecting a yearly cash bonus instead. Clark tells his boss it's wrong not to tell employees that policies had changed when they came to expect the annual cash bonus and budgeted around it.
There's a good point about how companies convey policy changes, so people don't get caught off guard. And here's why that has everything to do with today's post.
Airport lounges in Hawaii – did you know this?
We were recently denied entry at the Hawaiian Airlines Premier Club lounge in Honolulu when we stepped in to use the restroom on arrival. We were told, "departures only." According to the agent, that was always the policy, but they are now enforcing it after allowing arriving passengers entrance for some time.
The problem is how this was handled. As members, we were never told, so this left a not-so-good feeling. Furthermore, the way the lounge agent conveyed it implied it was our problem and that we had been notified. We hadn't. And it wasn't even polite.
After some back and forth about our issue with Hawaiian Airlines, we thought the matter was done, that perhaps others hadn't had the same experience, and we didn't intend to write about it. That was until this came across our desks yesterday.
Another frequent flier, Art, had the same thing happen and started writing about it on Facebook.
We reached out to Art for his comment, and here's what he said:
"I've been a Hawaiian Premier/Gold Club member for many years. Recently I was reprimanded when I entered the Honolulu lounge just to use the restroom upon arrival after a delay. I've done this before but was told that this is the new policy. I was not aware of this "new policy" but insisted that I merely needed the restroom. I used the restroom regardless. As I exited, the same attendant insisted I show her my boarding pass, which I did. She proceeded to reprimand me again. I did not appreciate that approach and left abruptly and upset as to how this situation was handled. If this is a "new policy," as the attendant claimed, then why was there NO advance notice to the members? I would not feel this way if the attendant was more pleasant and understanding." (Art – last name withheld for privacy).
We'll share with you what we've learned to help you avoid similar issues.
There are many ways to qualify for entrance to an airline lounge, and, as we just learned, it's best to check ahead of time if you're unsure. Usually, it's based on your frequent flier status, sometimes it can be paid for, some credit cards offer entrance, and other times a first-class ticket will (but not always if you upgraded to first or used miles).
And now we've also learned that it can depend on whether you are arriving at HNL or departing HNL. Here's the policy for domestic airlines that fly to Hawaii.
Lastly, there are rules, and then there are enforced rules. They aren't always the same thing.
As it stands now, only Hawaiian and Delta lounges are for departing passengers only (sort of).
Hawaiian Airlines Premier Club rules. Outbound passengers only, which is now stated on their website. Hawaiian has one lounge reserved for its first class/business mainland and international passengers called Plumeria and another called Premier. No outside food is allowed, although that rule clearly isn't enforced like the no arriving passengers rule.
Hawaiian Air Premier Club includes Zone 2 priority boarding and two free checked bags (which you can also get via their branded credit card). You can also qualify for Premier Club by purchasing a yearly membership.
Alaska Airlines Lounge rules. Valid for departure, arrival, and connecting passengers. We've included them because they are a big player in Hawaii travel, even though they do not have a lounge at HNL. Nothing was stated about bringing in your own food or beverages.
Admirals Club/American Airlines Lounge rules. Valid for both departure and arrival airports. Nothing was stated about bringing in your food or beverages.
Delta Sky Lounge rules. Departure access only. "Beginning June 1, 2022, entry is permitted 3 hours before your departure time (excluding delays or layovers)."
Since posting this, we've been told this is no longer the case and that arriving passengers do have lounge access
United Club Lounge rules. Valid for both departure and arrival airports. "Food and alcoholic beverages may not be brought into Lounge locations." It sounds like bringing in your Starbucks, however, is still A-okay.
Southwest Airlines – no airport lounges.
Disclosure: We receive a small commission on purchases from some of the links on Beat of Hawaii. These links cost you nothing and provide income necessary to offer our website to you. Mahalo! Privacy Policy and Disclosures.