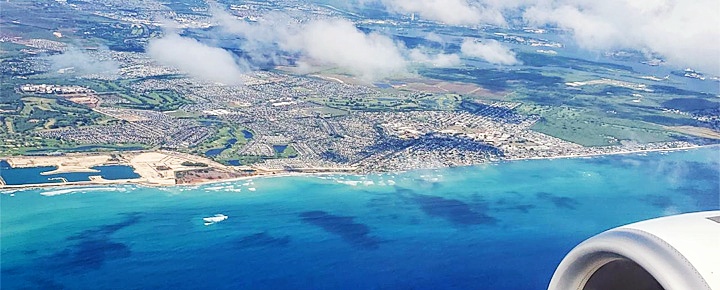 A woman who chastised Alaska Airlines was told to either cover up or get off their plane. A man on a Delta flight earlier this year gets removed for offensive wording on his sweatshirt. This comes as more airlines are encountering strong headwinds in multiple ways, when enforcing rules with sometimes irritable, post-Covid revenge travelers. These incidents have resulted in extensive online debates, wherein some defend the behavior and others condemn it. We've recently seen and heard of people pushing their luck on this topic when on Hawaii flights, and we hope to head trouble off before it starts.
For many of us, the idea of airline dress codes harken back decades to when men wore suits and women wore dresses. Some of us still like to dress nicely when traveling, while others prefer strictly comfortable attire. And some might even be tempted to get a headstart on their vacation by wearing something close to beach attire (hint: don't do it).
Yes, the airlines absolutely still have dress codes that include Hawaii flights.
This is something we hadn't thought much about ourselves. While appropriate behavior seems more obvious, attire is a whole other matter. As you'll see below, some airlines, Hawaiian Airlines being one example, get quite specific as to what is and what isn't permissible. The trend, however, seems to be more general, which leaves a lot at the discretion of the cabin crew.
Bottom line is that it makes for a far better start to your vacation to not have to get in a dispute with your flight attendants about your appearance. We're sharing the rules for every airline that flies to Hawaii from the U.S., so you can know in advance what to expect.
The woman on the Alaska Airlines plane took to TikTok (TikToker @badbish1078) to post the following video. The caption read: "Alaska Airlines just told me I had to 'cover up' if I wanted to get on the plane."

The passenger, some of whose other TikTok videos are profanity-laced, panned the phone camera to show a brief tank top and frayed shorts.
We aren't sure what happened to the woman as she claims to have refused to cover up as requested. Her TikTok friends weren't all that happy about her problem, either. She completed her tirade with the hashtag #cancelalaskaairlines.
Rules for attire on flights to Hawaii
Hawaiian Airlines dress code.
The dress code on Hawaii's bellwether is specific. "Hawaiian Airlines reserve the right to refuse transportation or remove from the aircraft any guest who does not meet Hawaiian Airlines standards for dress and attire, as outlined below. Without exception, all guests must wear the following items:
-Clothing must cover the upper part of the torso, such as tank or halter tops.
-Clothing must cover the lower part of the torso, such as shorts.
-Swimming attire is not acceptable.
-For safety reasons, footwear must be worn unless the guest is unable to do so due to a disability or physical condition that prevents them from wearing footwear."
Alaska Airlines dress code.
According to Alaska Airlines, "the dress code… is casual, and the requirement is simply a neat and well-groomed appearance. Clothing that is soiled or tattered and bare feet are never acceptable. You are expected to use good judgment, but customer service agents will have the final authority to refuse travel for inappropriate attire or appearance."
It happened again recently, when another Alaska Airlines passenger was escorted off a flight from Seattle to Alaska because of her attire. And this was another case gone viral via social media. The woman who has a TikTok handle of fattrophywife, has had enormous interaction regarding her video of the situation. She removed her top to reveal her midriff, claiming that the plane was too hot. What remained was merely a black sports bra.
American Airlines dress code.
The company's rules simply state, "Dress appropriately; bare feet or offensive clothing aren't allowed."
Delta Airlines dress code.
Delta's rules specify that they may refuse carriage to any person "when the passenger's conduct, attire, hygiene or odor creates an unreasonable risk of offense or annoyance to other passengers."
Southwest Airlines dress code.
SWA says that the following is prohibited: "engaging in lewd, obscene, or patently offensive behavior, including wearing clothes that are lewd, obscene, or patently offensive."
United Airlines dress code.
The company says in its rules that it won't transport "passengers who are barefoot, not properly clothed, or whose clothing is lewd, obscene or offensive."
A Love Island star just had a similar clothing issues on a Hawaii-centric airline.
Love Island Australia's lead, Amelia Marni, got into trouble with Qantas' Jetstar when she accused them of shaming her for her clothing.
Jetstar said that the woman was sporting a black crop-top, when a flight attendant told her to "cover up" for wearing revealing clothes. Sharing what she was wearing on Instagram, she said "we love a sl*t shame moment."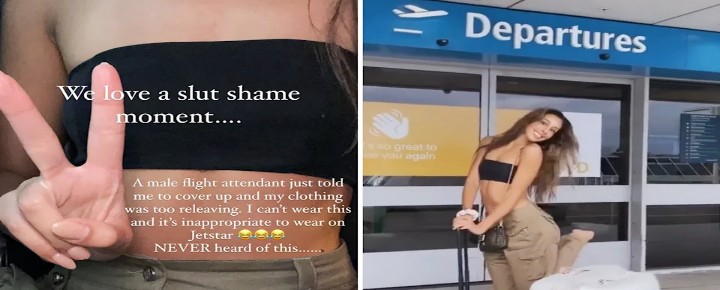 Please share your sense of what's appropriate attire when flying to Hawaii.
Disclosure: We receive a small commission on purchases from some of the links on Beat of Hawaii. These links cost you nothing and provide income necessary to offer our website to you. Mahalo! Privacy Policy and Disclosures.