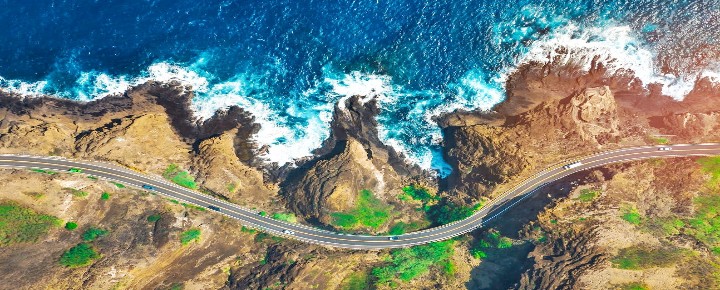 The resurgence of travel to Hawaii brings with it incredible traffic on our roads and the rate of serious accidents is up according to the State DOT. This calls for patience, and smart thinking. It's always the right time to take extra care when driving on your Hawaii vacation. And now that's even more true than ever, as you're about to read with our 10 tips to safe driving in Hawaii.
While the Hawaii Department of Transportation (HDOT) reported 94 traffic-related Hawaii road deaths last year because of crashes, those numbers are set to rise significantly and double as more people are on the roads with the return of tourism.
Top causes include distracted driving, in addition to speeding and DUI. For the first month of 2022 alone, there were 16 deaths, which could mean a doubling of traffic deaths for the year ahead. The DOT said that these were the result of "unlawful and avoidable behavior on the road. Highway users continue to put themselves and others at risk through these actions."
Pay attention and respect all rules of the road, especially if you are driving in Hawaii for the first time. Be extra cautious at intersections. Avoid passing because you may not always see oncoming traffic on our curvy, two-lane roads paired with easily distracting roadway conditions. If someone does decide to pass you, be mindful of their actions and look for potential issues. This ties into number one below. Please slow down, enjoy your vacation, and get home safe so you can return again.
Slow down, go with the flow, stay safe, and keep your vacation money in your pocket. Speeding is a significant problem here, and one of 3 major factors associated with accidents in Hawaii. If it helps you to keep in check, know too, that speed detection is in widespread use and tickets are very expensive. Visitors have commented to us about the enormous fines they've incurred.
You may be tired of hearing this, but don't make U-Turns on Hawaii highways, become distracted by the beauty or stop suddenly for photo opportunities. On a personal note, visitors regularly make unsafe U-Turns. When a visitor car pulls off to the right, we anticipate that a sudden U-Turn may be coming. Often it is.
Forget the horn. We use car horns to say hello to people and not to complain. Let people in; it's our way and we love it.
Rain makes for limited visibility, ground fog, and slippery roads. Hydroplaning here's a big problem, and fast rains can come out of nowhere. With our weather far more unpredictable than on the mainland, you sometimes just need to pull over to be safe in major downpours.
Watch for Hawaii weather, flood advisories, and potholes. NOAA weather is a good place to start for forecasts and advisories (we both also use Dark Sky). Just enter the city or zip code. Driving during flooding in Hawaii is something you don't want to experience. Potholes in Hawaii can be virtually invisible, very serious, to the point of significantly damaging your car. Be mindful.
Avoid rush-hour traffic in Honolulu as well as on the neighbor islands between 6:00AM to 8:30AM and 3:00PM to 6:00PM. It's always "mo betta" to spend your time sitting on the beach than in traffic.
Plan your route in advance. Remember that it just takes longer to drive between points on our island roads. And check Maps before starting. We can't tell you how many times we didn't arrive at our destination as planned due to highway closures because of an accident or roadwork.
It's dangerous to cross the highway if you're not at a crosswalk. Also, be watchful of pedestrians. Look ahead one city block, or a quarter-mile on rural roads, for potential problems.
Road shoulders in Hawaii are often soft and deep and sometimes non-existent; avoid whenever possible. That's even more so during inclement weather. Avoid getting towed. You can't imagine how many times we see visitors getting stuck. Jeff has also had to be towed away, so it can happen to anyone.
Learn the meaning of "makai" (towards the ocean), and "mauka" (towards the mountain) when receiving directions. We often use landmarks and mileposts to give directions between points rather than street names or highway numbers. Especially outside Honolulu.
DOT Dep. Director Ed Sniffen said, he wants to "start talking about how we can save people's lives by doing something as easy as following the law… Regarding speed (and yes we see a lot of speeding including visitors), he added that "the faster the vehicle involved in a collision is traveling, the less likely it is that the person hit will survive. Nine out of 10 people hit by a car at 20 MPH will live — double the speed to 40 MPH and only 1 out of 10 will survive."
While visitors are just one cause of problems driving on Hawaii's roads, there's no doubt they play a significant role. Buckle up and never text while driving are basic but true messages. But just as critical is to realize that while our quaint roads may seem country-like to those visiting from big cities, they can quickly turn deadly, as we've witnessed personally entirely too often.
Disclosure: We receive a small commission on purchases from some of the links on Beat of Hawaii. These links cost you nothing and provide income necessary to offer our website to you. Mahalo! Privacy Policy and Disclosures.