If you think Hawaii hotel prices are soaring, you'd better look at what's happening now with airline tickets. We previously reported trying to get from Hawaii to the mainland this August. Ultimately, BOH editors decided not to go to a conference rather than pay the airlines' asking price. As editor Jeff said, "It was too insulting." This could end up being a game of cat and mouse like we reported this past weekend on First Class Hawaii deals. We plan to keep revisiting the costs, and have alerts set that you might be doing as well.
A very rapid escalation of airline ticket prices to Hawaii has occurred over the past year or so. So it isn't exactly new but it is decidedly unpleasant. Given that the airlines are arguably smarter and cagier than hotels, this is a bit more subtle while equally challenging. Hawaii airline ticket prices rebounded starting last year following Covid and are now, in many cases, at new highs never seen before. That's true in all classes and across airlines, in economy, extra legroom (up to $304 more), premium economy, and business.
This foretells a different methodology we've found useful for visitors and ourselves.
It may be prudent once again to check prices and secure airfares before hotels and car rentals. That was the traditional way that visitors bought Hawaii vacations for decades: airfare, then hotel, then car rental. But when accommodations went through the roof that changed the order to start with hotels and vacation rentals.
So now, with airfares making it sometimes unacceptable to fly, we'd suggest something different that has been working for us. When you buy airfare, we now always compare the cost between refundable and nonrefundable options. While refundable used to be outrageously priced, that isn't always the case anymore. We've recently seen the airlines offer an option to have the fare completely refundable to the original purchase method. On Alaska Airlines, we had that offered for as little as $50. On United this weekend, it was priced at 15%. Generally, we're seeing these as options within the purchase process, rather than how it was previously, wherein you just chose to buy a refundable fare and knew it would be outrageous. You may well find, as we are experiencing, that this option works far better too than travel insurance, providing the ultimate option to say you changed your mind and get your money back. In the last week, editor Jeff bought three refundable Hawaii airfares. Two of those he ultimately returned, and the third one he kept. It worked out great!
Another example of Hawaii greedflation or something else entirely?
Why are ticket prices going up? We looked again at the basics of the airlines' costs to get you to Hawaii and how those costs can be broken down.
Still, probably naively, we want a good or at least reasonable deal on Hawaii airline tickets. The reality is that the lowest-priced fares, which once went below $99 until soon after Covid, are largely gone for good. Remember, too, that those prices never began to cover the airline costs of flights to Hawaii.
Cost of jet fuel on flights to Hawaii.
We estimate that the current cost of fuel on your west coast flight to Hawaii is still about $62 per person each way. That's roughly the same as when airlines were hungry for our business one year ago, and fares were ever so cheap.  So what changed? In a word, demand.
The cost of jet fuel did shoot up to an unprecedented high last spring. It has since returned somewhat to be sitting at about the same level as January 2022, per the image below.
Jet fuel costs currently sit at an average of $2.63 per gallon. And a typical 737 aircraft uses 750 gallons per hour. With a flight to Hawaii averaging 5.5 hours, the math yields a cost of $10,849. Based on an approximation of 175 seats per plane, that comes down to the average fuel cost of $62 per person each way.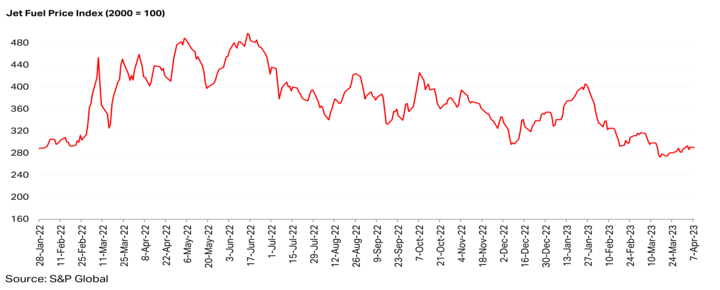 And the longer-range review of jet fuel prices seems volatile, with the possibility of higher prices coming.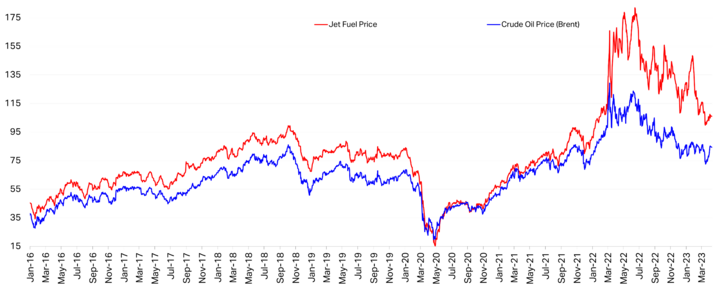 Escalating personnel costs are the next biggest airline cost.
It has traditionally been estimated that airline personnel accounts for about one-third of airline expenses. However, those costs likely have grown to be one-half or more of airline expenses given the enormous pilot and other employee pay raises and the issues of hiring and retaining qualified staff. You'll recall that at Hawaiian Airlines, for example, top pilots under their new contract can earn $448/hour. Some have said these extreme raises are not sustainable in the long run.
Other Hawaii airline costs we rarely consider.
1. Aircraft costs. These include everything from plane acquisition to depreciation and other related expenses. Airlines must constantly update their fleets for cost-effectiveness, reliability, and new aircraft desirability, among other things. Any way you look at it, aircraft expenses are a significant component of airline costs.
Boeing 737 Max 8 costs $121 million.
Airbus A321 costs $115 million.
Boeing 777 costs $275 million.
Airbus A330 costs $240 million.
Boeing 787 costs $250-$300 million.
2. Aircraft maintenance. Some Hawaii aircraft maintenance is farmed out to other countries. Nonetheless, not cheap, either locally or in another country, in terms of obtaining parts or the qualified personnel required.
3. Insurance. Another significant expense for airlines and necessary for everything they do.
4. Reservation and management systems. Southwest is an example, as the company is now forced to update its systems following last December's massive issues and yesterday's nationwide ground stop due to more technology problems.  That airline recently said it is allocating $1.3 billion for required "technology investments, upgrades, and system maintenance." Hawaiian just did a huge reservation system upgrade as well.
5. Ticket distribution costs. Airlines pay to help sell tickets through OTAs, among other things.
6. Non-fuel flight costs that include catering, supplies, etc.
7. Landing fees. Airlines typically pay a landing fee to use airports. Prices vary by airport, as well as by aircraft and other factors. An average cost could be $5,000 per flight.
8. Ground handling fees. These can include government and airport fees and for providing ground services that include fueling, servicing, cleaning, and more. We'd estimate these costs from $1,000 to $2,000 per flight, depending on the aircraft type.
So what's your take on the latest costs of flights to Hawaii, and what strategies are you using?