Sixty-two percent off Hawaiian First Class!? Here are the tricks we used for significant savings, so you can too.
Who doesn't want a chance to fly First Class on flights to Hawaii? But if you're a frugal traveler like we all are at BOH, it only happens with an upgrade or finding an incredible deal before pulling the trigger. Today we will tell you how we saved about two-thirds on first-class tickets on Hawaiian Airlines without using a mileage upgrade or anything else.
Careful up and down of monitoring for Hawaii airfare price changes.
First you should know that these same tricks work whether you are shopping for economy, premium economy or busines/first class. The original price Jeff found for his nonstop flight to Los Angeles from Kauai looked like this: $1,659 per person one-way, completely out of the question for him. That's when he bought the cheaper economy tickets via Honolulu on Alaska Airlines for $239 and used an upgrade certificate he had to First. While that saved money, it also meant purchasing an interisland ticket from Kauai to HNL and having a 3-hour layover in Honolulu in case of any trouble making the connection. Ugg.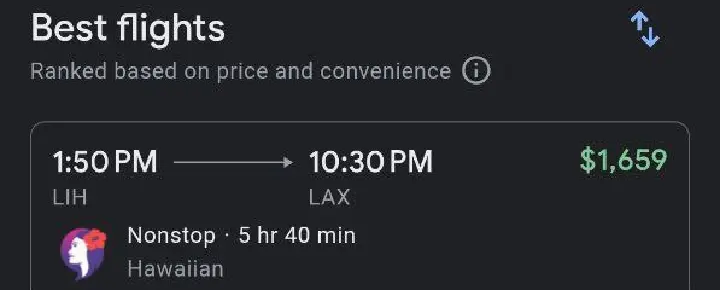 Upon receiving a Google Flights Alert Jeff set, which is easy to do, he found a lower price on the nonstop he wanted from Kauai, and he wasted no time buying when he saw the earlier $1,659 price had suddenly been reduced to $630.
But here's the catch. The deal seemed to be gone when he tried to buy two tickets. But when Jeff decided to purchase one ticket at a time, he got the advertised fare. Otherwise, trying to buy two simultaneously, the price went sky-high again.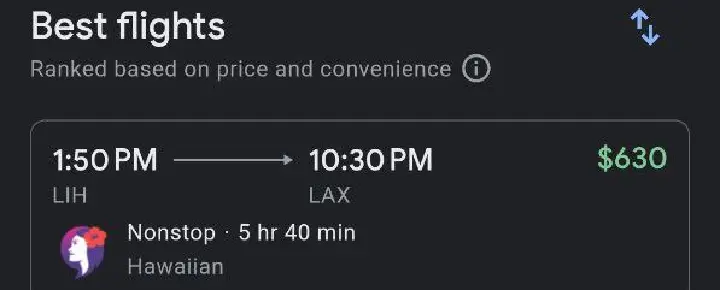 After purchasing the tickets for $630, Jeff immediately received another notification that the price had gone back up again, this time to $876.
Moral of the story: Hawaii ticket prices aren't fixed in stone. You have to be creative to outsmart the airlines.
Among other tricks, Jeff constantly monitors his flights using the alert function on Google Flights. You set up the flights, dates, class of service, and one-way or round-trip that you are looking for and then toggle on alerts, that are then sent to the Google email you are logged in to when searching. When he received an alert that the price of his desired Lihue to Los Angeles nonstop had dropped by nearly 62%, he couldn't help but pursue it further.
DOT provides 24 hours to change your mind when buying airline tickets.
Tickets sold in the U.S. automatically come with the ability to cancel a reservation within the first 24 hours after purchase, so long as there are seven days before the actual flight date. That way, if you act on a deal and find out it's not the deal you want, or you buy one ticket and then can't purchase the second one you need, you can still cancel within 24 hours. That worked on another flight recently when Jeff thought he'd bought Business Class and saw it had changed to Economy when the ticket was actually issued, which meant it was no longer the great deal he thought.
US Department of Transportation Rules:
You can cancel a ticket reservation or purchase within the first 24 hours of booking. That is "For airline tickets purchased at least seven days before a flight's scheduled departure date and time."
Airlines are required to provide one of the following options:
1. "Allow consumers to cancel their reservation and receive a full refund without a penalty for 24 hours, or"
2. "Allow consumers to reserve a ticket (place it on hold) at the quoted prices without paying for the ticket for 24 hours."
Both options aren't required, just one, and we find that most airlines offer a free refund instead of a free fare hold.
Be sure to understand your selected airline's policy before purchasing a ticket!
How does this rule apply to tickets purchased through an online travel agency (or an in-person travel agent)?
US DOT says, "No, the 24-hour refund/reservation requirement for airlines does not apply to tickets booked through online travel agencies, travel agents, or other third-party agents. However, these agents are free to apply similar procedures to provide equivalent or similar customer service."
For us, this vagueness and the potential difficulty in obtaining a refund from an online travel agency precludes them as an option when buying tickets in all but the most extreme circumstances.
Back to the case in point, it was a no-brainer to buy one ticket at $629 and see if another would mysteriously become available sometime within the next 24 hours.
Guess what? It did. And we were able to buy it right after the first ticket. Had it not, Jeff would have just called Hawaiian Airlines and canceled the first ticket.
Share the best airfare deal tricks you've found to get to Hawaii.