Living the good life on Maui is never out of reach, even when you just got fired by the federal government and left unprecedented wreckage behind. While Hawaii can be an escape from everyday life, your problems can follow you to paradise, as Gregory Becker, ex-president and CEO of Silicon Valley Bank (SVB) just found out.
For now, Becker and his wife Marilyn Bautista still fly first class to Hawaii and are enjoying their $4+ million dollar completely remodeled townhome at Maui's Puamana Resort.
You could afford these perks when making nearly $10M a year. But now, the optics of flaunting wealth are not playing well. Earlier this week, the couple arrived just the day after his high-visibility firing.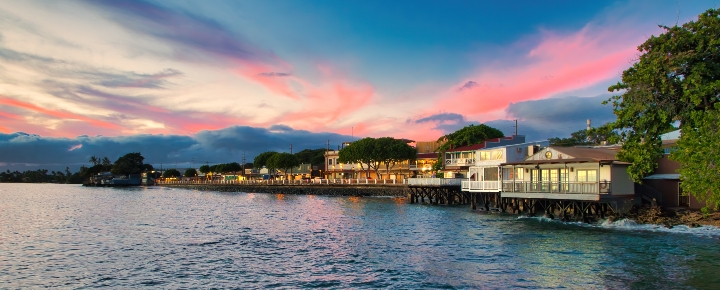 In typical Hawaii-casual island wear, Becker was later seen walking on Front Street in nearby Lahaina town. That comes as the Justice Dept. begins probing his cash-out of nearly $4 million just weeks before the bank's collapse and $30 million in the past 24 months. So while SVB shareholders, executives, and other investors worry about their losses, even as those with deposits were made whole, the Beckers appear happy enjoying their luxury Puamana digs.
The couple arrived at San Francisco Airport via chauffeur-driven car, then flew first class on United nonstop to Maui. The price of one-way tickets to Maui on United varies from $900 to about $2,000 per person.
Home, Sweet Home Away From Home…
Their three-bed, three-bath home at Puamana, seen here before they purchased it in 2018, was torn down and rebuilt larger than before. It sits directly on exquisite Maui ocean frontage. Getting around on Maui, at least this week, their wheels are a newish convertible Mini Cooper by BMW.
The couple lives in Menlo Park when not at their island home. Before leaving California for an unknown duration on Maui (perhaps forever?), Becker sent bank staff a video asking that they "stick together (and) support each other through the crisis." He said, "It's with an incredibly heavy heart that I'm here to deliver this message," according to Reuters. "I can't imagine what was going through your head and wondering, you know, about your job, your future." The future of the bank's nearly 9k employees isn't clear, even as senior leaders have already been terminated. Employees were left less than impressed by the ex-CEO's video.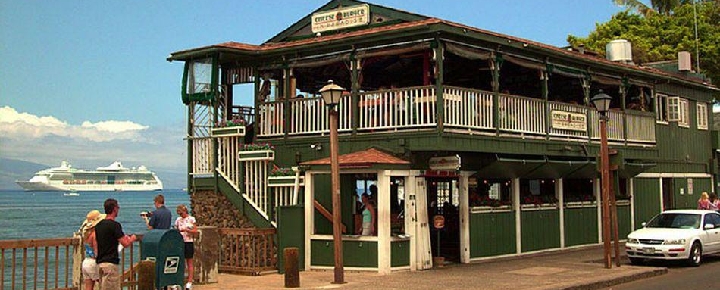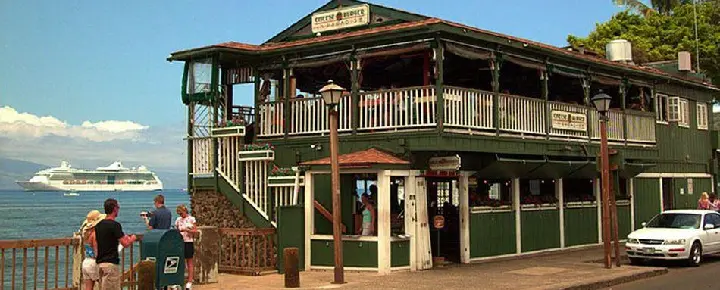 Where do the Beckers dine: Cheeseburger in Paradise!
In a strange juxtaposition to their extravagant flight and posh Maui home, they did a pickup at a Lahaina burger joint for dinner. Cheeseburger in Paradise features oceanside dining and great views, which the Beckers did not avail themselves of. The well-known restaurant is located on Front Street, oceanfront in Lahaina. They've been in business since 1989. Recent reviews range from "Great food, music, drinks, service, and location!" and "Nice place with good beers, burgers, and pulled-pork sandwiches" to "salad had dry chicken with bag lettuce that tasted like it was opened days ago." Well, it is 4-star rated, not 5. It is open from breakfast through dinner, with nightly entertainment.
More about Puamana Maui.
This is a private, beautifully situated, and well-regarded 30-acre gated community in Lahaina (lead photo). Most of the properties there are vacation rentals. Amenities include tennis, three swimming pools, a clubhouse, and more, with golf nearby. Units range from 1 to 4 bedrooms, with the Beckers sitting comfortably at three bedrooms. Some units, including theirs, feature fantastic ocean views.  It is a low-rise development with lush, tropical landscaping.
What does it cost to stay at Puamana?
Never mind ownership; what about a vacation at Puamana? Just one week at Puamana in a unit of their size at this time of year will likely set you back no less than $7,000 total.
In a YouTube Video from January 2023, Becker was still "optimistically looking ahead." As someone said in the video comments, "this didn't age well."