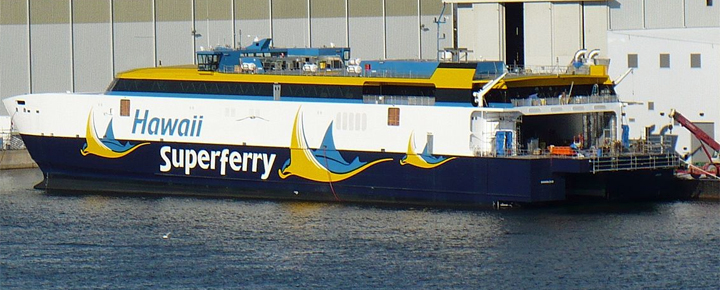 A Hawaii Island ferry system is back in the news. Will there ever be an alternative to Hawaiian Airlines when traveling inter-island, or is it a moot point. With the seemingly short distances between islands, locals and visitors often wonder aloud about this. Furthermore, Hawaii is reliant on air service for transportation in a way that is unprecedented in the US.
A new State of Hawaii study says there will be no ferry service in the future. Here's some of the reasons why.
1. Costs for the ferry and its required infrastructure are too great. It is likely that the state would need to subsidize its operation. Lesson learned – not a good idea.
2. Inadequate space exists at piers to accommodate such a new ferry system.
3. No real interest in such a system exists. In fact there have been 70+ ferry feasibility studies done in the past half century.
4. A ferry system could not operate with lower fares than airlines.
Latest Hawaii Island Ferry Study
1. Both inter-island and intra-island (Oahu) services were studied.
2. More than $100 million in additional state infrastructure improvements would be required.
3. Environmental issues including invasive species remain an ongoing concern that would need to be addressed.
4. The federal government would need to approve of any such service.
5. Vessel cost would be very high. Federal laws require such a ferry to be built domestically.
What caused the failure of the past SuperFerry?

First, two SuperFerries were built, but only one entered service. The operation began in 2007 and ceased in March 2009 due to a final legal blow from the Hawaii Supreme Court. Thereafter, SuperFerry filed for bankruptcy and the ships were returned to lenders.
The two Hawaii Superferry catamarans, Huakai and Alakai, cost approximately $90 million each to build, but were finally sold at an action for $25 million each. The U.S. Department of Transportation's Maritime Administration ultimately purchased both ships. They were moved to Norfolk, Virginia.
Hawaii is still paying off tens of millions in debt associated with SuperFerry. Additionally, barges and other equipment the state acquired for SuperFerry cost nearly $40 million and were sold were sold for about 1% of their cost.
Rough Hawaiian ocean conditions in winter resulted in significant sea sickness and many SuperFerry service cancellations. Transit times were longer than desirable. The 866 passenger, 282 car SuperFerry was fuel inefficient and required use of expensive barges and tug boat assistance.
Prior to it's fail, we wrote: "SuperFerry is likely to cease operations. They have too high cost, too few riders, a rough winter ocean ahead, and an upcoming decision about a complete environmental impact study, among other problems."
The Supreme Court ultimately ruled that the SuperFerry exemption from an environmental impact study was unconstitutional.  Cut-throat competition fueled by the airlines, together with poor economic conditions at the time, were among good reasons the SuperFerry called it quits.
Did you ride the Hawaii SuperFerry between 2007 and 2009? Let us know your experience in the comment section below.
Disclosure: We receive a small commission on purchases from some of the links on Beat of Hawaii. These links cost you nothing and provide income necessary to offer our website to you. Mahalo! Privacy Policy and Disclosures.