Since Southwest Airlines started flying interisland, we have intended to do back-to-back flights with them and Hawaiian Airlines. That way, we could share the various aspects of both experiences. And today was that day.
BOH editor Jeff told no one and, at 11 am, bought an early afternoon interisland flight on Southwest and the return soon thereafter on Hawaiian Airlines. Here are how those flights went and our impartial and unsolicited reviews. One standout you'll see in the photos is the legroom difference that really surprised us.
Jeff did not check baggage so he didn't have that experience or include it in our ratings. That would have given additional points to SWA for their free baggage policy. We also didn't look at policies including change fees. See what just happened to us: $700 Fare Change On "No-Change-Fee" $100 Hawaii Airfare.
He obtained electronic boarding passes online. Jeff was offered an upgrade to his boarding position on Southwest and various seat upgrades on Hawaiian, and he declined both of these extra-cost options. The fare, including taxes and fees, was $39 on Southwest and $39 on Hawaiian. Neither airline knew that Jeff was coming. He just snuck away to the airport on Kauai for today's article.
Another side note is that there was pretty-much wide open availability to buy the $39 seats, even at the very last minute. We have to say, who doesn't love that price?
Southwest Airlines review interisland.
On entering the plane it was noticeably dark other than for the lighting. The reason is that Southwest asks passengers to lower their shades and turn their air vents on before departing the plane. That was to keep the plane cool, which in fact, it was. It was odd that most people never opened the shades throughout the flight even though there were great views to be had on both sides of the aircraft.
It appeared that the plane was about 2/3 full.
Ticketing 10/10.
No nonsense and quick to book. Nothing got in the way. It took approximately 4 minutes.
Boarding 9/10.
The boarding process was unfamiliar. The way it worked was that you entered the waiting room pictured below and found the vertical sign that represented the group that you would be boarding with. Then that group was called to board together. Jeff missed the announcement of how it worked, but ultimately it wasn't too hard to figure out.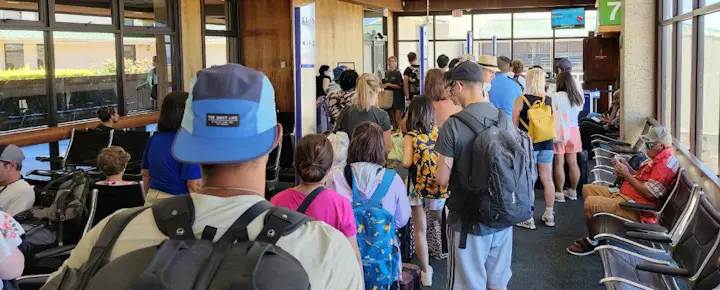 Plane 10/10.
The aircraft was a Boeing 737-800 (not a MAX), and it was by no means new. The average age of this model at SWA is 7 years. But Jeff reports that it was absolutely whistle-clean, in pristine condition. There was no appearance of wear and tear or dirt and it all looked new and well kept. The overhead bins were of the newer type that accommodates most carry-ons (seen below), similar to what Alaska switched to not long ago. Southwest said they are adding more overhead bin space in 2023. The 737 is somewhat quieter than the older 717.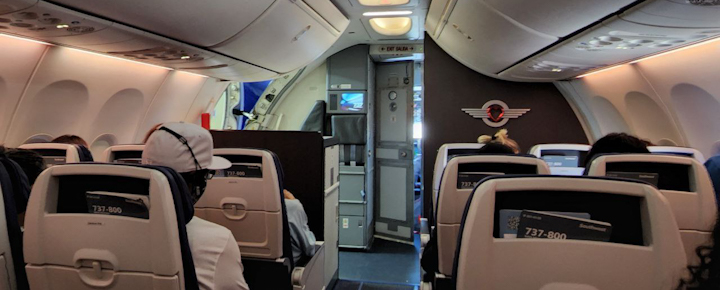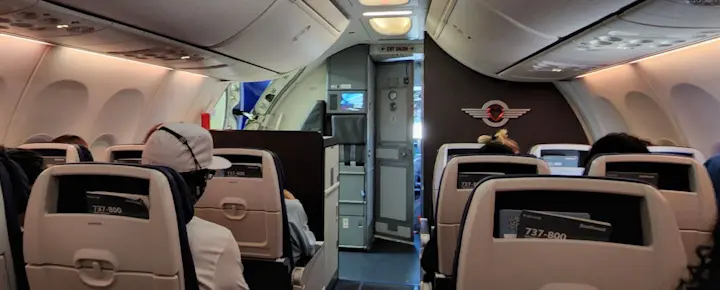 Seating 10/10.
The seats were comfortable for the short flight. The leg room was ample, and distinctly more than on Hawaiian, as you can see from the comparison photos. Jeff was seated in the 5th row, aisle seat, and is six feet tall. He noted a distance between his knees and the seat back of at least four inches. The seats recline.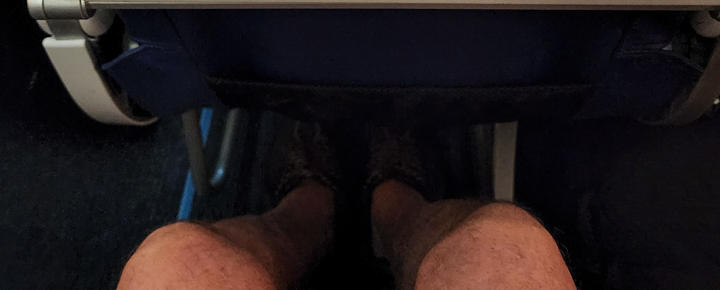 Flight Attendants 10/10.
The flight attendants were pleasant, casual yet professional. Nothing was lacking. Since there wasn't much service on a 22-minute flight, the interaction was limited.
Service 9/10.
The cabin crew delivered water in open plastic cups to those who wanted it. At first, it wasn't clear that the water was bottled rather than from the plane's potable water system. After the service, Jeff saw the flight attendant disposing of the plastic bottles from which the water had been poured.
On-time 10/10.
The flight boarded and departed on time.
Hawaiian Airlines review interisland.
Your editors have used this aircraft type for hundreds of flights over about 20 years since the 717 fleet first arrived. We seldom think about it. It is perhaps similar to how others might see a commuter train or bus. But today, it came into contrast with a new competitor.
The plane was less than 1/2 full.
Ticketing 9/10.
No problem to speak of, but when contrasted with the Southwest purchase five minutes earlier, the Hawaiian site was maybe 2 minutes slower, even though Jeff had a frequent flyer login which made the payment part faster. You must also navigate through the offer of car rentals and accommodations within the flight booking workflow.
Boarding 9/10.
The boarding process was very familiar. Passengers congregated near the front to get in line as soon as their zone was called. Jeff was in the last group to board. In the end, it was neither better nor worse than Southwest.
Plane 8/10.
The aircraft was a Boeing 717, and it was also by no means new. Seats have been replaced with newer, lighter ones and are non-reclining. While it might not have been noticed otherwise, the aircraft had a distinctly less kept-up appearance overall. The overhead bins are smaller than on SWA, and the 717 is noisier than the 737.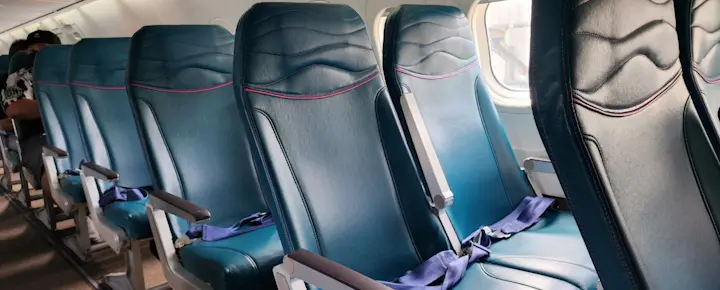 The carpeting was stained in many places throughout the plane as per this example.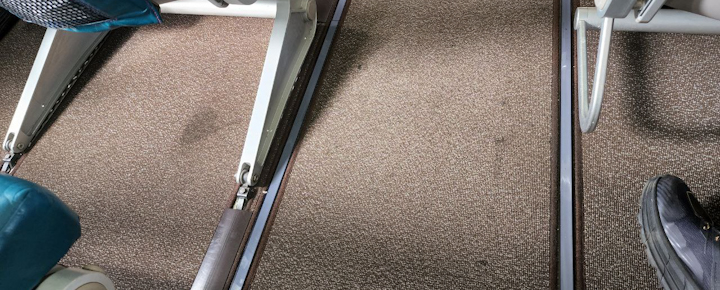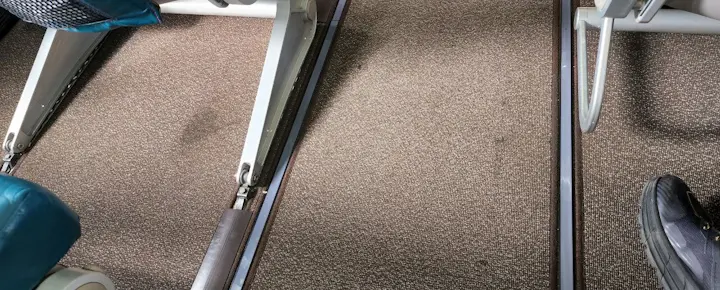 Seating 8/10.
The seats were comfortable for the short flight. Leg room, however, was considerably less than on Southwest, as you can see from the two photos. Jeff was seated in the 9th row, aisle seat. He noted a distance between his knees and the seat back of perhaps one to one and a half inches. The seats do not recline.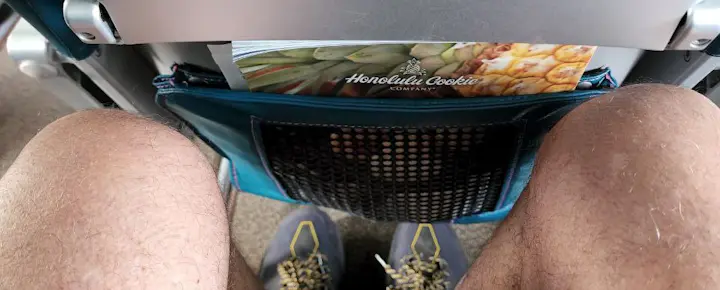 Flight Attendants 10/10
The flight attendants were both pleasant and attentive. They have a distinct island feel that differentiates them from any mainland carrier. There was nothing lacking.
Service 10/10.
The cabin crew dispensed a service consisting of either a packaged water or juice beverage. In the mornings they also offer coffee.
On-time 9/10.
The flight boarded and departed about 13 minutes later than scheduled.
Our review scores and takeaway.
Southwest scored 68 out of 70 based on our experience. Hawaiian scored 63 out of 70. The quality of the Southwest product was much better than we expected.
We wouldn't hesitate to fly either airline for interisland flights. Traveling to the mainland are an entirely different beast, to be considered separately.
Please let us know about your Hawaiian and Southwest flight review experiences.