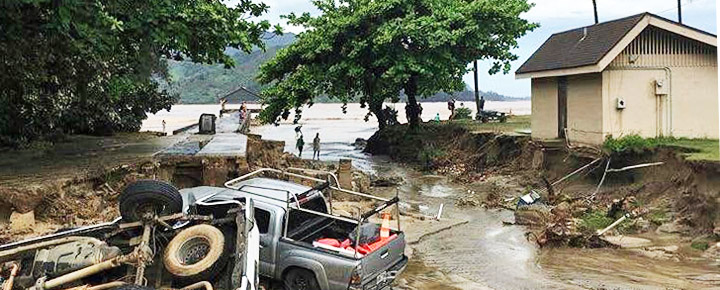 We've been getting many inquiries from you about the aftermath of last weekend's Kauai flooding and if we're okay here, just how serious it was, and what this means for upcoming Kauai vacations.
This past weekend's rains were torrential or worse, varying greatly depending on where you were on Kauai. For those on the North Shore, especially, this was a once in a lifetime, catastrophic event. Between 28 and 35 inches of rain fell there from 2 am Saturday to 2 am Sunday.
Kauai flooding resulted in property and infrastructure damage which was massive in places. Water and power outages occurred and some are still ongoing on the North Shore. National Guard and Coast Guard were called in to help and over 200 people were airlifted. The American Red Cross is involved and many of us are doing everything we can to help.
Here on the South Shore where we live, there was also flooding, but nothing that compared to the rain experienced elsewhere on the island.
Hawaiian Airlines Fee Waivers.
As a result of Kauai flooding, Hawaiian Airlines passengers with tickets for flights to/from Kauai through today April 18, 2018, are being permitted a one-time reservation change with waiver of change fee. Tickets must have been issued on or before April 15 with flights scheduled through Apri 18. Changes must be made and re-ticketed for new flights no later than April 25. If you also fly by April 25, there will be no additional fees of any kind. If new flights are for after April 25, there will be no change fee but any difference in fare will be applicable. Changes must be made by phone at 1-800-367-5320.
Should you change your Kauai vacation plans?
The basic answer is no. For most visitors to the island, this will not be a reason to change plans. The island is open for business. All hotels and most vacation rentals are operating normally. The south shore (Poipu area), westside, eastside and north shore through Hanalei are accessible.
The highway is closed at the far side of Hanalei Bay (Waikoko) and beyond. There were a dozen landslides in the area to be cleared and some of the road underpinning will need to be rebuilt. The highway from Waikoko north will probably not reopen for some time (we have seen no accurate time estimates).
In Hanalei itself, damage has closed parts of Weke Road and some vacation rentals were damaged or destroyed. You'll need to check with your accommodations provider if you have short term plans to stay in Hanalei or between Hanalei and Haena. There are no issues at Princeville other than the closure of Hanalei Plantation Road.
Property Damage
Luckily no human deaths or injuries were reported. Property damage on the other hand is severe. For example, these two houses adjacent to the Hanalei pier were completely destroyed.
For people beyond Hanalei, there is also limited water service. Without transportation, food and medications are also an issue. We've heard of visitors chartering helicopters in order to get off the north shore. Pharmacies are delivering medication via fishing boats. For updates on road conditions and closures, please call Kauai Police Department for a recorded message at 808-241-1725.
State Parks Update.
The Kauai State Parks which are closed at this time include Napali Coast State Wilderness Park, Haena State Park, Polihale State Park, and portions of Wailua River State Park. Two parks, Napali Coast and Haena are to be closed for the foreseeable future due to the extent of damage in those parks.
Let us know if you have any questions in comments below.
Hanalei Pier photo credit
Disclosure: We receive a small commission on purchases from some of the links on Beat of Hawaii. These links cost you nothing and provide income necessary to offer our website to you. Mahalo! Privacy Policy and Disclosures.