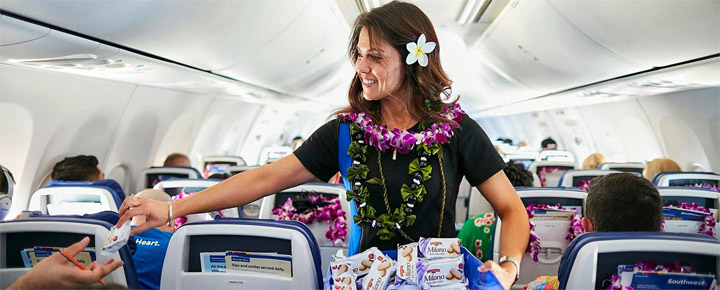 Following is what you can expect when flying on the seven airlines traveling between the US mainland and Hawaii. Many cheap flights to Hawaii are now in the class of service generically referred to as basic economy. These new fares were the innovation of Delta Airlines, which launched basic economy over five years ago. Now, all but one airline flying to Hawaii has or will have their version of basic economy.
So just what does basic economy to Hawaii entail? 
Read on for our pick for winner and runner up in this challenging category together with a list of offerings for each airline. Note that in addition to the specifics below, be sure to check if you are trying to accrue frequent flyer points, as how each airline handles that on basic economy tickets varies.
Alaska was late to the party with its saver fares that just started last month. With Alaska's basic economy you still get a free, full-sized carry-on. Seats assignments are automatic or have limited availability, and will most likely be in the back of the plane. You will also be boarding last. Tickets are non-changeable and non-cancellable after the first 24-hours. Uniquely, fee based upgrades are permitted. Service on-board is otherwise identical to regular economy.
American's basic economy does not provide seat selection opportunity. Those are assigned at check-in (24-hours prior to flight). If you wish to pay extra, however, you may be able to snag a seat assignment up to 48 hours prior to flight. Free, full-sized carry-on is permitted, although since you'll be boarding last, finding a space could be a challenge. No upgrades or changes, or cancellation after 24-hours. Service on-board is otherwise identical to regular economy.
Delta basic economy provides seat assignment selection at check-in. There are no changes, cancellations or upgrades permitted. Free full sized carry-on and personal item are included. Service on-board is otherwise identical to regular economy.
Basic economy has finally arrived at Hawaii's bellwether airline. Features include no advance seat assignment possible. Seat assignment will be at 24-hour checking, or will be assigned at the gate, at Hawaiian's discretion. A free carry-on bag and one personal item is included in the new fare class. HawaiianMiles members continue to earn one mile per mile flown. Free meals, beverages and snacks. Free in-flight entertainment. No upgrades are possible using miles or cash.
Southwest does not have a basic economy offering and had made it clear that it is not likely to either. During fall 2019, it started to surface that Southwest may indeed be thinking of offering some form of basic economy. That was revealed through a customer survey in which the company inquired hinted about a new lower end product.
Previously, CEO Gary Kelly had said "you're not going to see basic economy from Southwest." As an important aside, Southwest does not charge for two checked bags either. Speaking to both basic economy and bag fees, he said "I love the fact that we're different, and they unbundle and we don't. And so we just need to continue to find ways with the universe of travelers and the varying needs that they have to see how we can stay true to our brand and offer something of more value to road warriors, to once-a-year-flyers, whatever it might be."
We suggest we haven't heard the end of this at Southwest. Also read what Southwest basic economy to Hawaii might look like.
Their basic economy includes one small personal item on-board (no full sized carry-on). It is possible to change a ticket for a fee, and seat selection is also possible for a fee.
Seat assignment is provided at 24-hours prior to flight for free, or up to 48-hours in advance for a fee of $10 to Hawaii. Service on-board is otherwise identical to regular economy. You will board last, and use of overhead storage is  available for an additional $25 fee. Otherwise, only under seat storage is permitted, not a full-sized carry-on. Premier members, however, are entitled to a standard carry-on even on basic economy fares. There are no changes, cancellations or upgrades permitted.
Which basic economy is best? The winner is Southwest Airlines, followed by Hawaiian Airlines, then Alaska Airlines.
No basic economy is still the best basic economy. Thus Southwest is the obvious winner in this category.
Hawaiian comes in second, since they continue to offer not only a full-size carry-on, but also free meals.
Alaska's Saver Fare is marginally best among basic economy offerings. Overall, their limitations are slightly less onerous than the other airlines. A full size carry-on bag plus personal item are included. And, if you change your mind about basic economy after purchase, upgrades are available to regular/premium economy. As with other airlines, limitations of this fare class mean that family members may not get to travel together, making this a good bet when traveling or wishing to sit alone.
Updated 9/1/20.
Disclosure: We receive a small commission on purchases from some of the links on Beat of Hawaii. These links cost you nothing and provide income necessary to offer our website to you. Mahalo! Privacy Policy and Disclosures.