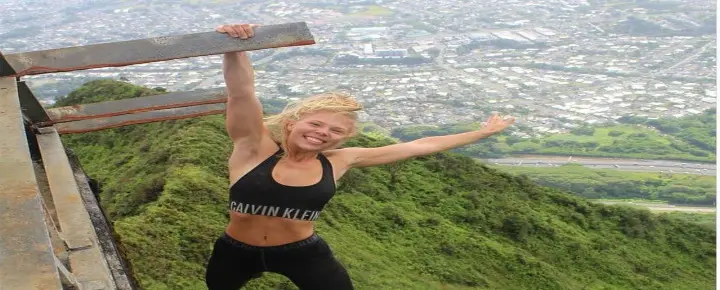 Social media is here to stay. Instagram, in particular, has become the de facto platform for sharing Hawaii travel experiences and connecting with others. It has led to some really bad behavior too, and there's a need for creating avenues that minimize harm. Where do you see yourself in this, and how far are you willing to go for the perfect picture or video?
What is the motivation for some Hawaii visitors' behavior on Instagram?
Photo-sharing is mainly about bringing enjoyment and digital postcard memorabilia to ourselves, friends, and family. But for a growing group, it has become about elevating self-esteem through braggadocio. As a viewer, you may feel you are missing out on life.
This presents a fascinating psychological perspective on tourism sharing.
Social media has transformed Hawaii travel marketing and management and has greatly influenced Hawaii visitor behavior regarding the experience some share and seek. The quest for the most over-the-top content in photos and videos has resulted in an evolving travel channel for Hawaii visitors who share self-centered, egocentric behavior.
Studies suggest the need for higher social status motivates some.
This happened as destinations like Hawaii saw the potential for Instagram to influence their strategic travel planning and tourism promotion positively. But then that has backfired.
Aside from sharing photos with family and friends, Instagrammers, in particular, share Hawaii travel images to gain prestige and social status.
Partly due to Instagram, some places in Hawaii are being destroyed by the onslaught of Instagram selfie-geeks. That with little concern about the impact they have. Examples include the Green Sand beach we wrote about earlier this week.
Millennials, Instagram, and Hawaii sometimes aren't the best mix.
Overtourism in Hawaii is a real problem. And that's even more so in pristine areas. Visitors, at times, love Hawaii to death.
That comes as more people are traveling post-Covid. In particular, millennials are said to prize travel experiences, with more of them traveling or planning to than Gen X or Baby Boom travelers.
When too many travelers descend on the same Instagram destinations, they create a massive problem for Hawaii. The environment is degraded, as is the visitor experience that Instagrammers sought.
The Culture of Selfie Seekers.
The tools we use to feel our egos in travel have changed. We still remember carving our names on signature tree leaves years ago. Then we migrated to photos and Facebook, and now, to Instagram. Sadly, we've almost forgotten what travel was like before selfies.
Instagram selfies lead to trespassing and negative Hawaii travel issues.
This has increased the need for better enforcement, much hated permitting systems, sustainability measures, and infrastructure improvement. Tourism, whether here in Hawaii or other similar places, must be managed rather than promoted. The days of promotion are over.
The examples are many, from YouTube videos of intentional trespassing at Diamond Head to examples like weddings in illegal places and trespassing over cliffs.
In the photo below, and countless others that can be found online, are from Sacred Falls State Park, which has been closed for decades following a deadly rockfall that killed eight. Nonetheless, regular trespassing has continued in the area, and a simple search will yield countless photos. To a large degree, the motivation appears to revolve around social media postings.
The state said they've asked social media posters to take down Sacred Falls posts, but largely to no avail. And some have said that trespassing there is simply worth the risk. DLNT said, "It's this entitlement mentality that we're trying to penetrate, unfortunately without universal success."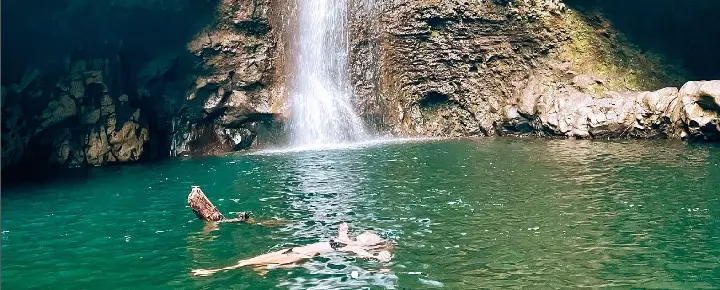 The state recently removed a wooden swing to try to discourage trespassing further.
Then here is an example from TikTok's Ana Stowell, who proudly trespassed on Oahu's Haiku Stairs and posted it.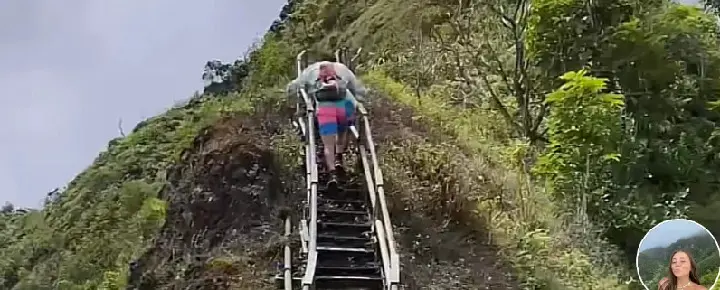 Words to use: wanderlust. Influencer. Egos. Self-same. Visual stimulation. There's no end to what people will do in Hawai to get their Instrgram photos. Showing up at a secluded location at 5am – no problem. Trespassing to get to Queen's Bath in spite of the obvious dangers – no problem. Don't forget, you also need to get the photos of you there alone rather than being one in a crowd. How far will you go?
Disclosure: We receive a small commission on purchases from some of the links on Beat of Hawaii. These links cost you nothing and provide income necessary to offer our website to you. Mahalo! Privacy Policy and Disclosures.