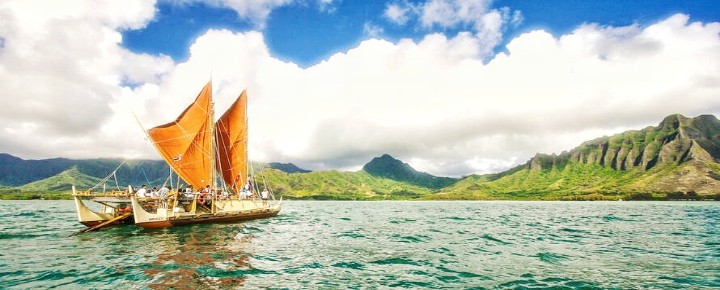 Today is Discoverers' Day in Hawaii, but not an official state holiday. By not observing Columbus Day, Hawaii distanced itself from celebrating the colonization of Native Americans.
Columbus Day became a national holiday in 1937, enacted by US President Franklin D. Roosevelt, and a day off for many workers. Hawaii, however, changed the name to Discovers' Day in 1971  "to honor all discoverers, including Pacific and Polynesian navigators." It remained a state holiday until 1988. Interestingly, when Columbus Day was removed as a state holiday, Martin Luther King Jr. Day was added to the roster.
The second Monday in October shall be known as Discoverers' Day, in recognition of the Polynesian discoverers of the Hawaiian Islands, provided that this day is not and shall not be construed to be a state holiday. — Hawaii State Legislature (1988).
While not a perfect analog to Columbus' "discovery" of North America, Captain Cook's arrival in Hawaii in 1778 and its consequences played out similarly. The native population was decimated by diseases introduced by the new arrivals, which killed off as much as 90% of the native population. Missionaries arrived forty-two years after first contact (1820), intent on converting and "civilizing" the Hawaiian people, and inspired through their actions by the famous saying, "They came to the islands to do good, and they did right well." Plantations were started by entrepreneurial westerners eager to exploit the land's fertility 15 years later (1835). With a little help from their friends in the US military 58 years after, in 1893, they soon wrested control of the islands from the Hawaiian Kingdom.
Given this history, it's no surprise that the state might want to distance itself from a holiday celebrating Columbus. However, the name "Discoverers' Day" is vague enough that anyone hearing it without reading the bill's text might easily mistake which discoverers it is intended to honor. This, along with the prohibition against making it an actual state holiday, suggests that compromises had to be made to get the bill through the state legislature.
Many other places have also moved to celebrate a different holiday, be it Indigenous Peoples' Day or Native American Day. In 2014 Hawaii again saw the introduction of a bill proposing to change the name of the holiday, this time from Discoverers' Day to Indigenous Peoples' Day. This bill did not pass.
The question of who gets credit for discovering a given place continues to be a subject of controversy throughout the world. It is perhaps worth noting that when the peoples who would become known as Hawaiians first arrived here from Tahiti, the islands had already been inhabited for about 500 years. Some believe that Polynesians had discovered North America and South America well before Christopher Columbus' visit.
Is Columbus Day Monday a holiday for you?
Disclosure: We receive a small commission on purchases from some of the links on Beat of Hawaii. These links cost you nothing and provide income necessary to offer our website to you. Mahalo! Privacy Policy and Disclosures.