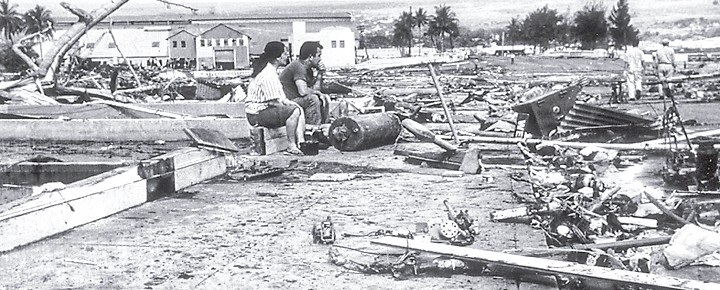 A tsunami watch is in effect for the State of Hawaii today. That following a series of earthquakes, one at a magnitude 8 about 90 minutes ago, which took place in the Kermadec Islands. The Kermadecs, in the South Pacific, is part of New Zealand and are located about 600 miles northeast of the North Island.
The earliest time of the first tsunami wave is set for 435 pm today here in Hawaii. We hope that it will turn out to be nothing, but don't take this lightly. Preparedness is key to avoiding devastation such as Hawaii has seen previously.
The history of tsunamis in Hawaii includes the infamous one at Hilo.
There have been nearly 100 tsunamis in Hawaii since records were first kept about two hundred years ago. And Hawaii has seen more than its share of devastation at the hand of those tsunamis.
The word "tsunami" is Japanese for "great harbor waves." Its height is never apparent at first until it travels up from the ocean and into more shallow waters along the coastline.
Contrary to popular belief, the surge of a tsunami does not appear as a great crashing wave. Rather, it is a powerful and fast-moving tide that can destroy homes, overturn train cars, and deposit boats several blocks inland.
In 1946, a Hawaii tsunami caused by an Aleutian earthquake was responsible for almost 200 deaths here. It was nicknamed the Hilo Tsunami and destroyed the town's waterfront on April Fool's Day, as seen from the photo above.
As a result, the Tsunami Warning System was created to prevent Hawaii and other Pacific rim countries from calamity.
2010 Hawaii tsunami warning.
In 2010, we reported a tsunami warning that occurred when we were awakened here in the islands by government text messages and recorded phone calls warning of an impending tidal wave. That was followed at 6 am by air raid sirens. It was one of the biggest scares in recent years, and we still haven't forgotten it.
There was thankfully no tsunami that day, although even with no serious threat, NOAA's Hawaii Tsunami Center scientists continued, based on unsubstantiated assumptions, to create unnecessary panic, including eerie hourly air raid siren blasts.
That event fueled incessant, irrational, and non-investigative traditional media fervor that went unabated well past mid-day. Social Media, otherwise extremely helpful in disasters, on that day, served to only exacerbate the false alarm here in Hawaii.
Before the appointed tsunami arrival time, stores shuttered, and many did not reopen again. People were frightened.
Roads throughout Hawaii were roadblocked, making transportation difficult to impossible. Statewide, police departments ordered to work all officers on their day off to stop traffic.
NOAA subsequently apologized, not for the panic created, but for how incorrect they were. Other reports indicate that tsunami forecasting would then need to be completely reassessed. At that time, Charles McCreery, NOAA's Pacific Tsunami Warning Center head, admitted, "We're still in the incipient stages of using these models to constrain our forecasts. There are still lots of improvements we need to make before we can rely on them totally for our decision making."
2011 Hawaii tsunami shuttered Kona resort.
The Kona Village Resort closed following damage caused by a tsunami in March 2011. The resort had major damage from a storm surge, which uprooted their thatched-roof bungalows. Now, a decade later, the resort is to reopen as a Rosewood Resort in 2022.
2012 Hawaii tsunami.
Then again, in 2012, a 7.7 earthquake on the west coast generated another tsunami that officials predicted would hit the islands. None of the arriving waves were more than 2 1/2 feet, however.
In any event, hopefully all will be well today, and well update you with any changes.
USGS photo above of 1946 Hilo tsunami devastation.
Disclosure: We receive a small commission on purchases from some of the links on Beat of Hawaii. These links cost you nothing and provide income necessary to offer our website to you. Mahalo! Privacy Policy and Disclosures.