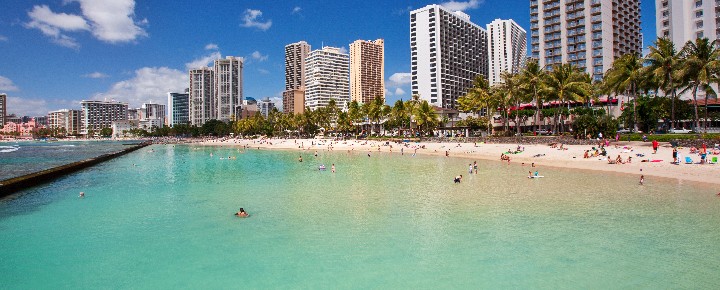 State data is now in regarding June travel, and it is telltale. Reading between the lines provides even more insight into what's really happening here in Hawaii.
First, the numbers. Visit0r arrivals from the most important West Coast are still down 4.5% compared with June 2021, although the Eastern U.S. secondary market was up 3.9%. That downturn is a result of economic concerns primarily. But we'd say there's more to it than that.
Beat of Hawaii friend Jerry Gibson, president of the Hawaii Hotel Alliance (who your editors know from when he lived on Kauai), was quoted as saying, "I don't see any shining stars throughout the next months. The festive season (Dec. 23 to Jan. 3) will always be strong. The rest of the year is softer than I expected."
Frequently out-of-touch and controversial Hawaii Tourism Authority said, "Our current visitors are spending substantially more on their Hawaii trip, counter to the misperception that we are seeing a lower-spending, budget traveler. Even with these higher-spending visitors, we must continue our efforts in destination management to ensure the balance of economic benefits with environmental and community well-being."
What's troubling in Hawaii?
Problem 1: The demise of a high-value but reasonably priced Hawaii vacation.
Visitors from the crucial West Coast spent $963.3 million in June, which was up a whopping 39.4% compared with pre-pandemic June 2019. Those from the Eastern U.S. spent $662.5 million, up 34.9% compared with June 2019.
A nearly 40% jump in the cost of a Hawaii vacation is not sustainable. One of Hawaii's raison d'etre has always been offering a high-value, moderately priced, exotic yet domestic vacation. Is Hawaii really prepared for something else if that paradigm is entirely out the window?
Problem 2: No marketing agency to help guide Hawaii tourism.
HVCB (Hawaii Visitor And Convention Bureau) was booted out unceremoniously several months ago. The state's Hawaii Tourism Authority gave most of the marketing role to the Council for Native Hawaiian Advancement. But that has resulted in the now-disputed conflict as to who will be ultimately in charge of Hawaii tourism marketing. Their firing is being protested by HVCB, which was extended a short-term 90-day contract for marketing that ends in September. In the meantime, their marketing efforts have largely been scrapped as the dispute marches toward the courts.
Problem 3: Hawaii Forward bookings hit the skids.
It is already widely reported that the forward booking pace is crawling for the late summer and fall seasons. The holidays are always strong, but after that, we don't see great signs ahead and 2023 looks to be a highly competitive, problematic travel environment with many Hawaii visitors instead opting for long-on-hold international destinations. And while slowing tourism to some degree may be desirable, a free fall would not be. Remember that tourism is far and away the largest income driver in Hawaii, producing hundreds of thousands of jobs and billions in tax revenue.
Problem 4: Overtourism challenges resulting in traffic, flight delays, airport jams, and lack of availability. 
Maui is soaring to numbers not seen since Covid. There were nearly 300k visitors last month, the highest in 2 1/2 years. But when it is widely reported that Maui airport features lines up to 3 hours long, that doesn't bode well for returning visitors. Maui is also intent on reducing tourism and has in mind to find ways to limit it to a fraction of the current numbers.
But challenges are bigger than that and impact all the islands. Traffic has been worse than in years, while lack of staffing results in unexpected availability at places throughout the islands. The airlines have their own set of issues, but arrive early, and pack patience when traveling.
Problem 5: Anti-tourism sentiment continues, at least for now. 
There's one thing about this. So long as there is too much tourism, this feeling will continue. But likely, as soon as there is a big drop in Hawaii tourism, which seems possible and even likely going forward, that sentiment could shift on a dime.
How Hawaii manages tourism is still complicated and clearly a work in process.
Hawaii seeks to move to a more sustainable form of tourism. Yet how that will evolve isn't yet clear.
One issue is visitor-only or green fees. See Controversial Haena State Park controls topic of Peter Greenberg show. New controls and increased visitor fees are also in effect at Hanauma Bay, and Diamond Head, among others. These are spreading throughout the islands at the county and state levels.
Disclosure: We receive a small commission on purchases from some of the links on Beat of Hawaii. These links cost you nothing and provide income necessary to offer our website to you. Mahalo! Privacy Policy and Disclosures.