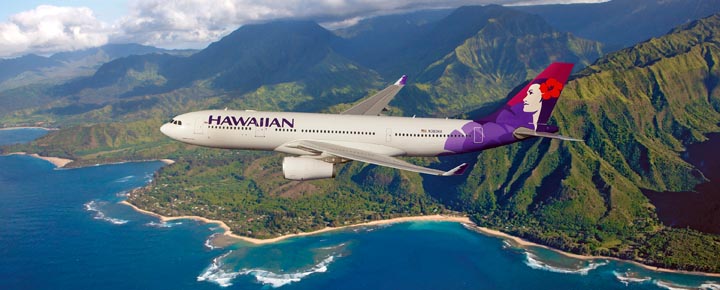 A Hawaiian Airlines Airbus A330 like the one pictured, is en route to Honolulu this morning on a special mission to retrieve 2,000,000 face masks destined to furbish Hawaii residents. Here's good news and good deeds, well done.
The aircraft, which onboarded the masks in Shenzhen, China, will be returning to HNL early this evening. In order to accommodate an additional 2500 pounds of this essential cargo, Hawaiian reconfigured the aircraft to remove the crew rest area located below the passenger cabin.
The company, together with humanitarian partners, will work within the community to distribute masks to those most vulnerable. Stay tuned for more on distribution.
Face masks required in Hawaii.
The face masks come to Hawaii just days after a new statewide ruling requiring everyone, both customers and employees, to wear coverings for any business. The only exception is inside of a bank or financial institution.
Masks required on some flights starting today.
All passengers on flights to, from, or through Canada are being required to wear non-medical masks effective today. We've been suggesting for some time that will be coming to flights in the US shortly.
"If you need to travel, wearing a face-covering is an additional measure you can take to protect others around you, especially in situations where physical distancing guidelines cannot be maintained." — Canadian Minister of Transport Marc Garneau. Proof of masks will be required to enter airport security.
Boeing angel flight.
This weekend Boeing completed a special mission, using a corporate 737 to bring face masks from China to the United States. Working with partner Dean Kamen, Boeing transported over 1/2 million medical-grade masks that are for healthcare professionals in New Hampshire. Kamen worked to obtain the face masks, then turned to Boeing to facilitate their transportation.
Clothing retailer Tori Richard also helping.
With their stores closed for the time being, the renowned clothing manufacturer has gone into mask production too. Using their Hawaiian themed fabrics, they are making reusable cloth masks for free with $4.00 shipping. Each household is limited to one order of 4 masks. They sold out quickly and are making more.
Disclosure: We receive a small commission on purchases from some of the links on Beat of Hawaii. These links cost you nothing and provide income necessary to offer our website to you. Mahalo! Privacy Policy and Disclosures.