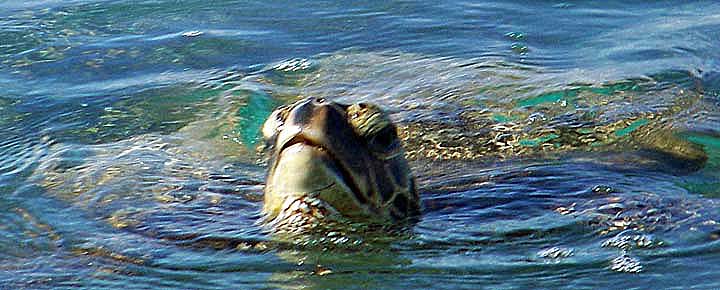 We love our Honu which is the Hawaiian green sea turtle.
1. Green: Protected by the endangered species act, and weighing up to 500 pounds, their life-span is believed to be very long. Green turtles live close to the shores of our islands, feed primarily on seaweed and swim up to 35 mph. One of the most ancient species of the world, they existed prior to dinosaurs.
2. Hawksbill: The elusive, nearly extinct hawksbill, 'ea' in Hawaiian, is noted for its shiny shell. It is still hunted illegally due to its high value. There are only a few dozen hawksbills still found in Hawaii.
3. Leatherback: The largest of all living turtles (in fact all sea reptiles), this species has no shell and instead is covered by a black rubber-like skin and oily flesh. Leatherbacks dwell in deep water away from the island shores, and can weigh up to one ton.
You observe Hawaiian sea turtles on all the major islands: Best sites are on the Big Island's Kona side. Likely beaches include Anaehoomalu Bay, Honaunau, Kahalu'u Beach, Kahuwai Bay, Kuki'o Beach, and Punaluu Black Sand Beach. Also, on Kauai at and around Poipu Beach Park and Brennecke's Beach.
Observation guidelines: Turtles are generally not afraid of people. They are, however, protected by law and it's illegal to touch them. Do not chase or scare turtles, hinder their movement, or swim within 20 feet.
If you've seen a Hawaiian Sea Turtle, please share your experiences.
Disclosure: We receive a small commission on purchases from some of the links on Beat of Hawaii. These links cost you nothing and provide income necessary to offer our website to you. Mahalo! Privacy Policy and Disclosures.