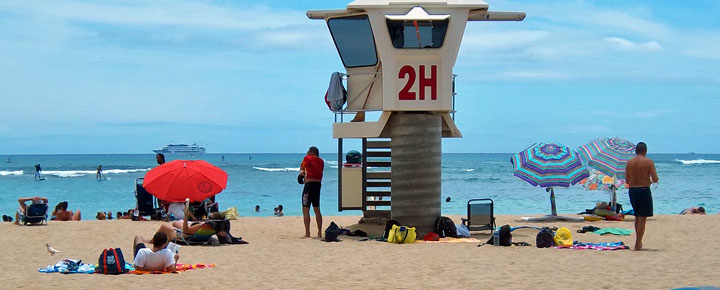 Researchers announced today that chemical sunscreens may be far more dangerous than previously revealed, and that children may be even more at risk from these chemicals than adults. The study in today's medical journal JAMA revealed that common sunscreen products containing avobenzone, oxybenzone, ecamsule and octocrylene need much more research. Blood concentration of these chemicals has for the first time been studied and found, after just one day's use. Serum levels rise with continued use and following application. It is questionable whether these products can be "generally regarded as safe and effective, " which is FDA's safety measure.
According to the study, "oxybenzone… has been found in human breast milk (and) in amniotic fluid, urine, and blood…. Some studies… have raised questions about the potential for oxybenzone to affect endocrine activity." Regarding Oxybenzone, the Environmental Working Group previously said CDC: "has detected oxybenzone in more than 96 percent of the American population…. Participants who reported using sunscreen have higher oxybenzone exposures…. Oxybenzone can cause allergic skin reactions and may disrupt hormones."
Hawaiian sunscreen law and ban coming
Hawaii last year got ahead of the curve and banned certain sunscreens that can damage our marine environment and coral reefs. And of course our health. In the first such move in the U.S., the state will prevent the sale and distribution of sunscreens containing oxybenzone and octinoxate. These chemicals are found in literally thousands of sunscreens. The new law becomes effective January 1, 2021.
"Our natural environment is fragile, and our own interaction with the earth can have lasting impacts…. This new law is just one step toward protecting the health and resiliency of Hawaii's coral reefs." — Governor David Ige.
Oxybenzone and coral reefs
In addition to health safety, one of the other huge issues is that a significant amount of sunscreen applied to your skin is released into the water. Over time, with Hawaii's millions of visitors, voluminous amounts of sunscreen end up in our coral reefs. This causes coral damage including bleaching, DNA injury, starvation and reproductive and development issues. Reefs are an integral part of our marine ecosystem and are essential to the environment. According to NOAA, "coral reefs buffer adjacent shorelines from wave action and prevent erosion, property damage and loss of life."
There are many other excellent choices for sunscreens that are safer both for you and for our precious environment. These are based on physical rather than chemical sun barriers.
Just how effective is your Hawaiian sunscreen at protecting both your health and your skin and our environment?
We've been writing about staying safe under the Hawaii sun for more than 10 years. As always, your best protection is a shirt, hat and proper sunglasses. But beyond that, here's how to stay covered in the islands and elsewhere.
Safer and effective alternatives in Hawaiian sunscreen
Many new safer products are available compared with even a couple of years ago. Read on for some of the highest rated sunscreen products that also feature low toxicity to you and the environment. These products still provide great sunburn (and questionable skin-cancer) prevention caused by UVA and UVB exposure, while not injuring Hawaii's coral reefs.
The following families of products are among the safest and most effective (according to EWG), and the highest rated by consumers:
Tru-Kid Sunscreens (various SPF)
Kiss My Face Organics Sunscreens
Badger Sunscreens (various SPF) (Used by Beat of Hawaii editors)
What products have worked best for you?
Article updated 5/6/19
Disclosure: We receive a small commission on purchases from some of the links on Beat of Hawaii. These links cost you nothing and provide income necessary to offer our website to you. Mahalo! Privacy Policy and Disclosures.