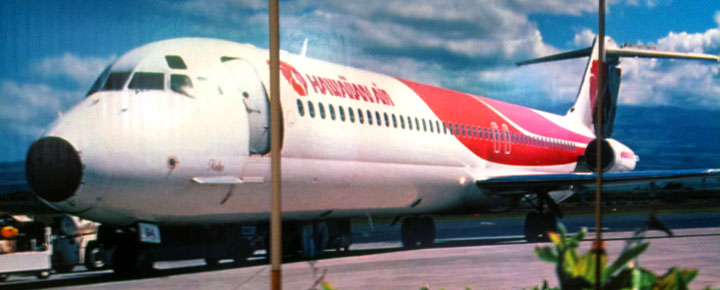 Do you fly Hawaiian Airlines and do you have some spare HawaiianMiles sitting around? If so, today's definitely the day to cash them in. For only 5,000 HawaiianMiles, you can fly inter-island including the most coveted and typically expensive nonstop routes connecting Maui and Kauai, and Kona and Kauai. Here's how it works:
Look for availability of the special 5,000 mile award for a main cabin one-way nonstop flight. Start at hawaiianairlines.com.
Valid on flights between Honolulu and Maui, Kauai, Kona, Hilo Hoolehua, and Kapalua. Also between Maui and Kona, Kauai and Hilo. And between Kona and Lihue.
Must book by 1159pm Hawaiian time on December 17, 2019.
Seats are limited, and not available all days or flights. Could end at any time.
Recent HawaiianMiles Program Changes
Hawaiian Airlines recently made significant updates to their HawaiianMiles awards program. We hoard our HawaiianMiles and any negative change is something that impacts our travel. Given the industry trend to make points less valuable, this change to dynamic award pricing is largely in step with other airlines. Here's the new award chart. Changes took place earlier this year. The good news is that the lowest priced award tickets costs have not changed. The bad part is that the price for less flexible and high season awards have increased a lot. And there's more.
HawaiianMiles Awards Before and After
Before the latest change, awards were categorized as 1) coach: either super saver, saver, and flex and 2) first class:  either saver and flex. Mainland to Hawaii awards varied from 20,000 to 40,000 points each way. In addition there were (mainland and inter-island) discounts off those amounts for Hawaiian Airlines Platinum and Gold frequent flyers, Premier Club members, and Hawaiian branded credit card holders.
After this latest change, the three previous coach awards have become nine award options. That in addition to new first class awards. As for further discounts, those who previously qualified for discounted award pricing domestically, will now also enjoy a discount internationally.
East coast and west coast awards have effectively now been separated, since east coast flights are twice the distance.
Examples of Award Ticket Costs
Coach. Previously, mainland to Hawaii coach awards were either 20,000, 30,000 or 40,000 points each way. Now the same award ranges from 20,000 to 90,000 points each way, based on season, availability, and demand. Hawaii inter-island coach awards that were 7,500, 10,000 or 15,000 points each way are now from 7,500 to 20,000 points each way.
First class. Mainland and Hawaii first class awards were 40,000 or 80,000 points each way. Those awards now range from 40,000 to 80,000 each way for west coast and from 40,000 to 130,000 for east coast.
HawaiianMiles Awards vs. Alaska MileagePlan Awards to Hawaii
It is interesting to see how different airlines compare with regards to Hawaii award tickets. Alaska Airlines coach awards range from 15,000 to 50,000 points each way, and their first class awards range from 40,000 to 80,000 points each way. One thing to keep in mind however is availability. There is no way to know in advance how airlines allocate ticket availability across variable-cost award charts. Whether or not you can actually obtain the lowest cost award when you want to travel, however, ultimately determines the value to you.
Take Aways
For us, the best use of HawaiianMiles, whenever possible, is their lowest cost award awards, previously called saver. Those require the most flexibility and are typically found in low season and mid-week. They can also sometimes be found at the last minute. To lower those prices further, carry the Hawaiian branded credit card.
We also value using HawaiianMiles for upgrades to their business/first class on long flights. We recently used the lowest fare economy ticket together with a saver type of upgrade to fly on lie-flat beds between Sydney and Honolulu. It was a very pleasant experience and a great use of our coveted miles.
Keep in mind that the lowest price awards can also still be upgraded with cash to Hawaiian premium economy, which is an option at the time of purchase. Those upgrades vary in price from $80 to $160 each way, depending on route.
How's your luck working when trying to redeem HawaiianMiles or Alaska MileagePlan awards?
We were also recently able to obtain an international "saver" type award using Alaska points. But in order to find the availability we wanted, it took searching approximately 200 times over a period of 3 months. So remember too, that when looking for an award from any airline, perseverance often does pay off.
Disclosure: We receive a small commission on purchases from some of the links on Beat of Hawaii. These links cost you nothing and provide income necessary to offer our website to you. Mahalo! Privacy Policy and Disclosures.