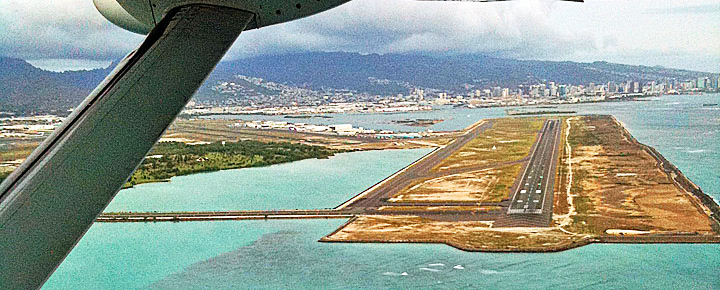 The quintessential Daniel Inouye Honolulu Airport reef runway just had another birthday. The 12,000 foot airstrip was completed 40 years ago in late 1977 at a cost of $81 Million. It was the first major airport runway to be built completely offshore on underwater coral. The runway also become a designated alternate landing site for the Space Shuttle.
The Honolulu Airport reef runway (designated as 8R/26L) was first planned in the early 1960's and took nearly two decades to complete. This type of environmentally sensitive project would never be approved of in today's environment.
In large part the idea of the reef runway was to mitigate noise from large jets flying over Honolulu. At most times, departures are over the ocean rather than over land. Thus it provides aircraft additional ingress and egress directed away from the city's population.
The Honolulu Airport reef runway – something hard to miss.
On arrival, you'll typically see it out the right side of the plane before making the sharp, final, right turn just prior to landing. On departure, the reef is quite far from the terminals, so you'll notice an extended taxi time of up to 15 minutes. When you reach the runway, you'll see it out the left side of the plane.
There are those rare times too, during what we often term "Kona" conditions, when you'll have more unique views, as you actually approach and depart the reef from opposite ends. We've had that experience only a few times in decades of Honolulu flights.
The reef runway consists of nearly 20 million cubic yards of material brought in via hydraulic pumping from offshore. An additional 16 million pounds of stone were used to protect the runway from the bordering Pacific Ocean.
There's something about the reef runway that's incomparable.
When your flight taxis out to it, you always know that you're in for a unique Hawaii treat. Do you have a special feeling about the reef runway too?
Beat of Hawaii friend Keoki said: As a student pilot in the late '70s … I was always excited to fly into HNL…. I have flown into and from 8R (the reef runway). In a plane going 70-80 mph I felt like I was landing on the world's biggest aircraft carrier!
Beat of Hawaii photo: Landing on reef runway in Island Air De Havilland Canada Dash 8.
Disclosure: We receive a small commission on purchases from some of the links on Beat of Hawaii. These links cost you nothing and provide income necessary to offer our website to you. Mahalo! Privacy Policy and Disclosures.