Why were 36 passengers injured and 11 seriously during a turbulence event on approach to Honolulu? It happened earlier today.
An unusually strong winter storm with incredibly whipping gale-force winds is making its way through Hawaii today and tomorrow. It is unpredictable, with calm one minute and cyclonic winds, thunderstorms, and heavy driving rain the next. This is an unusual storm, even for Hawaii, where storms can be extreme. Trees are down, among other things, and we haven't heard the last of it. It is forecast to head out of Hawaii sometime tomorrow, thankfully.
Incident on Hawaiian Air Flight 35.
Our concerns, of course, are with those people hurt today on Hawaiian Air flight 35, an Airbus A330 wide-body plane that seats 278. The flight was on approach to Honolulu from Phoenix when the event occurred. Many injured passengers were taken to the hospital in Honolulu. Honolulu Airport reported a mass casualty incident.
In total, there were eleven serious injuries among 36 people hurt. The event occurred sometime just prior to 11 AM when we can report the winds, at least on the ground, were absolutely going nuts. The plane landed safely at 10:58 AM.
Honolulu EMS said that of those injured, there was a 14-month-old child and a teenager. They were hospitalized along with at least nine others. EMS reported that "Injuries included a serious head injury, lacerations, bruising, and loss of consciousness. None of the victims appeared to have life-threatening injuries. Photos and the video below seem to indicate a dent in the plane's interior ceiling and luggage bins, such as might indicate someone hitting them.
We'll reach out to Hawaii Airlines, but on Twitter, they said, "Medical care was provided to several guests & crew members at the airport for minor injuries while some were swiftly transported to local hospitals for further care. We are supporting all affected passengers & employees and are continuing to monitor the situation."
A number of factors aren't clear at the moment. Those include where the plane was in its approach; and whether the plane was flying through one of the prolific thunderstorms when the turbulence occurred. Was the seatbelt sign on, and were the injured seated and buckled up at the time?
Turbulence on flights to Hawaii.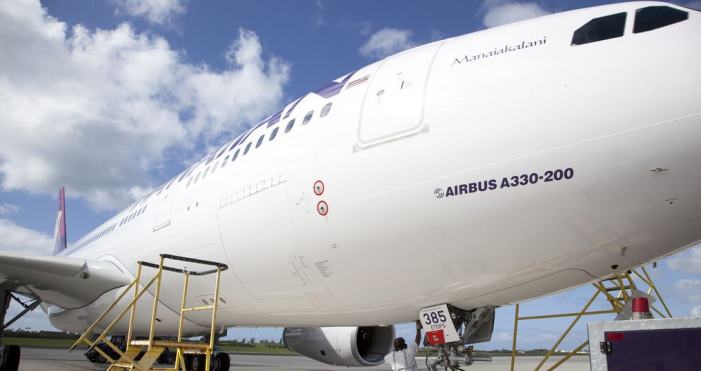 We've previously experienced horrible turbulence over the Pacific, while not of the nature and severity that caused this many unfortunate injuries. It was, even then, however, not fun or comfortable, and it became scary, especially during stormy conditions such as what existed today. Modern planes are, of course, built to withstand the stress of such turbulence, perhaps more so than their passengers.
This served as a reminder to stay buckled up when flying – seatbelt signs or not.
BULLETIN: 36 passengers were injured, 11 seriously, when a Hawaiian Airlines flight hit turbulence. Flight 35 from Phoenix to Honolulu landed safely. The airport declared a mass casualty incident. Follow @Mighty990KWAM for breaking news. pic.twitter.com/ahYc86XQaK

— KWAM NewsTalk Memphis (@Mighty990KWAM) December 19, 2022