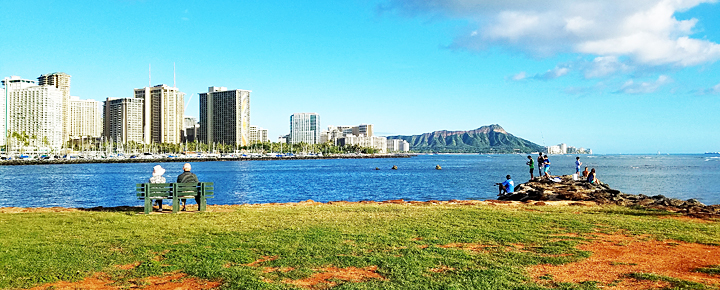 A recent article from insider.com caught our attention. It was showing Hawaii beaches as strewn with litter. The post was entitled "Disappointing photos show what vacationing in Hawaii is really like." Considering the source, we didn't take this all that seriously. Nonetheless, we wanted to set the record straight, since we are here, and well, they are not.
The article seems to confuse islands. It states: "Hana Highway in Hawaii is one of the most scenic drives in America….  You'll see waterfalls, rainforests, and dramatic cliff sides. But you won't be the only one." It goes on, "In 2015, Honolulu's traffic was ranked second-worst in the entire US."
What do Honolulu and Hana have in common?
It's hard to imagine they share much, other than they are both in Hawaii and both start with an H. Hana is located on one the most rural and remote parts of Maui whereas Honolulu, is the only major city in Hawaii and is located on Oahu, home to 80% of the state's population. Maybe putting the two together was just in error, who knows.
Is Hawaii littered with trash everywhere?
In our humble opinion, it is not. That isn't to say we haven't seen Hawaii beaches on all the islands with overflowing trashcans and otherwise littered. But that is most definitely the exception, not the rule. Hawaii does in fact suffer from too much tourism for its limited and aging infrastructure. No doubt about that, and the fact that the burden of 10 million annual visitors isn't easy.
For the most part, we do not find extensive trash on Hawaii's beaches. Strangely, the article's photos are captioned as stock photos from " Shutterstock and Getty Images." So we don't know where they were even taken.
What about Waikiki Beach?
The article depicts Waikiki as overcrowded, saying "but popular beaches like Waikiki Beach are anything but relaxing." Well, that can certainly be the case. In fact, that seems to be and has always been one of the iconic aspects of Waikiki Beach. If that isn't to your liking, you can easily carve out generous space for yourself at either end of the Waikiki strip. So it is all about what you are looking for. Remember that Oahu is known as "The Gathering Place," and Waikiki perhaps best exemplifies just that.
Are the views in Hawaii incredible, or as the articles say, not necessarily so?
They use a photo of the Ala Moana shopping center parking lot taken from the Ala Moana Beach Hotel as an example of bad views in Hawaii. Well sorry folks, the views throughout Hawaii, once again, are overall, simply incredible, and something even those of us who live here never tire of.
The Beat of Hawaii lead photo above was taken at Ala Moana Beach Park facing towards Waikiki in mid-afternoon.
Okay Hawaii fans. Please chime in! Mahalo. 
Disclosure: We receive a small commission on purchases from some of the links on Beat of Hawaii. These links cost you nothing and provide income necessary to offer our website to you. Mahalo! Privacy Policy and Disclosures.