We understand the bad feelings created by a proposed $50 fee on arrival for Hawaii visitors. But for us, the exorbitant costs for Hawaii accommodations cause insult and injury, breaking the bank. Here's our recent case in point related to Honolulu hotels.
Your editors regularly travel around the state for the Beat of Hawaii and will be in Honolulu to work over an upcoming low-season weekend. It should be relatively easy, right? Well, read on.
While car rentals improved in Honolulu…
We were able to get a mid-size Hertz car for $27/per day plus taxes using Priceline. That was a surprise, about the same as we would have paid in 2019 or even less.
And the airfare was great!
The airfare was also great at $39 each way, and we had a choice of either Hawaiian or Southwest.
Hawaii accommodation prices, however, were absolutely ridiculous!
We searched for hotels using the same methods you likely do. Sometimes we'll start on things like Costco Travel and booking.com, to get the lay of the landscape. That's always a great idea. Then we look for specials, directly on the hotel website, Kamaaina (resident) discounts, and the like. But what we are finding is what we'd call dismal.
For vacation rental aficionados, we searched for them too. But on a short two-night stay, the cleaning fees were too high a percentage and stopped our looking in its tracks.
Checking all categories of Honolulu hotels, none of them fared well.
We understand trying to get the very lowest price. Who isn't guilty of this? We often sort the hotel results by the lowest price, to begin with. At least to get a reference point, and then go from there. And while we can report that we are still getting some great rates outside of Hawaii, that simply isn't the case here.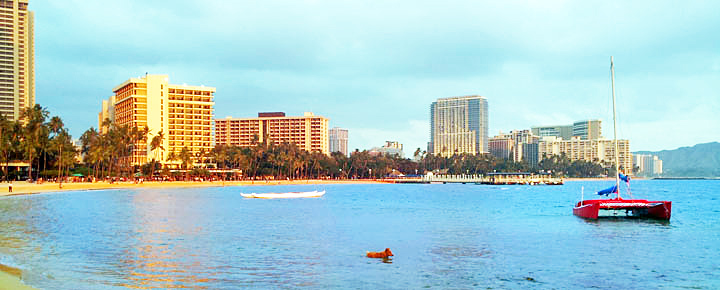 Taxes and dreaded "resort fees" add to your bill from 20% to 50%.
Many hotels are now eliminating resort fees in response to just how unpopular these "hidden fees" really are. Others wrap together parking and resort fees. Taxes on Hawaii accommodations (hotels and vacation rentals) are about 18%, the highest in the U.S.
U.S. President Joe Biden commented Wednesday that his administration would look to crack down on "surprise fees" consumers face. Biden named two examples: resort fees for hotel stays and administrative fees for live events and concert tickets.
The Federal Trade Commission had begun to work on a rule last week to crack down on "unfair and deceptive fees across all industries," Reuters reported.
A lawsuit against Marriott alleged the company made hundreds of millions off of these largely hidden fees. Booking.com has gone on record saying they are opposed to resort fees, as has the ASTA travel agent society which labeled them as "out of control."
Back to Honolulu hotels and what we found that spawned this article.
We looked around Honolulu and checked a huge number of hotels (keep in mind there is a huge number of hotels in Honolulu), and various room categories for a two-night stay, including all taxes and fees, plus parking. Following are just some of the choices we whittled it down to. As mentioned above, we did not go further with any vacation rental options due to excessive cleaning fees for a short stay. While Kamaaina rates are advertised as significant discounts, the reality is that the savings we found were between 10 and 15 percent. That is because Kamaaina is figured as a discount off of rack rates, and not the best sell rates available.
Ala Moana Hotel. Oceanview 1 bedroom. $400/night. Ugg. Not a favorite hotel ever, even with its lipstick upgrade done in 2020, when the hotel did a meager $16 million renovation across its 1,100 guest rooms. We'll say it is serviceable, and the location is excellent. But for $800 for two nights, we felt ripped off. And that was a Kamaaina rate. We booked it but were so happy to cancel it later.

Somewhat insulting

.
Queen Kapiolani Hotel. Oceanview room $300/night on Booking. Also never a favorite property in spite of its makeover, but it has a great location on the opposite end of Waikiki. The middle of Waikiki tends to be very busy, congested, and more challenging to navigate, especially with a car. Parking was also not included, so we'd be hoofing it to the free parking nearby or paying big.

Not great

.
Modern Honolulu. Partial ocean view room at $350/night but parking is $25, so it came to $750 for two nights. Again found on Booking. Kamaaina discount of 15% was possible but

fuggedaboutit

.
Kahala Resort. Jeff had stayed here with family before and enjoyed the hard product (rooms) and service. The location is very relaxing, and it is easy to get around from there. It was just hard to justify the cost. After four phone calls and multiple visits to the site, this is the one that worked out to be $1,000 for two nights, oceanview, including parking, and no resort fee. Expensive, but we perceived it to be a better value proposition.

They got the reservation

.
Alohilani Resort (previously Pacific Beach Hotel). Partial ocean view room at $404/night for their Kamaaina discount rate. Parking and resort fees are included. Google reviews weren't up to snuff, especially regarding cleanliness and amenities.

We took a pass based on both the value and other concerns

. However, editor Rob is staying there for one night in November on another trip, partly because it is less than the Pagoda and the Ala Moana. Perhaps he'll report back.
Pagoda Hotel. An old-time Kamaaina favorite, albeit always somewhat shabby. The no-view deluxe room was $484 for two nights. Add to that a $20 nightly "resort" fee (are you kidding) and $35 a night for parking, and you arrive at about $600 for two nights. The reviews aren't good, and the overview from Oyster said, "The rooms at this 176-room budget hotel, located five minutes from the beach, are fairly spacious — but also noisy, tired looking, and a bit grimy."

Definitely not

.
Where are you at with Honolulu hotels these days?