Hawaii officially designated January as "Kalaupapa Month" when the legislature passed a bill and signed it into law in 2021. This honors and remembers Kalaupapa residents, past and present. It was January 1866 when the first 12 people affected by leprosy arrived on Molokai at the isolated Kalaupapa peninsula. The ship taking them never docked. They were forced to swim to shore in the area seen in our photo below.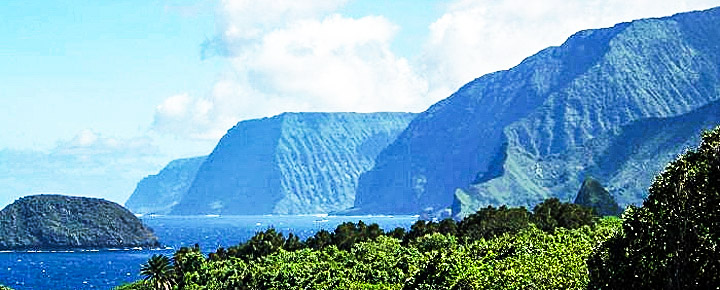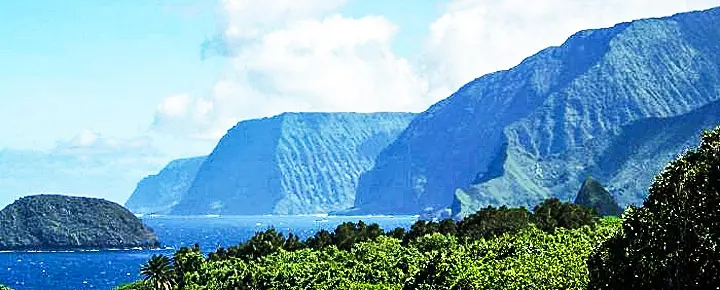 Those 12 were the first of almost 8,000 people sent to Kalaupapa following the decree from King Kamehameha V. Most were never seen again. That occurred from 1866 to 1969, although forced isolation stopped in 1949. People were forcibly taken from their homes, even children, and placed into isolation there due to leprosy diagnosis, now called Hansen's disease.
In 1873, Father Damien left the "outside world to take care of Hawaii's Hansen's disease patients in quarantine. Mother Marianne Cope, followed him. Both are now recognized as Saint Damien and Saint Marianne Cope. These two and others came when there was no cure for the disease, and Damien gave his life to care for the people.
No matter how often we have been to the sacred ground of Kalaupapa National Historical Park, just thinking about it still gives us chills. The intense suffering, sorrow, and despair that took place there with the forced exile of patients from their homes and families due to the spread of leprosy are both tangible and unforgettable. ​
The last few residents alive have been free to leave Kalaupapa for decades, yet choose to stay. Once a prison, now a refuge, Kalaupapa is their home.
Kalaupapa is a spiritual place of great beauty and a reminder of tremendous suffering in what was referred to as the "leper colony." It stands totally apart and isolated from the rest of the island of Molokai.
Kalawao County, Hawaii.
The Kalaupapa peninsula is a separate county in the state of Hawai`i, being Kalawao County, rather than being "entirely" part of Maui County, as is the rest of Moloka`i. The state health department manages it.
Kalawao is the smallest county in the US, as determined by land area. Because of its small size, the county doesn't have normal county functions. It is instead a judicial district of Maui County and does not have its own elected officials.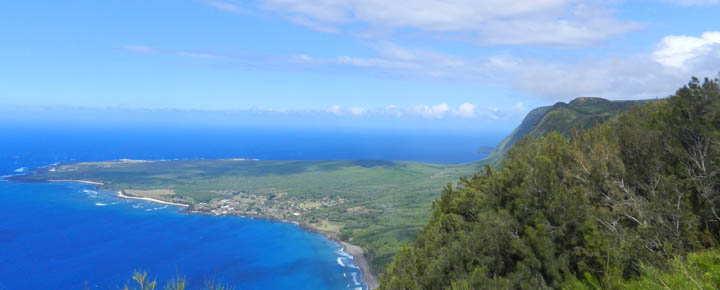 Beat of Hawaii at Kalaupapa.
Before it was closed, we hiked down to the settlement (seen in our photo above), one of Hawaii's most iconic and hallowed places. What remains of the original Kalaupapa settlement on the Kalawao area of the peninsula are both ruins and buildings that were successors to the original two churches. In the early years, the leeward Kalaupapa side of the peninsula remained a Hawaiian fishing village, but in 1895 the provisional government forced the original inhabitants to leave. Slowly the Department of Health shifted its settlement to this more temperate side of the peninsula.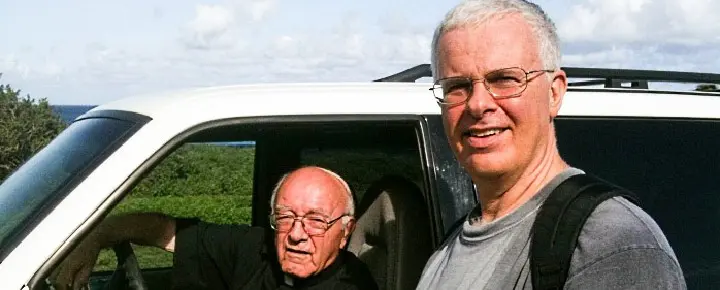 When we trekked the hundred-year-old Pali trail, we were in part there to visit Father Felix (seen here with Beat of Hawaii editor Rob). He was a Belgian priest and a fixture in Hawaii for a half-century. Father Felix served at St. Francis of Assisi Catholic Church at Kalaupapa, following in the footsteps of St. Damien and ministering to Hansen's Disease patients. We also had the opportunity to visit the original settlement area at Kalawao. It is simply something neither of us will ever forget. We decided to skip the mule ride, which was still operating, for personal reasons. Beat of Hawaii's mascot is an actual pet mule who is cared for by editors Rob, Jeff and Collin. So we chose instead to experience the history of this venerable trail on foot. It was arduous and worth every step.
Since Covid, Kalaupapa has remained closed to the general public.
The closure includes all access to the trail and fly-in access to Kalaupapa Airport. The trail was closed initially due to a landslide that occurred in 2018 and then during Covid. The federal government appears to have restored trail access. The National Park Service is not issuing permits, however. Part of the issue is that visitors had to be on a tour to visit. There is currently no concessionaire.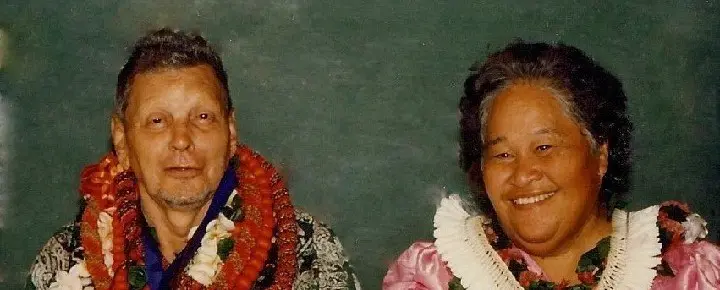 Kalaupapa Legend: Richard Marks.
When we went, it was with Damien Tours, owned by the late Richard Marks and his wife Gloria (pictured above). He was our tour guide. Marks was born on Maui in 1929 and contracted leprosy when he was 21 years old in the Merchant Marines. He was sent to Kalaupapa in 1956, where his father, sister, brother, and other relatives had been sent. After Marks, a new tour group started and is no longer in business.
Richard Marks had an enormous impact on modern-day Kalaupapa, arguably more so than anyone else. In 1967 he contested Hawaii's outdated laws on leprosy, by which patients were treated more like criminals. Then a few years later, as Kalaupapa residents became fearful of being removed from their homes to make room for luxury development, he reached out to the National Park Service to step in and help preserve both the lifestyle of the current residents and the history of Kalaupapa for all future generations.
Marks is also said to be the person who helped spearhead the canonization of Father Damien to sainthood.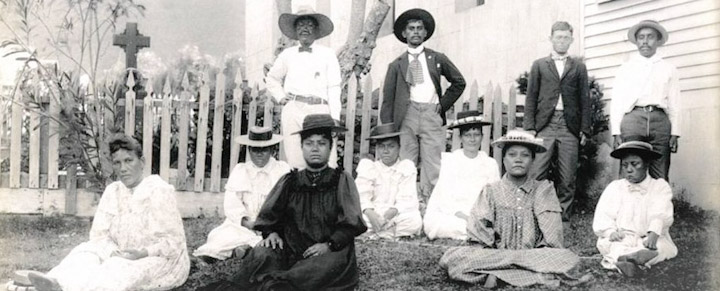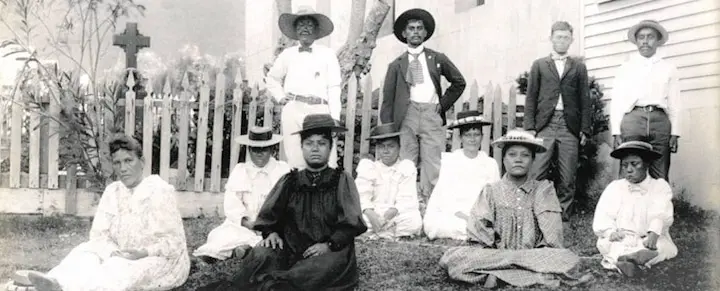 Update on patients at Kalaupapa – Only nine are still living.
While antibiotics cured the illness Hanson's Disease (leprosy), patients already at Kalaupapa could still live there. That number has dwindled down to nine still living. In order to visit during this closure of Kalaupapa, you must be sponsored by a resident or employee. Once the last patient dies, the area will revert back to Hawaiian Homelands (which it was before, when Native Hawaiians lived there). The National Park Service currently leases it. What happens in the future is unclear to us and to those we spoke with to prepare this article.
There are currently 650 cases of Hanson's Disease in Hawaii and about 12-15 new cases a year. The treatment program lasts two years.
If the Pali trail reopens, here's what to expect.
The trail is challenging, slippery, and muddy. The incredible sheer cliffs overlook the Pacific Ocean on the north shore of Molokai and descend from 1,700 feet with the North Shore Pali to the east. According to the Guinness Book of World Records, these are the tallest sea cliffs in the world. After the three-mile hike (which seems much farther), including the 26 switchbacks that are marked, you arrive at sea level and are bussed to the historic town, perhaps the most remote settlement in Hawaii.
The hike to the bottom took us 2 hours and 15 minutes, much longer than we had expected. When we heard the sound of the surf and looked up the cliff from where we started, it was exhilarating knowing we had arrived. Going back topside after the tour was much easier psychologically without as much chance of slipping, but still strenuous.
We felt some soreness for a few days after. Despite the discomfort, it was worth the experience, and we recommend this journey (when it again becomes accessible) to all in good condition.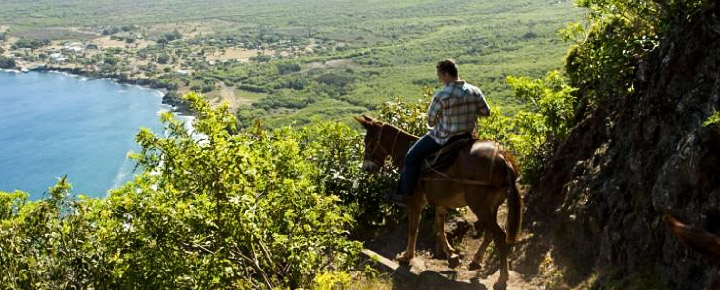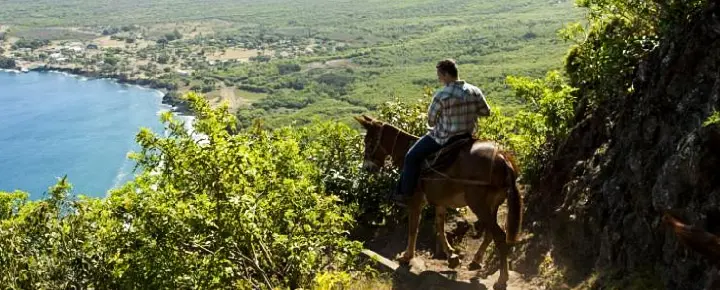 What happened to the iconic mule rides?
One of Hawaii's most famous tourism activities was the mule ride to Kalaupapa on the same trail we hiked. That ride is closed permanently, which is unrelated to the closure of the hiking trail.
The mule ride operators were evicted from the land after operating the attraction for 40 years. According to the landowner, they were trying to achieve a new agreement with the ride operator, but that, ultimately, did not work out. The ride operators indicated that the proposed costs were too great for their operation to remain viable. At the same time, the landowner said that the ride failed to pay rent or provide proof of insurance. "This is not about greed or stopping a business from operating mule rides or tours to Kalaupapa to share the history of Molokai," said landowner Paul Meyer. "They left us no choice but to evict them from our property."
What were your impressions of Kalaupapa?
Lead photo: Awahua Beach, located at the end of the trail at Kalaupapa.
Our thanks to the Hawaii Department of Health, Hansen's Disease Division, for their help with today's article.