It was time. Since the largest part of Kauai is not accessible except by air, we climbed aboard for our first review of a Kauai helicopter tour and to experience parts of the island your editors have never seen.
Scroll down to watch as we landed at Jurassic Falls. It was by far the highlight of this Kauai activity.
The island of Kauai, the older island of the Hawaiian island chain, features world-class scenery including spectacular cliffs and canyons, mountain spires, cascading waterfalls, exquisite emerald green valleys, and a dramatic and wild coastline. We've experienced these up close and personal, including the Na Pali Coast, and the Grand Canyon of the Pacific, Waimea Canyon, and frankly, there's nothing that holds a candle to that, not even helicopter flights.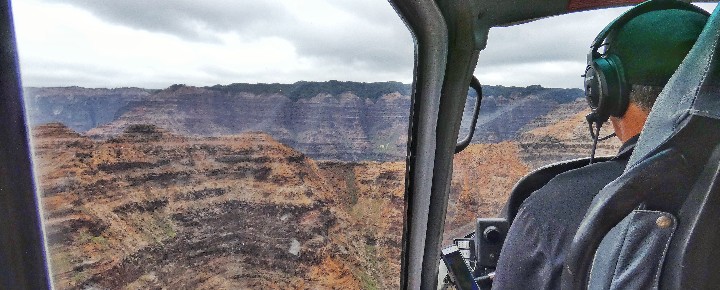 Kauai, the Garden Isle of Hawaii, features one of the wettest places on earth (450 inches of rain annually), Mount Waialeale. Which is rarely visible. More on that later.
Before we get to our Kauai helicopter tour review, we want you to know the company we chose from among the best helicopter tours, didn't know that we were coming, and we paid full price for the experience.
We decided to "go big" for Rob's first Kauai helicopter tour.
By way of personal history, Jeff once did a Kauai helicopter tour decades ago based out of Princeville Airport. Rob had never even experienced helicopter rides before this. When choosing a helicopter tour company, we decided to go for the ultimate experience. Having heard about the landing at Manawaiopuna Falls, also known as Jurassic Falls, featured in the opening of the movie Jurassic Park, we decided to head there.
The provider of the excursion, Island Helicopters, has an arrangement with landowner Robinson, to allow visitors to land at Manawaiopuna Falls (Jurassic Park falls) and experience up close the waterfall made famous from Spielberg's film. The tour is 75–80 minutes in duration. It included a circle island tour of about 55-minutes, plus the landing, and a visit at the waterfall. It's definitely a first class adventure.
Our experience at Island Helicopters.
Soon after arriving at their Lihue Airport location, we did a check-in, which included getting on a scale due to weight limitations. We sat together with the 4 other guests for a briefing including safety and other instructions. There are restrooms available before departure. There are no beverages or snacks provided during the flight. Before boarding, we put on "booties" so protect the land we'd be walking on at Manawaiopuna Falls.
Our spectacular Manawaiopuna Falls landing.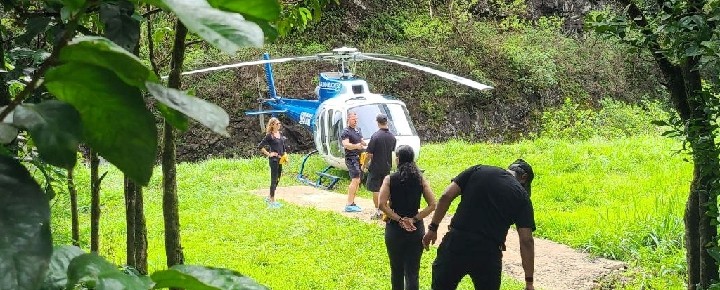 Let's just say this part was worth the whole thing. About 15 minutes after takeoff from Lihue Airport, the 6-passenger, Airbus AStar helicopter, with floor-to ceiling windows began setting down to a grassy landing area just feet from the base of the 400-foot falls. The falls are located inland from Poipu, in the Hanapepe Valley famous for its rainbows, and at the headwaters of the Hanapepe River. They're also about 4 miles from your editors' home (yes, we saw our roof) and the approach is thrilling. The only way to see it from the ground is on this helicopter tour as it is inaccessible by foot.
A one minute walk on a path led to the, spectacular falls. We were on the ground for about 30-minutes just to take in the experience, the mist, get photos, and talk with our knowledgeable, Kauai-born and raised pilot. Beyond the falls themselves, the additional unassisted landing and takeoff from the falls was a huge addition to the invigorating experience.
Kauai Island helicopter circle tour.
After leaving the falls, the helicopter continued a short distance west, heading into Waimea Canyon. While it was another spectacular experience, because we have both hiked the canyon extensively over a period of decades, it wasn't as special for us, as it may have been for others who hadn't had that time on the ground. When hiking, the Waipoo Falls trail, in particujlar, offers some of the most incredible views from Waimea Canyon. The easy Canyon Trail, also provides great interior views, which, being close up, are some of the nicest we've had.
Napali Coast and North Shore Kauai.
After Waimea Canyon and Kokee State Park, we headed towards the famed north shore of Kauai and the gorgeous Napali Coast along the Pacific ocean, with its sea cliffs, rainforests, the Hanalei Valley, and unfathomable beaches including renowned Ke'e beach located at the end of the road. Many of these views that aren't possible other than by helicopter, and they were as good as we'd hoped for. After that we started inland towards Mount Waialeale, but rain and low clouds got in the way and we turned back and towards the airport flying over Wailua Falls from Fantasy Island.
Kauai helicopter tour companies.
There are many companies on the island to choose from. Our choice was based on two factors. Jeff wanted to fly on one of the A-Star helicopters used by Island Helicopters and others. Rob wanted to land at "Jurassic Falls". Other than that, for our next Kauai helicopter flights and reviews, we'd consider other companies including Jack Harter Helicopters, Safari Helicopters, Sunshine Helicopters, and Blue Hawaiian Helicopters.
Some notes on our experience.
We had a hard time finding availability to book, even in the off-season. There's a waiting list if the flight is full. A credit card holds your seat (48-hour cancelation) and you'll get a discount paying cash. We packed optical zoom cameras for this photography flight. Sunglasses are useful for sunny days. Our flight was mid-afternoon, and we can't say whether that may be the best time of day, since it is largely weather dependent. We were advised to wear dark clothing to reduce reflection that could be seen in photos. The pilot and ground crew were all professional and we felt safe.
First personal video from the flight.
Beat of Hawaii has a fast-growing library of YouTube videos for your enjoyment.